NFL Betting: How to Capitalize on Cam Newton's Signing in New England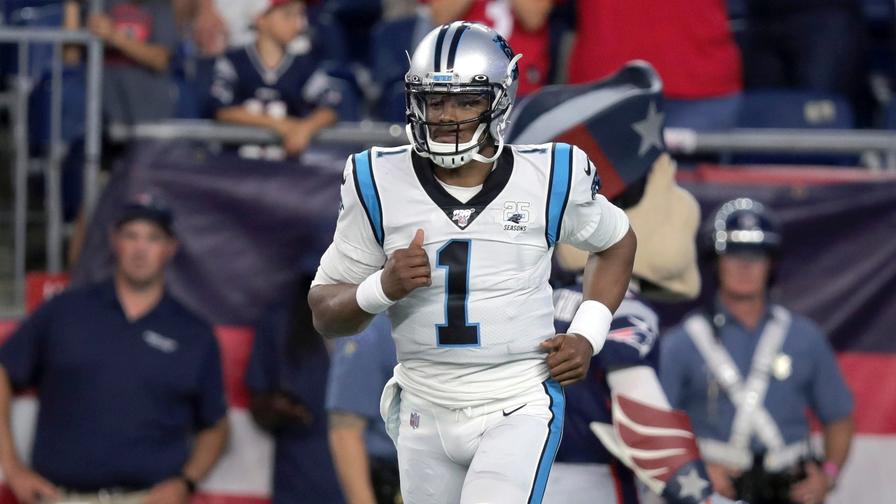 In most fields, volatility is a bad thing. Taking on increased volatility means more exposure to risk, and if you're focused on the downsides, volatility can keep you up at night.
But in the NFL, only one out of 32 teams gets to hoist the Lombardi Trophy each year. If your range of outcomes is going to include reaching the top of that mountain, you're going to need some volatility in your life.
That's what the New England Patriots got on Sunday night.
Former NFL MVP Cam Newton has reached agreement on a one-year, incentive-laden deal with the New England Patriots, league sources tell @mortreport and me.

Newton now will step into the mix to try to help replace former Patriots' QB Tom Brady.
— Adam Schefter (@AdamSchefter) June 28, 2020
In signing Cam Newton, the Patriots made themselves a more volatile team. That may sound like a negative, but if the ultimate goal is to make a run at another Super Bowl title, it's exactly what they needed.
An Elevated Ceiling
When Jarrett Stidham was the projected starter, we knew the downsides. He could have struggled -- as most second-year, fourth-round quarterbacks do -- in which case the Patriots' offense would have lacked juice again. The floor there was known.
What we didn't know was the ceiling. But it likely wasn't all that high.
With Tom Brady at the helm last year, the Patriots' offense finished 19th in Adjusted Net Expected Points (NEP) per play. NEP is numberFire's schedule-adjusted metric that shows the number of expected points added or subtracted on each play throughout the year. The Patriots weren't horrible, but they graded out below teams like the Buffalo Bills, Indianapolis Colts, and Los Angeles Chargers.
That was with Brady at quarterback. Even if Stidham exceeded expectations, the odds he outperformed Brady were minimal at best. Now, things are a bit different.
It has been a while since we've seen Newton healthy, but when he has been, the performance has consistently been high-quality. Of his eight seasons with at least 200 drop backs, Newton has ranked in the top 15 in Total NEP (which includes his production as a rusher and a passer but also deducts for expected points lost on sacks, incompletions, and interceptions) in all but one year. He was in the top 10 in half of those seasons. If you pair that with the Patriots' defense, good things can happen.
The obvious counter to this is that many of those seasons are a distant memory. Newton hasn't been in the top 10 in Total NEP since 2015, his MVP season. You may think he's incapable of such a ceiling anymore. But the first half of 2018 told a different story.
That's the season where Newton sustained his shoulder injury that started the downslide. Although it's easy to forget now, Newton was playing well before that injury happened.
Newton first appeared on the injury report with a shoulder injury on October 24th, after the team's sixth game of the season. That next game, the team used Taylor Heinicke to attempt a Hail Mary toward the end of the half, meaning the shoulder was absolutely an issue at that point.
Here are Newton's splits before and after that first missed practice. Passing NEP per drop back does not include Newton's rushing totals, instead looking just at what he did as a passer.
| Newton in 2018 | Passing NEP per Drop Back | Total NEP |
| --- | --- | --- |
| First Six Games | 0.14 | 49.79 |
| Final Eight Games | 0.08 | 32.41 |

Despite having played one less game than others as the Panthers had their bye early, Newton was ninth in Total NEP at the time of his injury. He had above-average passing metrics, as well. That was less than two calendar years ago.
Of course, Newton has had two major surgeries in that time, which is why he was a free agent to begin with. There's still risk in him. But if he can get back to even his early-season 2018 form, he gives this team a path to paydirt.
Newton's going to deal with the same issues at the skill positions as Brady, so we shouldn't expect him to blow the doors off the league from an efficiency perspective. However, he will have left tackle Isaiah Wynn healthy to start the season, and center David Andrews is ready to return after missing all of last year. This is the best offensive line Newton has ever had, and it's better than the one Brady had last year. That matters.
If Newton can be even a shell of what he was previously, his ceiling is higher than Stidham's. That increases the team's range of outcomes in a good way. But the floor is still scary in the event that Newton can't regain his form, and there's even a chance that Stidham still winds up starting. Those are things we need to account for when trying to bet this team, so let's look at various markets and see what the best way to buy in is.
Betting Fallout
Before dissecting how we should handle this, let's just take a second to see where various Patriots markets sit at FanDuel Sportsbook after Sunday's news.
| Market | Odds |
| --- | --- |
| To Win Super Bowl | +1700 |
| To Win AFC | +700 |
| To Win AFC East | +100 |
| Win Total | 9.5 (-110 Over) |
| To Make Playoffs | -230 |
| To Miss Playoffs | +184 |

Things have moved quite a bit since yesterday, so the ideal time to buy into the Patriots would have been earlier. But there are still some spots where we can pounce.
Weirdly, the Super Bowl odds aren't all that bad where they currently stand, which makes sense due to the ceiling discussion we had before. The implied odds of them winning it all at 17/1 are 5.6%. numberFire's updated projections have them at 5.0% to win it all. If you're a believer in Newton, you can justify backing that number.
The AFC Championship odds are not as enticing compared to the Super Bowl odds. With the top two teams in numberFire's rankings (and in the markets) both residing in the AFC, you should be looking at Super Bowl or bust for the Pats.
The AFC East market is similar to the Super Bowl one. It's technically not a value, but it's really not that far off. The implied odds of the Patriots winning the AFC East at +100 are 50.0%, and numberFire pegs that one at 48.1%. The Bills also have major question marks at quarterback, and the New York Jets and Miami Dolphins have question marks everywhere else. This is another one you can justify plucking if you believe in Newton.
Those are the two markets that stand out most, and they play into the volatility discussion. But as mentioned earlier, the floor is still low for this offense, which is why you could also consider betting them to miss the playoffs at +184.
The implied odds there are 35.2%, and numberFire's projections have the Patriots coming up short 34.4% of the time. If that number continues to lengthen due to enthusiasm around Newton, it could wind up being the most advantageous number on the board. As such, you don't need to bet this number now, but it is one to monitor over the next few weeks. It could very well be the best value we've got by the middle of July.
Basically, you've got options depending on whether you think Newton still has anything left in the tank. If we're going to play into the volatility angle, we should shoot for the longest numbers, which means betting them either to win the Super Bowl or miss the playoffs entirely. Regardless, we have to adjust the range of outcomes on this team in our brain and bet them accordingly.