Ranking All 32 NFL Schedules for 2017
Predicting schedule strength for any sport is difficult. Variance happens. Teams win coin-flip games, injuries occur, teams outperform expectations.
And so while it'll never be a perfect process, it can still be worthwhile, especially when using forward-looking numbers (like our updated nERD projections) rather than simple wins and losses or yardage gained or allowed from the prior season.
nERD takes a lot into account -- like opponent strength, adjusted and context-specific offensive and defensive performance, special teams play -- and spits out a single number. That number indicates expected point differential against a league-average opponent (whose nERD would be 0.00) if they met on a neutral field.
So, how does every team's schedule look, according to nERD?
The 2017 Season
Here's the breakdown by projected nERD for each team, sorted by opponent nERD per game, for the full season.
The AFC West has it tough. Not only do they have to play one another twice apiece but they also draw the New England Patriots' stellar nERD of 9.22. The Los Angeles Chargers get the easiest draw, which could help them bounce back from their five-win season a year ago despite a nERD of 0.71 (15th in the NFL).
The AFC East also suffers from the Patriots curse, and the three other teams (Miami, Buffalo, and New York) all sit inside the top eight in schedule strength.
The NFC East finds itself clustered near the top with a tough schedule, too, despite not playing New England this season.
And as usual, because they play one another twice, the AFC South (Jacksonville, Indianapolis, Tennessee, and Houston) benefits from some of the easiest schedules in the NFL by nERD projections.
First-Half Schedules
Not every schedule is created equally, of course. Here's the breakdown by the first eight weeks of the season.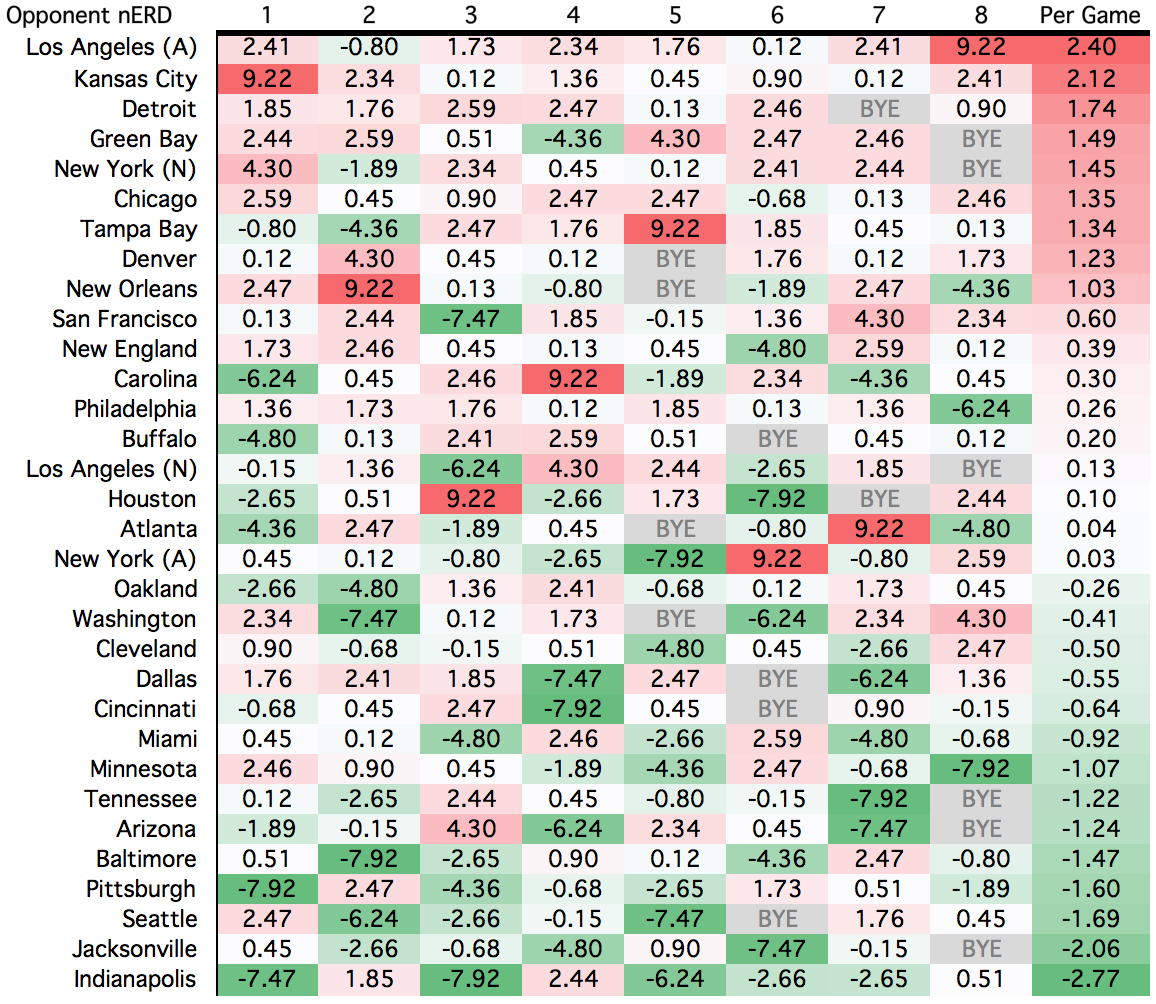 The Chargers don't get any favors early on and play just one below-average team by nERD in the first eight weeks before hitting the Patriots in Week 8. The Kansas City Chiefs draw New England first but more importantly don't face any teams with nERD scores below zero (until Week 13, actually).
Most of the NFC North draws a tough start, with Chicago, Green Bay, and Detroit inside the top six by this measure.
Indianapolis and Jacksonville still sit at the bottom, but some strong teams -- Seattle, Pittsburgh, Arizona, and Minnesota -- face opponents averaging a full point below league average for the first eight weeks.
Second-Half Schedules
Here's how things shape up in just the second half (Week 9 and beyond).


Miami draws the Pats twice, and every other opponent is at least league-average or better by our preseason rankings.
Oakland is in a similar boat when their division games ramp up and they face stiff competition nearly every week after their Week 10 bye.
Washington's second-half schedule is daunting, but they didn't even win their division last year, unlike Atlanta and Dallas, who also have tough slates down the stretch.
Some teams could make a surge if the team projections hold. San Francisco and Green Bay have top-10 schedules in terms of difficulty in the first half but two of the easiest late-season spans.
Offense and Defense
Now, schedule strength is fun and all, but why not throw in offensive and defensive projections, too? Maybe some teams have tough defenses on the slate but weak offenses or the other way around (of course that's the case). Here are each team's difficulty ranks based on opponent nERD (which we've already presented) as well as projected opponent Offensive and Defensive Net Expected Points (NEP) and passing and rushing defense ranks.

Carolina has drawn the 12th-toughest schedule in the league, but it primarily comes from tough offenses. Their defensive matchups should be some of the easiest in the league. The same can be said for Tampa Bay. Their schedule ranks sixth in difficulty by nERD. Opposing offenses grade out as the 2nd-toughest group, but opposing defenses sit 27th.
Minnesota, Chicago, Atlanta, New Orleans, Green Bay, and New York (Jets) all face tough offenses but not-so-tough defenses this season.
The opposite is true for Oakland, Dallas, Philadelphia Eagles, Washington, Indianapolis, and San Francisco.