FanDuel Daily Fantasy Baseball Helper: Friday 5/27/22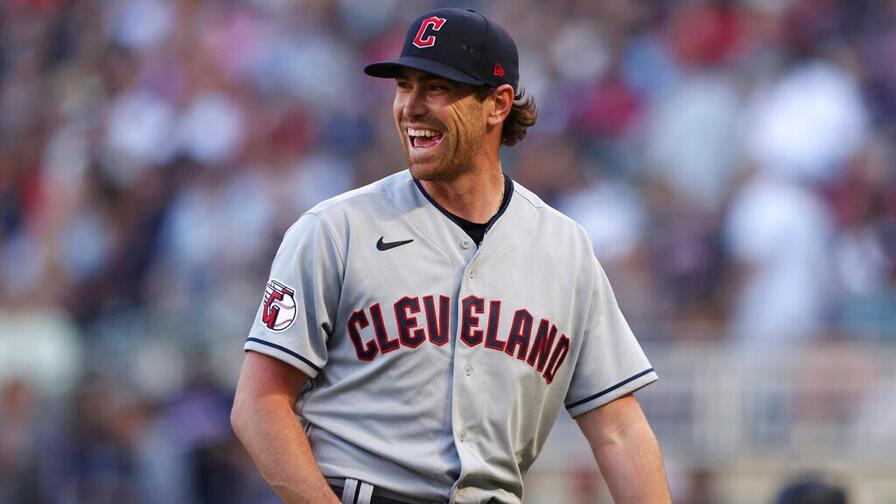 There are 13 games on Friday's main slate, and while there could be some rain in some spots, it looks like we should have a generally safe evening in that department. Our pitcher selection feels mostly narrowed down to a handful of arms, but stacks look pretty wide open tonight.
Our daily helper is available every day to analyze FanDuel's main slate and help give you a starting point when you're building lineups. Be sure to also incorporate our great tools into your research process. Whether you're looking for daily projections, the latest starting lineups and weather, or batting and pitching heat maps to find the best matchups -- we've got you covered!
Let's check out the top options on today's main slate.
Pitchers
Shane Bieber ($8,600): I almost never begin this list with a value option, but it's awfully hard to ignore Bieber at this salary against the woeful Tigers. While there are plenty of lackluster offenses that we like to attack, Detroit is truly in a class of its own.
Among active rosters, the Tigers have both the worst wOBA (.269) and ISO (.100), and they own the second-worst strikeout rate (25.1%) and walk rate (7.0%). If that wasn't enough, they also rank 29th in barrels per plate appearance.
Due to reduced velocity, Bieber hasn't been the elite hurler of years past, but he's still rocking a solid 3.63 SIERA, 24.1% strikeout rate, and 7.3% walk rate, and a 13.2% swinging-strike rate could portend an increase in strikeouts. He's more than capable of taking advantage of this matchup and did just that in his last start against these same Tigers, racking up a season-high 10 strikeouts on his way to 49 FanDuel points.
Workload is also in favor of Bieber, as he's been allowed to go 100 or more pitchers in four of his last five, and the only exception was due to an early exit in a poor start against Toronto.
Particularly on a slate lacking a bunch of guys with 30% strikeout rates (like yesterday), we probably shouldn't overthink this too much and just accept the salary discount on Bieber against the league's weakest offense.
Sean Manaea ($9,700): Manaea has one of the better strikeout rates on the board (27.6%), and this is an inviting matchup against a Pirates team with a slate-low 2.92 implied total at home in pitcher-friendly Petco Park.
The southpaw also has one of the slate's better marks in SIERA (3.38), and he's been incredibly efficient as a quality starts machine, notching six in eight outings. His pitch count is where we want it to be, as well, going 110, 99, 104, and 96 over his last four.
Pittsburgh is more of a middle-of-the-pack matchup for strikeouts, so Bieber still gets the nod at a lower salary, but Manaea absolutely deserves to be in the mix.
Justin Verlander ($10,800): It's odd going in reverse order of salary today, but Verlander does feel like the third option when factoring in that slate-high cap hit. The 39-year-old is getting fantastic results behind a 3.17 SIERA, 26.3% strikeout rate, and 4.8% walk rate, but those punchouts are admittedly a bit on the lower side for someone above $10,000.
However, while Seattle has performed well on offense and has some tough outs in its projected lineup, they also have some swing-and-miss bats through guys like Julio Rodriguez, Eugenio Suarez, Taylor Trammell, and Cal Raleigh. Verlander will also get a park factor boost from T-Mobile Park, and expectations are very low for the Mariners (3.02 implied total).
Like Manaea, Verlander hasn't had any trouble piling up six quality starts himself, and the Astros have let him go as high as 107 pitches, so there are no pitch count worries despite his age.
Stacks
Los Angeles Dodgers

The Los Angeles Dodgers were prominently featured on yesterday's perfect FanDuel lineup, and they could very well find themselves on it again tonight. They check in with the slate's second-highest implied total (5.16) against Madison Bumgarner and a subpar Diamondbacks bullpen.
Bumgarner's making his 10th start of 2022, and his 2.76 ERA doesn't line up with a 4.81 SIERA, 16.2% strikeout rate, and 8.1% walk rate.
While he's held a low BABIP throughout his career, this year's .216 is far too extreme to be sustainable. Maybe he's benefited from his 48.1% fly-ball rate against less power-oriented lineups due to the deadened ball, but the Dodgers decidedly do not fall under that category.
L.A.'s right-handed bats move to the front of the line against the southpaw, with Mookie Betts ($4,600), Trea Turner ($4,200), Will Smith ($3,400), Justin Turner ($3,000), and Chris Taylor ($2,800) giving us a flexible group at different salary tiers. The usual lefties can also be mixed in against that shoddy bullpen, too.
Boston Red Sox
The red-hot, uh, Boston Red Sox were the other team that dominated Thursday's perfect lineup after plating 16 runs for the second time in three games. This just isn't a team you want to mess with right now, and they have a slate-high 5.32 implied total on Friday night.
That being said, this isn't necessarily as easy a matchup as that total would imply. Kyle Bradish is a top prospect for Baltimore, and despite mixed-to-poor results in his first five MLB starts, his 3.57 SIERA, 24.8% strikeout rate, and 7.3% walk rate look pretty darn impressive for the 25-year-old.
Most notably, Bradish mowed down the Cardinals -- one of the very toughest teams to strike out -- for 11 punchouts earlier this month, and it's that kind of potential that should give us some pause, particularly given that Boston ought to be popular after their recent outbursts.

Still, we're talking about an inexperienced pitcher, and this will already be his second time facing the Red Sox -- and that was version 1.0 that was struggling back in April.
There's also a curious development in Bradish's early splits. It could just be some weird small-sample stuff going on, but the righty has actually been far more lethal against left-handed batters compared to righties. In same-sided matchups, he's posted a 4.86 xFIP and 19.0% strikeout rate compared to 2.23 and 32.6% versus lefties.
If there's any truth to those splits, that does play into Boston's hands, as outside of lefty Rafael Devers ($4,200), all the top Sox bats are righties.
J.D. Martinez ($3,900) has been their best hitter all season, sporting a ridiculous 197 wRC+, and he's joined by the always steady Xander Bogaerts ($3,700) and the suddenly hot bats of Trevor Story ($4,000) and Enrique Hernandez ($2,900).
Story's turnaround has truly been remarkable. After hitting zero home runs in April, he's slugged nine this month, with eight coming in just his last 10 games. Incredibly, even with the horrendous start to his Boston career, he's now up to a 121 wRC+ for the year and is behind just Martinez and Devers for the team's third-best xwOBA (.360).
The cherry on top is that Fenway is showing strong winds blowing out to left field this evening.
Atlanta Braves
After Boston and L.A., there's a decent gap to the next-highest implied total, but as of this writing, there are five more teams that exceed a mark of 4.60, and that's not even including dangerous offenses like the Astros and Angels. There are plenty of alternate paths to choose in tournaments.
The Atlanta Braves may very well be the best of the rest, though. Only the Red Sox and Yankees rank higher than the Braves in barrels per plate appearance, and they should be able to flex some of that muscle against left-hander Trevor Rogers.
Rogers had a breakout season in 2021, but that hasn't carried over into this season. He's only put up a 20.9% strikeout rate and 9.6% swinging-strike rate over eight starts, which is a far cry from his career marks of 27.3% and 13.0%.
He finally showed signs of a turnaround in an excellent start against the Brewers but followed that up with a dud last week, getting lit up for three dingers by... the Atlanta Braves.
The left-hander has a 4.57 xFIP and 18.0% strikeout rate against right-handed sticks this season, and that's bad news against what could be a lineup of entirely righties outside of Matt Olson ($3,400) -- a lefty who just so happens to hit southpaws well himself.
Even without Ronald Acuna, we've got Ozzie Albies ($3,300), Dansby Swanson ($3,300), Marcell Ozuna ($3,500), Austin Riley ($3,600), and Travis d'Arnaud ($3,000) as possibilities, and William Contreras ($2,700) is a great value now that he's getting regular playing time. Contreras boasts a 19.4% barrel rate and has mashed 7 homers in just 55 plate appearances this season.