DraftKings Daily Fantasy Baseball Helper: Tuesday 4/2/19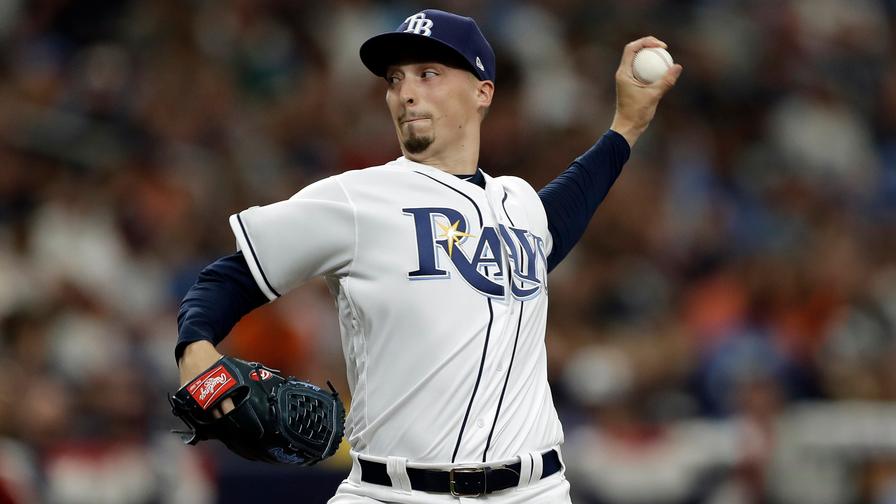 Every day is unique for daily fantasy baseball, which is both a blessing and a challenge. Although we can't simply plug and play our favorite studs day in and day out, each slate presents us with a chance for a new gem to vault us up the leaderboards.
Through the use of numberFire's tools, we can better identify the players primed to succeed each day, making the process of filling out a lineup just that much easier. In addition to our custom optimal lineups, you can check out our batting and pitching heat maps, which show the pieces in the best spot to succeed on that slate. Put on the finishing touches with our games and lineups page to see who's hitting where and what the weather looks like, and you'll have yourself a snazzy looking team to put up some big point totals.
Which names stand out for today on the DraftKings main slate? Let's check it out, starting with the pitchers.
Pitchers to Target
High-Priced Pitchers
Justin Verlander ($11,500 on DraftKings): This was going to be a toss-up between Max Scherzer, Chris Sale and Justin Verlander, but with a potential weather issue in D.C. and Sale's implosion on Opening Day, we want to focus on Verlander here. He is still a dominant pitcher at 36 years old, and he gets a pretty good matchup. Last season, Verlander had an elite 34.8 percent strikeout rate, which is the second-best mark on the slate. Additionally, he has the best walk rate at an incredibly low 4.4 percent rate. The ballpark is less than ideal, but he misses so many bats that if the Texas Rangers get a hold of one or two, he is able to make those earned runs up with strikeouts.
Blake Snell ($9,500): Opening Day was not kind to many Aces and Blake Snell was another one of them that wasn't very good going six innings while allowing five earned runs and just three strikeouts. However, he was elite last year, as indicated by his earning an AL Cy Young in a season in which he posted a 31.6 percent strikeout rate, 1.89 ERA and 0.97 WHIP-- all of which are elite. He is also lucky enough to pitch in one of the best pitcher parks in the Majors. While it is very early in the season and they have yet to have a game at Coors Field, the Colorado Rockies have scored just 16 runs in their first 5 games which Snell aims to take advantage of tonight.
Low-Priced Pitcher
Marco Gonzales ($5,900): Between his start in Japan and on Opening Day, Gonzales has struggled a bit. However, this price is way too cheap against a Los Angeles Angels team that has Mike Trout and then a bunch of fodder. Gonzales isn't much of a strikeout pitcher, as last year's rate (21.1 percent) and that for his career (19.8 percent) would indicate. However, his groundball tendencies -- his 44.9 percent clip last year was very solid -- are going to be how he grinds through games. He may have a limited ceiling due to his lack of strikeout ability, but this price in a home matchup is probably too good to pass up.
Hitters to Target
High-Priced Hitters
Mookie Betts ($5,000): Betts absolutely thrashed right-handed pitching in 2018. With an elite .438 weighted on-base average (wOBA) and .271 isolated power (ISO), he was among the best hitters in the Majors. Tonight, he's got a matchup against Oakland Athletics right-hander Mike Fiers -- one that struggled last season with the long-ball. In 2018, Fiers gave up a 39.1 percent hard-hit rate, 43.2 percent fly-ball rate and 89.3 mile-per-hour average exit velocity, which had a helping hand in his pretty brutal 14.1 percent home-run-to-fly-ball rate. This is a great matchup for Betts despite the poor hitting park in Oakland.
Juan Soto ($5,100): After storming onto the scene as a 19-year-old rookie in 2018, Soto is looking to continue that success in 2019. He completely tuned up right-handed pitchers as a rookie with an impressive .401 wOBA and .231 ISO, showing that even at such a young age he would have success in the Majors. There is a bit of a rain factor in this matchup, but I would be more concerned about pitchers than hitters, as a delay here isn't a huge issue.
Manny Machado ($4,400): Machado hit for a ton of power against right-handed pitchers last season and is hoping to get things going on his new team -- the San Diego Padres. Like many Opening Day aces, his opponent -- Zack Greinke -- struggled. Greinke gave up four home runs to the Los Angeles Dodgers, and while the Padres have struggled to score, they are bound to get going soon. Machado hit for a .374 wOBA and a very powerful .242 ISO against righties in 2018 and looks to bring that power to San Diego moving forward.
Value Hitters
Rowdy Tellez ($4,000): Rowdy Roddy Tellez made the Toronto Blue Jays Opening Day roster and looks to have a more prominent role with Kendrys Morales traded to the Athletics. Tellez will certainly have a regular designated hitter role on the Jays, and playing in that home ball park -- and, quite frankly, in that division -- Tellez could hit a bunch of home runs this season. Last season in a limited role, he smashed right-handed pitching. In 50 plate appearances, he put up an absurd .503 wOBA and .400 ISO. Of course, the sample size is small but he still has a cupcake matchup tonight against Andrew Cashner, who has a slate-worst 5.33 SIERA, slate worst 14.5 percent strikeout rate and an equally poor 13.6 home-run-to-fly-ball rate.
Dee Gordon ($3,900): He has been hitting out of the nine-hole, which is never an ideal location for fantasy, but he has had some pretty decent success there. Now, it helps that the Seattle Mariners have 54 runs in their first seven games, but tonight could be another good matchup for them and Gordon. As a career .289 hitter, there is little concern around his .268 average from 2018, in which he was horrible once he came back from his injury. He doesn't walk much, unfortunately, but he already has four stolen bases, which is encouraging that when he gets on base he is going to run. Trevor Cahill gave up 15 stolen bases last season in jut 110 innings, so that also bodes well for Gordon tonight.
Austin Barnes ($3,700): Be sure to check the starting lineups to ensure that Barnes is in the lineup, as it could always be Russell Martin in his place. Madison Bumgarner was fantastic on opening day and certainly is looking to make his 2018 forgettable. However, it is tough to ignore just how bad he was. He gave up a slate-worst 41.6 percent hard-hit rate with a significant drop in his strikeout rate, as he struck out batters at just a 19.8 percent clip. In a sample size too small to matter, Barnes has been crushing the ball this season. I won't even bother citing stats, but he was a catcher that many thought could have a breakout last season, so hopefully this is the breakout just one season delayed.
---

Ryan Sheppard is not a FanDuel employee. In addition to providing DFS gameplay advice, Ryan Sheppard also participates in DFS contests on FanDuel using his personal account, username donkshow_. While the strategies and player selections recommended in his articles are his personal views, he may deploy different strategies and player selections when entering contests with his personal account. The views expressed in his articles are the author's alone and do not necessarily reflect the views of FanDuel.