5 Betting Takeaways From the 2022 NFL Schedule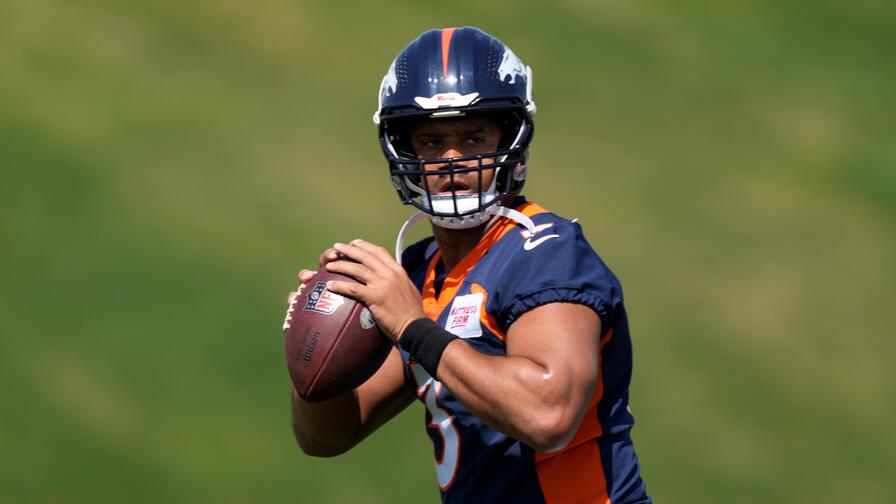 For the most part, the NFL's schedule release is overblown.
We already know which teams are facing which and where those games will take place. Those are the fun parts of the schedule.
When they occur? Meh.
But there are still big implications for betting. Not only can you start to get Week 1 bets down, but we get a glimpse at travel and rest, and it can inform when we want to bet on a team we like.
Does the schedule start soft? Bet them now.
Does it start tough and then loosen up? You might be able to wait and get a better number in-season.
In looking at the schedule, a couple of things did stand out in those regards. Let's highlight those here and decide what action to take -- and which we might want to put off.
The Broncos Should Start Hot
If you want in on the new-look Denver Broncos, I'd do it now. Because Russ is gonna cook from the jump.
As you likely heard, we get a Russell Wilson revenge game against the Seattle Seahawks in Week 1. I've got Denver as 5.1-point favorites in that one, which should kick things off with a bang.
But the fun doesn't stop there. I have the Broncos as at least slight favorites in 10 of their first 11 games, the lone exception being a road matchup with the Los Angeles Chargers in Week 6.
This means that the Broncos -- if they live up to expectations -- should get off to a great start. As such, if you want the best number on them, it's likely wise to get it now as most futures markets should shorten the first few months.
The back end of the schedule is pretty brutal, though. Six of their eight toughest games are their final six games of the season. They get the Kansas City Chiefs twice in that span, the other Chargers matchup, and a trip to face the Baltimore Ravens on the East Coast.
This will be important to keep in mind during the season. It's going to be fun to watch Wilson and friends tear it up early on. We just have to remember that the schedule will tighten up later, though, so we'll want to stay grounded in our enthusiasm and not get out over our skis with adding to our futures portfolio.
The Chargers' Schedule Is Also Soft Early
We get a similar dynamic within the same division. The Chargers face the Chiefs in Week 2, but outside of that, it's pretty smooth sailing through their first eight games.
Each of the Chargers' six easiest games will come within that eight-game stretch. This is operating under the assumption that Deshaun Watson will be suspended for their Week 5 matchup with the Cleveland Browns, so things could definitely change. But even beyond that, they get a slew of winnable games.
This one, to me, is more impactful than the Broncos' hot start. The Chargers rank sixth in my power rankings, high enough where I can sniff them to bet the division (+240 at FanDuel Sportsbook) or potentially even the Super Bowl (+1600). I'm unlikely to get better numbers than that once the season is underway.
The Chargers' win total, to me, is fair where it's at. They're at 10 wins with -110 on the over, and I've got them at 10.4 wins. That's why I'm eyeing the higher-upside markets, especially given how close the Chargers are to the Chiefs by my numbers.
Similar to the Broncos, I'll want to keep the early schedule in mind once we get to the second half of the year. It may feel like vindication for my numbers if the Chargers start hot, but that's to be expected now. So, I'm making a mental log not to get too jazzed about the Chargers if their record is great early. I'll snag some futures tickets now and just hold those because things could get bumpy in November and December.
You Might Want to Hold Off on Betting the Bucs
The flip side of the coin is the Tampa Bay Buccaneers. I'm fully on board with betting the Bucs; they lead my power rankings entering the year.
I just might hold off until Week 5.
That's because most of the Bucs' toughest games occur right out of the gate. Their first four games -- in order -- are against the Dallas Cowboys, New Orleans Saints, Green Bay Packers, and Chiefs. That's two legitimate Super Bowl contenders and a team with a 10.5-win total. They get three of their six toughest games out of the way at the jump.
Things open up after that as they face the Atlanta Falcons, Pittsburgh Steelers, and Carolina Panthers the next three weeks, all games where I'd have them favored by at least a touchdown. Their expected win total in that three-game stretch is actually a bit higher than the opening four games.
As such, the best time to bet the Bucs is likely entering Week 5. They could very well be 2-2 at that point, which would likely allow you to bet them at a better number than where they're currently at.
The worst-case scenario is that the Bucs win all those games and this doesn't happen. But even then, you can have a lot of faith betting the Bucs at that time, and you didn't lock up bankroll for the four months leading into it.
Among the favorites, the Bucs are the one I'm most likely to hold off on betting futures in hopes of doing so later. We won't catch sportsbooks sleeping on the undulations of the schedule, but the advantages of holding off here should be obvious.
The Jets Could Finish Strong
In each of Sam Darnold's first two years with the New York Jets, he got on a mini-heater toward the end of the season, inspiring hope heading into the following year.
We know now that hope was misplaced.
But we might be in for another round, this time with Zach Wilson.
Each of the Jets' four easiest games come in the final seven weeks of the season. That includes home matchups with the Chicago Bears, Detroit Lions, and Jacksonville Jaguars. They're also getting the Seahawks on the road in Week 17.
The Jets should be able to fare well there. It's part of why I've got them at 5.7 wins, a hair above their FanDuel Sportsbook total of 5.5 (though the over is shaded to -160).
We're just going to have to hope the new skill players gel quickly because the early schedule is much tougher. Within the first six games, the Jets will face the Browns, Packers, and Pittsburgh Steelers, all of whom project to be top-tier defenses by my numbers. The Ravens -- their Week 1 opponent -- could get there, too, and the Cincinnati Bengals and Miami Dolphins are no pushovers.
There are a couple of takeaways from this.
First, the Jets are going to need to be patient with Wilson. It's a lot to ask of him to mesh with new teammates, face that schedule, and succeed right away.
Second, we'll need to keep an open mind with them later in the year. The Jets aren't necessarily players in the futures market, but we could get some soft spreads on them down the stretch if their early record is poor. We'll just have to hope things haven't unraveled too much by that point.
The other side of this is that we'll want to up our view of the Jets in a hurry if they do get off to a good start. They'll be battle-tested early, so if Wilson and company are playing well, it could speak well of their outlook going forward. So keep a close eye on the Jets, and even if they don't win a bunch of games, they could be a team to buy into late in the year.
The Jaguars Are in a Rough Spot
The Jacksonville Jaguars could use a hug.
Not only are they still limping out of last year's fiasco, but the schedule makers gave them a firm middle finger. They're going to have a rough travel itinerary.
The Jaguars will start with four of their first six games on the road. It's not the toughest opponents, but that's a lot of travel.
Then they go home for a three-game homestand. The only problem is that one of those "home" games is in London, and it's sandwiched between the two home games.
It's their only multi-game homestand of the year, and it's still going to involve flights across the ocean. Woof.

After that, the Jags go on the road, have their bye, and return home in Week 12. But that's followed up by another stretch where they have four road games in six weeks.
I could not imagine a worse schedule than this for a team. They don't really ever get a chance to catch their breath.
Thanks to the offseason additions, I've got the Jags projected for 6.5 wins this year. That's also their win total at FanDuel Sportsbook with +105 on the over. I can't even come close to considering that once I account for this brutal schedule.
Similar to Zach Wilson, it'd be great to see Trevor Lawrence succeed. And he still could now that he has a head coach who is an adult and some better surrounding talent. But this is yet another obstacle he'll have to overcome early in his career.