Draft Ryan Tannehill in Your Deep Fantasy Football Leagues
In fantasy football, we typically don't talk about "sleepers" or "long-shot" picks at the quarterback position.
You only start one, meaning in typical leagues, there are only 12 in action in any given week. If you didn't draft one early (which, if you're reading numberFire, you probably have firmly ingrained in your brain not to do), you also don't much care who you've got at the position. You'll be adding and dropping players all season to stream the position.
There are still leagues where there is more nuance to the position, however. Two-quarterback (2QB) and superflex leagues effectively double the number of players at the position who will be starting, and even deeper 16-team leagues create some quarterback scarcity.
Best-ball drafts also leave you needing to consider which low-ranked quarterbacks are worthwhile, as your league will likely see 30-plus players drafted at the position.
So while it may not be the case in standard leagues, there are plenty of formats where there's value to be had in snagging a solid quarterback at the tail-end of drafts.
Average draft position data (ADP) varies by format, but going off the board as QB30 in 2QB leagues and QB28 in MFL10's, Ryan Tannehill is a huge value this year.
Tannehill missed the entirety of the 2017 season with a knee injury, but he was full-go for OTAs and has said that he feels confident in his mobility.
Past Fantasy Finishes
Drafters seem to be allowing that season off to sour them on his prospects for 2018, though, and where he's being drafted right now would reflect career-low fantasy finishes for Tannehill. That is true in both overall and per-game views:
| Season | QB Rank | Per Game |
| --- | --- | --- |
| 2016 (13 Games) | 27 | 22 |
| 2015 | 17 | 20 |
| 2014 | 8 | 8 |
| 2013 | 16 | 19 |
| 2012 | 24 | 26 |

Of course, it's not a guarantee that his low draft spot comes from injury concerns. The Miami Dolphins' offense isn't inspiring much confidence heading into 2018, and 5Dimes sportsbook implies the 'Phins to score the sixth-fewest points this season.
During Tannehill's tenure, the Dolphins have finished bottom-six in points scored twice (2015 and 2012), while barely beating that with a 26th-place finish in 2013. So even if Miami scores as few points as projected, finishing as QB30 or below would be an unprecedentedly poor finish for Tannehill.
Offensive Weapons
Another reason you could knock Tannehill is his lack of offensive weapons -- especially having lost his former top receiver in Jarvis Landry. A deeper look goes a long way to alleviate that concern, however.
One way we measure efficiency at numberFire is with a metric called Net Expected Points (NEP), which measures the expected points a player contributes to his team on any given play.
Looking at the Target NEP per target numbers for Dolphins wide receivers, Landry has out-performed the rest of the team's wideouts only once and finished below the team average at the position over his entire time in Miami.
| Year | Landry | Rest of WRs |
| --- | --- | --- |
| 2017 | 0.08 | 0.09 |
| 2016 | 0.36 | 0.24 |
| 2015 | 0.16 | 0.32 |
| 2014 | 0.26 | 0.26 |
| Total | 0.20 | 0.22 |

And that impact has showed up in Tannehill's numbers as well.
Looking at adjusted yards per pass attempt, Tannehill's efficiency has been significantly higher when throwing to Kenny Stills or DeVante Parker than to Landry. His efficiency on passes to Landry is tied for the third-lowest among the eight wideouts he has targeted at least 50 times in his career.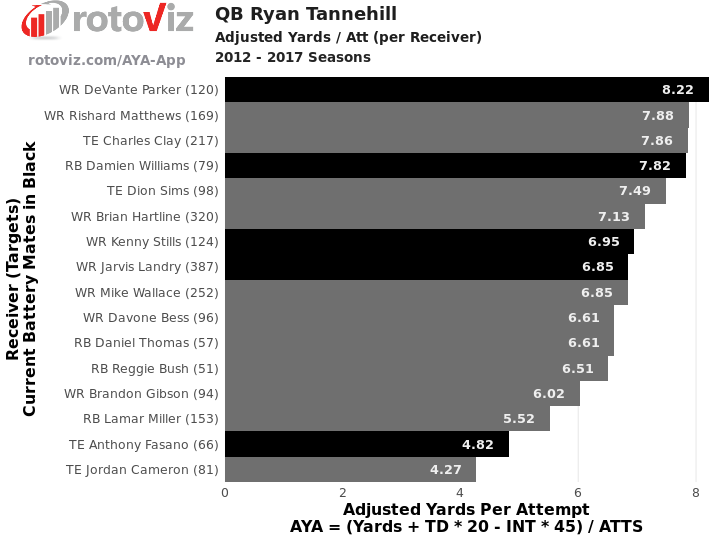 His fantasy production reflects a very similar trend:
| Targeting | Attempts | Fantasy Points | Per Attempt |
| --- | --- | --- | --- |
| Jarvis Landry | 389 | 148.36 | 0.38 |
| DeVante Parker | 121 | 62.64 | 0.52 |
| Kenny Stills | 123 | 68.88 | 0.56 |

If anything, losing Jarvis Landry could be a boon for Tannehill's efficiency, both from a real-world and fantasy standpoint.
The Dolphins have added another efficient pass-catcher to the group as well. Albert Wilson-aimed targets generating the third-highest adjusted yards per attempt among the 12 wideouts Alex Smith has targeted at least 50 times.
Danny Amendola doesn't stack up quite as well, ranking fourth among the seven wideouts targeted at least 50 times by Tom Brady since Amendola's arrival in 2013. One potential pitfall for Tannehill's value this year could be if the Dolphins decide to feed Amendola in a similarly inefficient manner to the way they used Landry.
Having three promising wideouts to work with, though, Amendola taking on a serious high-volume role would be a surprise.
Tannehill isn't a high-volume Konami Code type rusher, but he has notched at least 20 fantasy points with his legs in each of his NFL seasons, averaging 1.85 fantasy points per game from rushing stats. That's not a huge amount, but it's also not insignificant: 1.85 fantasy points per game as a low-end starter is good for 16% of what last year's per-game QB30 posted and is bigger than the difference between the QB30 and QB23.
Conclusion
I'm not telling you to draft Tannehill in standard leagues. In fact, I'm specifically telling you not to. Whether he finishes at QB30 or QB22 would make absolutely no difference in that format, and you'd likely get a grand total of zero starts out of him.
But fantasy football is a diverse game. 2QB and superflex leagues are on the rise, and best-ball formats that see you drafting two or three quarterbacks to stay on your roster for the whole season require a much deeper draft than standard leagues.
People have written off Tannehill, seemingly forgetting that he has a proven track record of production that is not at all captured in his draft position. He even has some additional upside in the benefit he could see from losing his least efficient wideout.
If back-end starting quarterbacks are relevant in your league, Tannehill is one to target.