Fantasy Football: Week 1 Red Zone Report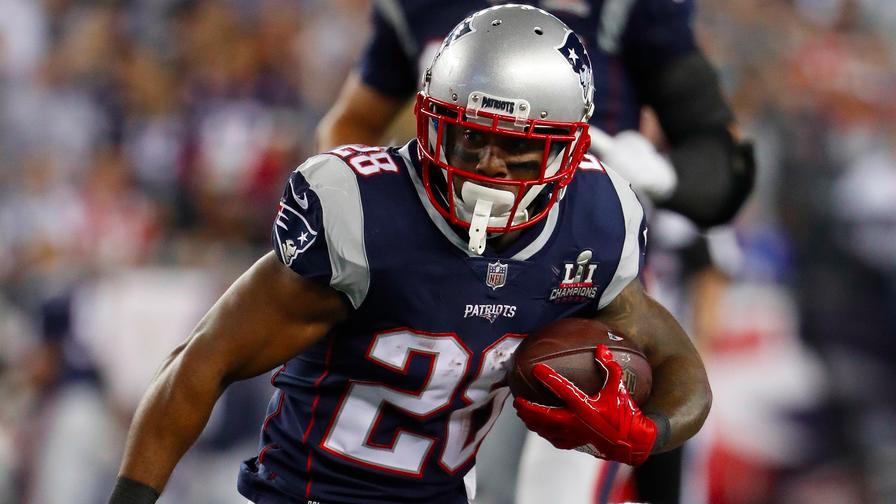 Of the 1,231 touchdowns that teams scored on offensive snaps in 2016, 938 of them came from inside the red zone. With touchdowns being so valuable in fantasy football, having a firm grasp on red zone usage is important. The small number of snaps can make it a difficult task, though, with significant variance on a week-to-week basis.
However, identifying trends as they develop can get you ahead of the game, finding players who are going to be well-positioned to score touchdowns as well as players who have been unsustainably efficient and are likely to see a drop-off in scoring.
We're only one week into the season, so naturally our sample sizes are the smallest we're going to be dealing with all year. Something happening in one game isn't quite a trend, but that doesn't mean there weren't plenty of teams with some interesting results that are worth monitoring for our fantasy football teams.
The Patriots' Other Red Zone Back
Mike Gillislee obviously drew a lot of attention in Week 1, punching in three touchdowns from inside the two-yard line. After all, his league-leading eight red zone carries are certainly nothing to scoff at. That wasn't the only big workload for a New England Patriots back this week, though, as James White notched six carries while also being targeted once in the passing game. Those seven opportunities (carries plus targets) tied for the second-most in the league this week, accounting for 35.0% of the Patriots' total.
White's touchdown upside is somewhat capped by Gillislee getting the goal-line work, but the Patriots ran 58 plays from inside the five-yard line in 2016, compared to 126 in the rest of the red zone. They only scored three more times on those goal-line snaps, compared to six from the rest of the red zone.
They also passed on 32.8% of snaps inside the five-yard line last year, compared to only 16.7% in Week 1. Gillislee's lack of passing-game prowess will likely keep him largely irrelevant on those plays. He has huge touchdown upside, but while the "big-body goal-line back" archetype makes it easy to consider Gillislee a touchdown scorer, don't overlook White's scoring potential -- especially if Gillislee's presence in the Pats' aerial attack remains non-existent.
Amari Cooper's Surge
Over his first two NFL seasons, Amari Cooper saw just 21 targets inside the red zone. That not only ranked him third among Oakland Raider players during that stretch, but he only turned those targets into nine receptions and two touchdowns.
Week 1 saw Cooper add nearly 20% onto his career total, scoring one touchdown off four looks in the red zone. As 4for4's TJ Hernandez has outlined, there is no correlation in a wide receiver's year-over-year red zone touchdown rate -- likely due to the small sample sizes we're dealing with. But if Cooper continues with this surge in red zone volume, his touchdown upside will likely start to finally line up with the promise he has shown in the other facets of his game.
Rookie Fever in Jacksonville
The Jacksonville Jaguars didn't take Leonard Fournette fourth overall for no reason. They fed him the ball like crazy in Week 1, which is something that held true inside the 20-yard line.
Fournette's seven red zone carries last weekend were second only to Gillislee, and accounted for half of the red zone opportunities Jags players saw. Four of his carries were from inside the five-yard line, turning one of them into a touchdown. Jacksonville won't always be playing with the big lead they had last week, and Fournette's overall volume could dip a bit, but this heavy usage near the end zone means he'll continue to offer strong upside on a weekly basis.
The Old Guard in Carolina
While the hype in the Carolina Panthers backfield has been around Christian McCaffrey, it looks like Jonathan Stewart will limit McCaffrey's upside to a degree.
Stewart saw the Panthers' only red zone target and two of their four red zone carries, making his 60% share of the opportunities tied for the second-highest mark in the league. Meanwhile, McCaffrey saw only one carry and no targets inside the 20.
This isn't a big surprise, with rumblings before the season that Stewart would be the team's short-yardage back. He should continue to have some interesting upside, but you're also not going to be able to rely on touchdowns for McCaffrey's fantasy scoring.
Concern for Frank Gore
Frank Gore already saw a sharp drop in fantasy value when it was revealed he'd have to play multiple games without Andrew Luck at quarterback for the Indianapolis Colts. That meant a more pass-heavy game script, but the Colts' Week 1 red zone usage adds another red flag for the veteran rusher.
They're not likely to see a ton of scoring opportunities while their offense is led by either Tolzien or Jacoby Brissett, but Gore didn't see any their six red zone opportunities in Week 1. A player to keep an eye on there is Marlon Mack, who saw three of their four carries, and whose 50% market share of red zone opportunities was tied for fifth in the league.
Notable Play-Calling Tendencies
Four teams had pass-to-run ratios of at least 3-to-1 in the red zone this week -- the Kansas City Chiefs and New York Jets both had 3-to-1 ratios, while the Houston Texans and Washington both ran six passing plays and no running plays.
On the other end of the spectrum, there were six teams with ratios of 0.5-to-1 or lower. The Green Bay Packers ran the ball on their only red zone snap, the Jaguars had a 0.27-to-1 ratio, the Patriots posted a 0.33-to-1 mark, and the Panthers, Indianapolis Colts, and Los Angeles Rams each had a ratio of 0.5-to-1.
Still Cloudy
Five teams -- the Packers, Jets, New York Giants, Philadelphia Eagles, and Atlanta Falcons -- had five or fewer offensive snaps in the red zone last weekend, and the data becomes increasingly unreliable as we get into sample sizes that small.
For what it's we should note that Ty Montgomery ran the ball on the Packers' only red zone snap, LeGarrette Blount handled both of the Eagles' red zone carries and saw one of their three targets, and Taylor Gabriel saw both of the Falcons' red zone targets.
Be sure to check back in after Week 2 when we'll have a better idea of which trends will be consistent and which were one-off anomalies, along with getting our first look at the Miami Dolphins and Tampa Bay Buccaneers.