College Basketball: 9 Must-Watch Games This Week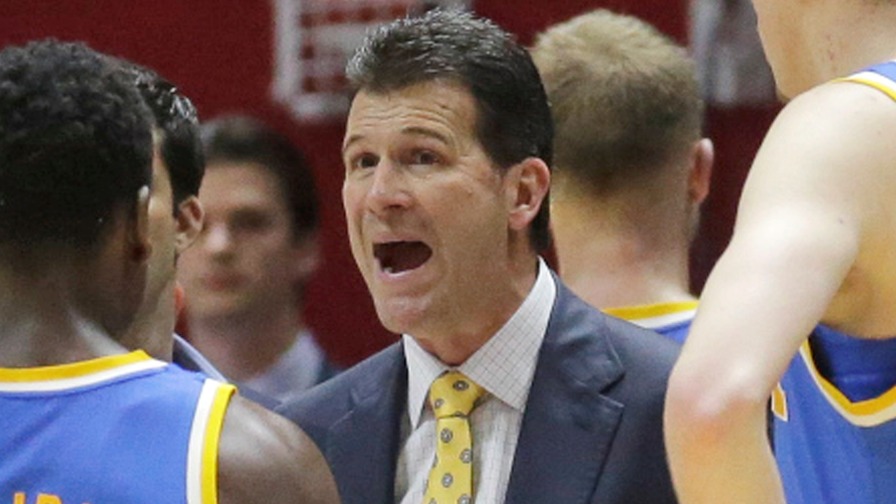 As the college basketball season progresses into the thick of conference play, the stakes in games will increase as teams fight for position in their respective conferences. After conference realignment loaded the power conferences with more big-time programs, the number of impressive regular season games has exploded.
With number-one in the polls falling for the second straight week, the season is really heating up. Here are the can't-miss matchups of this week.
Monday

Game of the Day
(8) Creighton at (15) Xavier, 2:00 PM ET, FS1
As always, the basketball schedule on Martin Luther King Jr. Day is loaded with excitement, and this Big East clash pins two of the top teams in the conference against each other as part of a day long slate of games on Fox Sports 1.
Creighton has run off four games since dropping their only contest of the season to Villanova two weeks ago, each of those four by double figures. Their win over Butler in Omaha last week was much more impressive than the 11-point margin of victory, as the Bluejays led by as much as 25 in the second half. Our 11th-ranked team offensively is still shooting an astounding 41 percent from beyond the arc, which will be the key for them creating separation in this game.
Xavier is trending in the wrong direction after their 3-0 start to the conference season. The Musketeers are in the middle of a rough stretch of games which included losses on the road to Villanova and Butler. After missing their first two chances to grab big conference wins, this will be an opportunity for Xavier to show they belong in the upper class of the Big East. Look for the Musketeers to come out swinging in an effort to stand their ground and not fall too far back into the pack in the conference.
Other Games to Watch

(2) Kansas at Iowa State, 9:00 PM ET, ESPN
Following the loss of Big 12 foe Baylor this week, the Jayhawks will likely be stepping into the number-one spot in the AP polls. Similarly to Baylor, their first game in the top spot will be played in a tough environment against a strong team. Iowa State's 11-5 record is not indicative of the way they have been playing this season. The computers like the Cyclones, as they are ranked 21st in our rankings. They have managed to push two top-five teams, Baylor and Gonzaga, to the brink this season and the crowd will be charged up with upset on their minds.
Kansas enters the game on a 16-game winning streak and has maneuvered their way through their first five Big 12 games, surviving three single-digit victories over tough competition. If Kansas has any issues dispatching Iowa State, it should not come as a surprise.
Wednesday

Game of the Day
(20) Notre Dame at (9) Florida State, 7:00 PM ET, ACC Network
Florida State continues their tough stretch of games, but returns home to face the Irish in a matchup of top teams in the ACC. Notre Dame enters this game as the only undefeated ACC team in conference play, but they'll be facing their toughest test yet. The Irish are on a seven-game winning streak after dropping consecutive games to Villanova and Purdue in mid-December.
Florida State is coming off their first conference loss at the hands of North Carolina on Saturday that was more respectable than the final score would make you believe. The Seminoles' other game last week was a 16-point win over Duke. Offense will be the name of the game in this matchup of two top-13 teams in our offensive rankings, and it should certainly be an exciting one to watch.
Other Games to Watch

(23) Florida at South Carolina, 6:30 PM ET, SEC Network
Florida and South Carolina enter this game as two of the three teams that have yet to take a loss in the SEC. Florida has been flying under the radar to this point, but a road game against a solid conference foe may be just what they need to get people's attention. The Gators' only three losses on the season have come to Gonzaga, Duke, and Florida State, and everything thus far points to them as Kentucky's stiffest competition in the SEC.
That is, unless South Carolina has something to say about it.
The Gamecocks have rebounded nicely from a rough stretch at the end of December where they dropped three of five by defeating their first four conference opponents. South Carolina's success can be attributed to their strong defensive play, as they rank fourth in the country, according to our numbers.
Thursday

(16) Arizona at (25) USC, 9:00 PM ET, Pac12 Network
Arizona will make the tough swing through Los Angeles this week, starting off with USC on Thursday. The Wildcats have bounced back nicely after dropping two of three a month and a half ago, running off 10 straight wins and starting 5-0 in the conference. Their first real test will come this week, starting with this one in USC. The Trojans have dropped three of five since their 14-0 start and are looking for another quality win to add to their relatively thin resume. While USC's 16-3 record looks good, 11 of those wins have come against sub-100 RPI teams. Outside of wins over SMU and Texas A&M, the Trojans were not really challenged in the non-conference. A home matchup with Arizona can be just what USC needs to get some respect, but taking down Arizona will be no easy task.
Saturday

Game of the Day
(16) Arizona at (4) UCLA, 4:00 PM ET, CBS
Arizona completes their week in Los Angeles with a trip to Westwood on Saturday. UCLA avoided a scare at Utah last Saturday to bring their winning streak up to five after their conference opening loss to Oregon. The Bruins still hold the top spot in our offensive rankings as they continue their highly efficient two-point and three-point shooting percentages, both of which rank in the top-four in the country. This game will be important for the Bruins to win, as a loss would drop them further behind the Pac 12 leader and would put pressure on them to steal the matchup in Tucson later in the season. Arizona's 11th-ranked opponents' three point shooting percentage will be put to the test against UCLA's potent attack.
Other Games to Watch
(14) Louisville at (9) Florida State, 2:00 PM ET, ESPN
Louisville will be the next ranked team to enter Tallahassee and take their best shot at Florida State. To this point, Florida and Duke have been unsuccessful at claiming victories. The Cardinals will bring the nation's fifth ranked defense into town and will need every bit of it to slow down the fierce Florida State offensive attack. Although the Seminoles will be home for both games this week, they will have a tough time preparing for the clearly different styles that Notre Dame and Louisville each bring to the table. If Florida State can escape this week without a loss, their upcoming schedule gives them an opportunity to open up a huge lead in the ACC race.
(10) West Virginia at (25) Kansas State, 6:00 PM ET, ESPN2
West Virginia looks to be one of the most complete teams in the country, especially when it comes to computer numbers. The Mountaineers rank first in defense and second in offense, per our numbers, and have looked impressive while collecting a handful of top 50 wins. Last Monday, West Virginia knocked Baylor from the ranks of the unbeatens in grand fashion, then avoided a letdown in Texas to keep them moving in the right direction.
As with that Texas game, any road game in the Big 12 can be an adventure for even the best teams. Enter a trip to Kansas State, who is looking for an opportunity to add a big win to their resume. The Wildcats jumped into the top-25 last week, but dropped a tough one to Texas Tech, then got outlasted by Baylor. While K-State is 0-3 against the RPI top 50, they have lost each game by single digits, including a game two weeks ago where a trip to Kansas nearly ended in an upset. Kansas State will have upset on their minds, but that could all go out the window if they fall prey to West Virginia's tenacious defensive attack.
South Carolina at (6) Kentucky, 6:00 PM ET, ESPN
This game will help show us how much true competition Kentucky will have in the SEC this season. If South Carolina is going to have a good chance to win this game, they will have to rely on their defense to slow down the potent Wildcats' offense. The Gamecocks have struggled to score this year, which will make keeping up with Kentucky highly unlikely in the event that the defense falters. According to Kenpom's adjusted offensive metrics, South Carolina ranks 159th, which is by far the worst of any team inside their top 30 overall. On the other hand, Kentucky has been hanging huge point totals on the board all season. The Wildcats rank second in the nation, averaging 93 points per game and are the top overall team in nERD (the number of points we'd expect a team to win by against an average one on a neutral court), so there is always a reason to get in front of the TV for them.