6 Fantasy Basketball Players to Buy and Sell for Week 4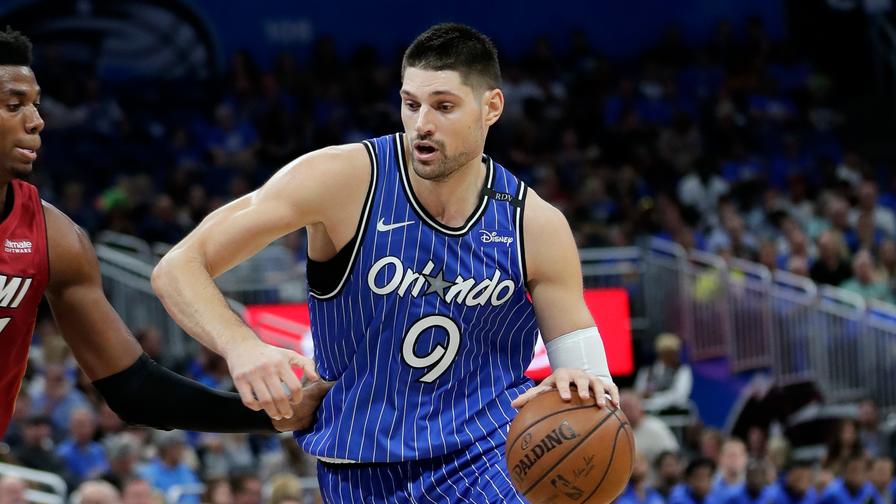 It's that time of the week once again when we look for three players to buy and three to sell in fantasy hoops.
The buy options are most often players who are not living up to expectations and present a nice buy-low window, but sometimes it's also about jumping on a player in the midst of a breakout before he reaches his full potential.
On the other side of the coin, we look at players to sell, either because they are temporarily punching above their weight class, or because their situation is about to get less friendly for fantasy purposes.
As always, check out last week's edition (and the week before for good measure) for other ideas that might still be relevant. We try not to repeat ourselves from week to week.
Let's hit the market.
Buy
LaMarcus Aldridge, PF/C San Antonio Spurs
LaMarcus Aldridge has had a pretty lackluster start to the 2018-19 season, currently ranking 84th in nine-category leagues through nine games. His 18th-ranked finish as the San Antonio Spurs' clear-cut number-one option last year might not be in reach this time around with DeMar DeRozan in the fold, but Aldridge did manage to finish 26th and 53rd in his first two seasons in San Antonio while sharing usage with Kawhi Leonard, so mid- to early-round returns are still very much in reach.
If you look at Aldridge's line so far this year -- 19.9 points, 0.0 three-pointers, 9.1 rebounds, 3.4 assists, 0.4 steals, 1.0 block, and 1.9 turnovers in 35.6 minutes per game, with a shooting split of 45.2% from the field and 75.5% from the free throw line -- most of those numbers are pretty much in line with his averages over his four seasons in a Spurs uniform, with the exception of the shooting percentages. LMA has shot 49.9% from the field and 83.3% from the free throw line over that span, as compared to his 45.2% and 75.5% marks through nine games this year.
As he grows more and more comfortable with DeRozan as a running mate, expect Aldridge to start splitting 50% and 80% yet again and thus get back to being a top-50 guy with top-30 upside. You've got an opportunity to buy-low right now while DeRozan and LMA feel things out.
Aaron Gordon, SF/PF, Orlando Magic
Over Aaron Gordon's 58 games played in 2017-18, he had a per-game fantasy breakout, ranking 65th in nine-category leagues after three seasons of failing to crack the top-115. Most people were expecting Gordon to take an even bigger step forward this year -- as evidenced by his 48.0 average draft position (ADP) -- but that hasn't panned out so far. Through 10 games, he's the 98th-ranked player in nine-category leagues, and he was the 152nd-ranked guy before rattling off back-to-back solid games on Sunday and Monday.
Over the full 10-game span, Gordon is averaging 16.1 points, 1.7 threes, 8.0 rebounds, 2.0 assists, 0.8 steals, 0.8 blocks, and 2.1 turnovers in 32.6 minutes per contest, while shooting 46.6% from the field and 64.7% from the line. The most notable differences are that the points, threes, and free throw percentage are down from last year's clips of 17.6, 2.0, and 69.8%, respectively. It's also worth noting that although his 32.6 minutes per contest is in line with his 32.9 from last year, his 21.8% usage rate is down a bit from last season's 24.8%.
Gordon's last two games of 20-plus points in Magic victories serve as good reminders of what this guy can do when his team features him. His lowered overall ranking might still have the buy-low window propped open ever so slightly, so get in there before he breaks back out completely.
Dario Saric, PF/C, Philadelphia 76ers
Dario Saric has been a real fantasy dud so far this season. He finished last year as the 80th-ranked player in nine-category leagues, and his 80.7 ADP suggested that many had him pegged to do roughly the same thing in 2018-19, but so far he's the 230th-ranked player through 11 games.
Over that span, he's averaged 9.8 points, 1.2 triples, 6.5 rebounds, 2.0 assists, 0.4 steals, 0.2 blocks, and 1.7 turnovers in 29.1 minutes per contest, while shooting an abysmal 34.0% from the field and 88.5% from the charity stripe. Pretty much everything in that line is down just a little bit, but the drop-offs from 14.6 to 9.8 points, 2.0 triples to 1.2, and 45.3% shooting from the field to 34.0% represent the biggest hits to his value.
Seeing a big dip in minutes or usage is usually the best indicator that a rough start might continue, but Saric is not far off last year's rates in that respect. Simply put, he needs his shot to start falling. He might not have a clear path to early-round value with all the talent around him in Philadelphia, but he has the skill set for solid mid-round value and his price is about as low as it's ever going to be. Temper expectations for a full bounce-back, but he will almost certainly be better than he has been so far, so a buy-low offer is not a bad idea at this point.
Sell
Nikola Vucevic, PF/C, Orlando Magic
Nikola Vucevic has been a beast to start the 2018-19 season. Through 10 games, he's the 15th-ranked player in nine-category leagues with averages of 17.9 points, 0.9 threes, 10.5 boards, 3.7 assists, 1.2 steals, 1.3 blocks, and 2.0 turnovers in 29.3 minutes per contest, and a shooting split of 54.3% from the field and 74.1% from the free throw line.
Vuc has been an early-round asset for all six of his seasons with the Magic, including three finishes in the top-30 in three of the last four years. Make no mistake, he is good enough to sustain a high level of production, just perhaps not one this high.
He's a career 50.0% shooter who shot 47.5% last year when he started really jacking threes. He has opened this year at a career-high 54.3%, including 52.9% from long range, as compared to his 32.0% career mark. Once regression hits there, we're looking more at a top-30 asset than a top-15 one.
On top of that, Vucevic is a veteran with an expiring contract who is on a bad team, and he's got a young up-and-coming center in Mohamed Bamba playing behind him. The chances of a trade to a worse situation or some late-season benching could definitely be in the cards for Vucevic. Now is a prime sell-high moment if you want to avoid all that uncertainty.
Jonas Valanciunas, C, Toronto Raptors
Jonas Valanciunas has always been a per-minute dynamo in fantasy hoops thanks to his ability to stuff the box score with points, rebounds, and blocks in limited minutes, shoot sterling marks from the field and line, and turn the ball over a minimal amount. Even with a career minutes-per-game mark of 25.3, he's been a top-75 asset in nine-category leagues for four years running.
This season, he's been even more impressive in even more limited minutes. In a mere 19.0 minutes per game, he's been the 47th-ranked player in nine-category leagues on the strength of his 13.6 points, 0.5 threes, 7.2 rebounds, 1.1 assists, 0.6 steals, 1.1 blocks, and 1.0 turnover per contest, and shooting split of 53.3% from the field and 88.6% from the line.
What makes him a shaky asset at this point, despite his career-best nine-category ranking, is his inconsistent role. Toronto Raptors coach Nick Nurse likes to play the matchups at his center position, alternating between Jonas Valanciunas and Serge Ibaka depending on who's manning the middle for the opposing squad. That has led to six starts for Ibaka and five for Valanciunas.
Both big men have thrived this season, regardless of whether they've been starting or coming off the bench, but that shouldn't make you too comfortable for JV's value going forward. Ibaka is averaging close to his regular complement of minutes so far, but JV's 19.0 clip is down from 22.4 last year and 25.8 the year before. There are more and more teams going small in the NBA, so Nurse is likely to go with Ibaka more often than the the bigger and more lumbering Valanciunas.
If you can turn JV's hot start into a mid-round asset with more reliable playing time, you should do so.
Nemanja Bjelica, PF, Sacramento Kings
Nemanja Bjelica has been one of the best waiver wire adds of the season to date (hopefully you got on him when we originally recommended it), coming in as the 31st-ranked player in nine-category leagues through 10 games after going undrafted in the vast majority of nine-category leagues.
There's lots to like in his 14.4 points, 2.1 triples, 5.8 rebounds, 2.8 assists, 1.3 steals, 0.7 blocks, and 1.3 turnovers in 26.6 minutes per contest, as well as his shooting split of 56.1% from the field and 68.4% from the line, and you should be thrilled if you managed to add that kind of early-round production for nothing in the early going of the season.
But don't rest on your laurels.
The Sacramento Kings are flying high now, but our algorithm still gives them a mere 2.9% chance of making the postseason. Once this carriage turns back into a pumpkin, a 30-year-old Bjelica might take a backseat to second overall pick and fellow power forward Marvin Bagley III, who is currently coming off the bench behind him.
There's no shame in riding out this hot start, but if you can move Bjelica for a more proven asset, jump on it.