Daily Fantasy Basketball Injury Report: Friday 2/10/17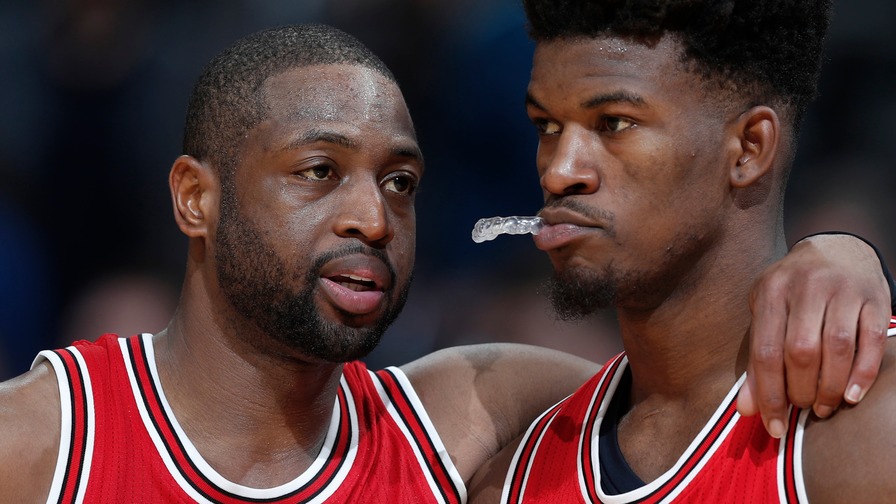 It's a stacked night of NBA DFS with nine games on tap, and there are injury updates aplenty.
However, we are limited in the amount of question marks for tonight, which helps when it comes down to the final hours before rosters lock. What should you know before lineups lock?
Notable Injuries
Chicago Bulls
The Chicago Bulls were without Jimmy Butler and Dwyane Wade last game, but it looks like Wade is going to play and Butler is going to come down to a game-time decision tonight.
Paul Zipser is also out tonight, which could give Doug McDermott minutes in the 20s depending on how thin the Bulls wind up. However, if Butler doesn't play, McDermott, Wade, and Michael Carter-Williams gain the most value.
Memphis Grizzlies

Chandler Parsons will not play tonight in a planned night off, but the Memphis Grizzlies will have Zach Randolph back in action on Friday. Vince Carter rested on Wednesday, but that was likely to get him ready to play the Golden State Warriors tonight. James Ennis gains the most with Parsons out.
Denver Nuggets
Kenneth Faried and Danilo Gallinari are both out tonight, and after being initially labeled questionable, Emmanuel Mudiay will also be out on Friday.
Wilson Chandler, Will Barton, and Gary Harris will all be relied on heavily, while Jameer Nelson and Jamal Murray should hold down the minutes at point guard. Darrell Arthur gets a slight bump at power forward as well.
New Orleans Pelicans

The New Orleans Pelicans suddenly have a full injury report, and several of their role players are either out or questionable tonight. Terrence Jones and Tyreke Evans are both questionable, while E'Twaun Moore is doubtful.
This could raise the usage of both Anthony Davis and Jrue Holiday, but it will also give Buddy Hield a big boost, and we could see more Langston Galloway and Tim Frazier. If Evans is out, it will help these guys even more, while Donatas Motiejunas and Dante Cunningham will benefit the most if Jones is out.
Jabari Parker, Milwaukee Bucks
A season-ending injury is never easy, but this one stings because the upstart Milwaukee Bucks are going to have to finish their season without Jabari Parker. Parker tore the ACL in his left knee, which is the second time he's suffered the injury in three years.
Giannis Antetokounmpo will be relied on even more now, and as soon as he is ready, Khris Middleton will have to take on a bigger role. However for now, Mirza Teletovic and Michael Beasley are both going to have to take on a big minutes bump. There's a chance they go small, which would also benefit Malcolm Brogdon and Tony Snell.
Markieff Morris, Washington Wizards
After missing Wednesday's game for the Washington Wizards, Markieff Morris will return on Friday against the Indiana Pacers.
Thaddeus Young, Indiana Pacers
A sprained wrist will continue to keep Thaddeus Young out of the lineup on Friday for the Pacers. Lavoy Allen and C.J. Miles get the biggest bump while Young is out.
Dion Waiters, Miami Heat
Dion Waiters did not go through shootaround this morning, and he will once again be out of the lineup as the Miami Heat face the Brooklyn Nets. Wayne Ellington had a nice game when Waiters missed Wednesday, but Tyler Johnson and Rodney McGruder are also viable plays tonight with Waiters out.
Jordan Clarkson, Los Angeles Lakers
Jordan Clarkson is listed as questionable tonight to face the Bucks. However, Louis Williams is ready to play. If Clarkson is unable to play, Williams, D'Angelo Russell, and Nick Young could all soak up Clarkson's minutes.
Thabo Sefolosha, Atlanta Hawks
Thabo Sefolosha will miss his seventh straight game on Friday, and as a result, look for Tim Hardaway Jr. to once again be a fine DFS play.
Lesser Injuries
New York Knicks
Joakim Noah is probably going to be out tonight. There is a chance they could get back Lance Thomas, but he likely won't play a ton of minutes even if he returns. Look for Kyle O'Quinn and Guillermo Hernangomez to hold down the center spot assuming Noah is out.
Sacramento Kings
DeMarcus Cousins should be back tonight after his one-game suspension, but the Sacramento Kings have a few other injury concerns. Ty Lawson is doubtful, which should give Darren Collison all the minutes he can handle on Friday. Also, Kosta Koufos hurt his finger but played through the injury, and we haven't heard anything saying he'll be limited Friday.
Kris Dunn, Minnesota Timberwolves
Kris Dunn was active but did not see the court on Wednesday, and there has yet to be any updates on his status for tonight. This is important because Tyus Jones has been playing solid minutes, so keep an eye out for Dunn's status before rostering Jones tonight.
Alex Len, Phoenix Suns
Alex Len has been suspended for the Phoenix Suns Friday game. This should give some more minutes to Alan Williams, while Marquese Chriss and Tyson Chandler could also see a bump.