FanDuel Daily Fantasy Baseball Helper: Friday 6/4/21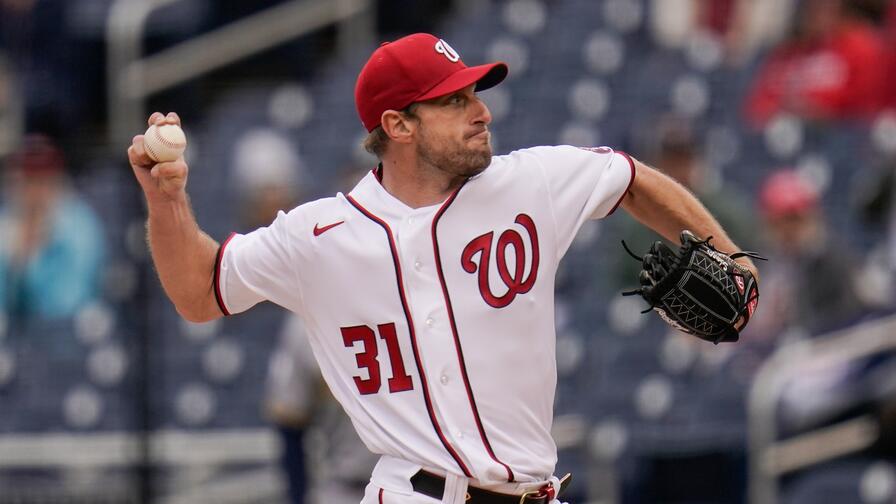 It's a jam-packed Friday slate, as all 30 teams are in action, complete with aces, Coors Field, and little in the way of weather concerns. This should be a fun one to tackle today.
Our daily helper is available every day to analyze FanDuel's main slate and help give you a starting point when you're building lineups. Be sure to also incorporate our great tools into your research process. Whether you're looking for daily projections, the latest starting lineups and weather, or batting and pitching heat maps to find the best matchups -- we've got you covered!
Let's check out the top options on tonight's main slate.
Pitchers
Max Scherzer ($11,200): Scherzer continues to silence any preseason doubters and prove he's still one of the elite pitchers in the game. He comes in with an excellent 2.60 SIERA, 36.5% strikeout rate, and 5.4% walk rate, and his matchup against Philadelphia is a plus, particularly with Bryce Harper on the injured list. The Phillies' active roster owns an 88 wRC+ and 25.8% strikeout rate versus righties this year. Scherzer also checks another box with his higher pitch counts, reaching 100 or more pitches in 6 of 11 starts.
Zack Wheeler ($11,500): On the other side of that same game, we find Wheeler, who's on a fantastic run of outings, tallying double-digit strikeouts in three straight to help him to scores of 55, 65, and 58 FanDuel points. While he can't quite hang with Scherzer's numbers, his 2.90 SIERA, 31.7% strikeout rate, and 5.5% walk rate are impressive, and his sizable leap in punchouts are supported by a rise in swinging-strike rate (13.1%) and a decrease in sinker usage. It remains to be seen if he can maintain this pace, but his workload and efficiency on the mound are another mark in his favor, as he's logged at least seven innings in six of his last seven starts. However, despite Washington being a below-average offense, they aren't a plus matchup for strikeouts, giving Scherzer the edge overall.

Freddy Peralta ($8,700): We all know the drill with Peralta at this point, as we accept the good (37.2% strikeout rate) with the bad (10.8% walk rate) every time we roster him. However, he's getting the best results of his career, and it's largely backed by an encouraging 3.05 SIERA. He's also been allowed to go 97-plus pitches in three of his last four, so Milwaukee isn't afraid to unleash him these days. The Diamondbacks don't have an imposing lineup and check in with a 3.65 implied total, but they're a neutral matchup for strikeouts and will likely counter with a lineup of almost entirely lefties and switch-hitters. It isn't a perfect spot, but with such a massive strikeout rate at this salary, Peralta is still an easy value tonight.
Others to Consider: Shohei Ohtani ($9,500), Blake Snell ($7,900)
Stacks
Oakland Athletics: Coors Field is the perfect place to start this section, with the Athletics looking at a slate-high 5.74 implied total, and the Rockies trailing just behind them at 5.26. However, the visitors are the far more potent offense, making them a clear top choice versus Jon Gray.
Gray has generally enjoyed positive results this season, but he's displaying a wide gap in his splits, and lefties are primarily who we'll want to attack him with. Against them this season, Gray owns a 5.16 xFIP, 13.9% strikeout rate, and 10.6% walk rate, and while a 51.4% ground-ball rate has helped limit the damage from home runs, this is otherwise a golden opportunity for Oakland bats with the platoon advantage.
Matt Olson ($4,100) is the clear headliner, followed by Jed Lowrie ($3,600) and Seth Brown ($3,000). Gray is tough on right-handed batters, but the power of Mark Canha ($4,000) and Sean Murphy ($3,000) could come through in the later innings. Chad Pinder ($3,200) is a potential mid-range option if he cracks the lineup.
Minnesota Twins: I think I've mentioned the Twins every day this week, but they finally had some big performances last night with two sluggers popping up on yesterday's perfect FanDuel lineup. Yet another plus matchup awaits them against Brad Keller on Friday.
Keller has historically been someone to avoid stacking against because he gets grounders and rarely gives up home runs, but that hasn't been the case so far in 2021. Although poor luck could be a part of it, such as an inflated .352 BABIP and 17.5% homer-to-fly-ball rate, there's no question he's allowing way more hard contact and walking too many batters (10.4%), so this isn't entirely a fluke.
He's also performing worse in same-sided matchups against righties (5.29 xFIP), which lines up well for Minnesota's power bats in Nelson Cruz ($3,400), Josh Donaldson ($3,000), and Miguel Sano ($2,500). Keller's peripherals are slightly better against lefties, but they're hardly elite, so Jorge Polanco ($3,100), Alex Kirilloff ($2,700), and Trevor Larnach ($2,400) can round out stacks.
Kansas City Royals: The Royals are back in play again tonight (4.91 implied total), this time against Matt Shoemaker. The veteran right-hander has put up a 5.90 ERA over 10 starts, and it doesn't look like things are going to get better anytime soon, as his underlying marks include a 5.15 SIERA, 14.7% strikeout rate, and 8.5% walk rate.

The only downside here is that Shoemaker is much worse versus lefties (5.98 xFIP) compared to righties (4.30 xFIP), due in part because he does induce a solid 53.0% ground-ball rate in righty-righty matchups.
That means Carlos Santana ($3,200) and Andrew Benintendi ($2,900) are the only regulars who really stand out here, but it's not like Shoemaker gets many punchouts against righties, either, so there's the potential for the power of Salvador Perez ($3,000), Hunter Dozier ($2,500), and Jorge Soler ($2,000) to still shine through. Whit Merrifield ($3,300) is naturally always under consideration as the speedy leadoff man, too.
Others to Consider: Colorado Rockies, New York Yankees, Boston Red Sox, Milwaukee Brewers, Los Angeles Angels, San Francisco Giants