MLB Daily Fantasy Helper: Saturday 8/27/16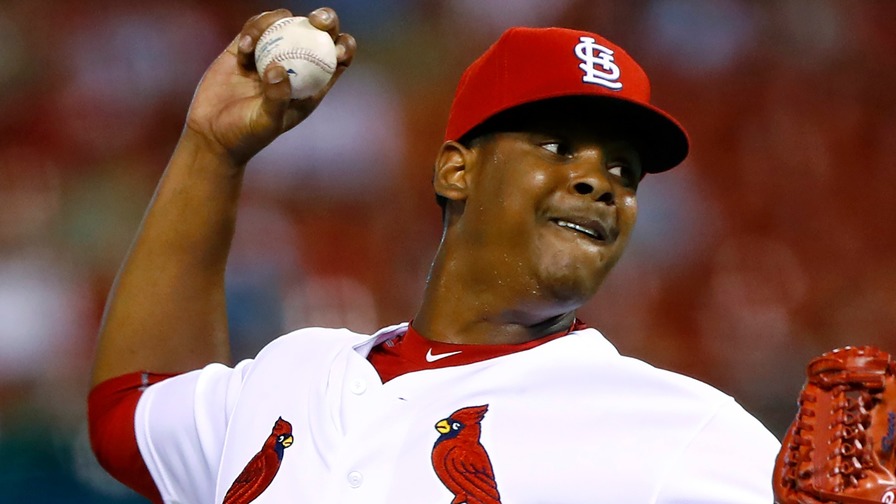 The beauty of daily fantasy baseball is that the top targets are different each and every day. Whether it's the right-handed catcher who destroys left-handed pitching or the mid-range hurler facing a depleted lineup, you're not going to find yourself using the same assets time after time.
While this breaks up the monotony, it can make it hard to decide which players are primed to succeed on a given day. We can help bridge that gap.
In addition to our custom optimal lineups, you can check out our batting and pitching heat maps, which show the pieces in the best spot to succeed on that slate. Put on the finishing touches with our games and lineups page to see who's hitting where and what the weather looks like, and you'll have yourself a snazzy looking team to put up some big point totals.
If you need help getting started on that trek, here are some of the top options on the board today. This article is for the main slate, which starts at 7:10 p.m. EST and features 11 games.
Pitchers to Target
High-Priced Pitchers
Noah Syndergaard ($10,800 on FanDuel): Syndergaard has a dreamy home matchup with the Philadelphia Phillies. The New York Mets' fireballer hasn't kept up his scorched-earth ways from early in the season, but he's still doing pretty darn well. In the second half, "Thor" boasts a 27.1% strikeout rate with a 7.7% walk rate. Syndergaard has dominated this year at Citi Field, which checks in last in park factor. His strikeout rate in his home outings is 31.6%, and he's limiting hitters to a .273 wOBA. The Phillies rank 28th in wOBA against righties (.299) with the 10th-highest strikeout rate (21.8%). Philadelphia's 2.85 implied total is the lowest of the slate.
David Price ($10,300): As the owner of a 3.56 SIERA, 24.2% strikeout rate and 5.3% walk rate, Price is having a much better year than his 4.00 ERA would have you believe. He's been particularly good at Fenway Park, where his strikeout rate jumps to 26.8% while his walk rate dips to 4.4%. The Kansas City Royals' 20.0% strikeout rate isn't an ideal clip to target, but their .307 wOBA is very enticing. They've been struggling lately, as well, with a .295 wOBA over the last 30 days.
Value Pitcher
Alex Reyes ($4,500): After five appearances out of the bullpen, Reyes is set to make the first start of his career tonight against the Oakland Athletics. One of the game's top pitching prospects, Reyes has put up saucy strikeout numbers at every level, including a 32.0% strikeout rate this season in Triple-A. The sample size is minuscule (9 1/3 frames), but Reyes' stuff has been electric out of the 'pen as he has posted a 37.1% strikeout rate in the bigs. Oakland's 18.6% strikeout rate caps his upside a little -- and there is a good chance the St. Louis Cardinals have a strict pitch count with Reyes -- but at this price, whew, it's at least worth investigating.
Hitters to Target
High-Priced Hitters
Marcell Ozuna ($3,200): Ozuna is usually worth a look against lefties, and he gets a mouth-watering matchup against San Diego Padres' southpaw Clayton Richard. Ozuna has torched left-handed pitching this year to the tune of a .423 wOBA with a 50.0% hard-hit rate and 45.5% fly-ball rate. Dang, homie. When Ozuna gets a lefty at home, which is the case in this one, his wOBA jumps to .485. On top of all that good stuff, Richard isn't very good. He's sporting 14.6% strikeout rate, 12.2% walk rate and 4.49 SIERA. The Miami Marlins' implied total of 4.67 is the fourth-best clip of the slate.
Carlos Santana ($3,800): Santana is our top-ranked stick for his road matchup with A.J. Griffin. The Texas Rangers righty is getting destroying by left-handed batters, who have racked up a .392 wOBA, 43.3% hard-hit rate and 46.6% fly-ball rate against him. Santana, a switch hitter, has punked right-handed pitchers this season, posting a .368 wOBA with a 38.0% hard-hit rate and 46.2% fly-ball rate. Putting his numbers and Griffin's splits in a hitter-friendly environment like Globe Life Park will make anyone's heart go pitter patter. Santana typically hits leadoff against righties, and the Cleveland Indians have the night's highest implied total at 5.11 runs.
Value Hitters
Tyler Naquin ($2,900): While Naquin, a righty killer, isn't the screaming value he was earlier in the season, he's still a fairly cheap way to get some juicy upside whenever the Indians face a right-hander, which, as we just covered, is the case today. Naquin owns a .403 wOBA against righties with a sparkling 42.4% hard-hit rate. He typically hits seventh, which isn't ideal, but with Cleveland's tasty implied total, he still makes for a nice play.
Mike Zunino ($2,900): In 386 plate appearances a year ago, Zunino posted a .235 wOBA. That's how you get a ticket to the minors. Well, Zunino went to Triple-A, mashed to the tune of a .392 wOBA and now he's back in the bigs -- and this time around, he's raking. It's just 103 plate appearances of data, but he's sporting a .411 wOBA with an 11.7% walk rate. After being at 34.2% last year, his strikeout rate is down to 26.2%. Zunino has been death to lefties, registering a 41.7% hard-hit rate and 58.3% fly-ball rate versus southpaws. As an added boost, he's been bumped up to sixth in the order lately, not far behind Robinson Cano, Nelson Cruz and Kyle Seager, putting him in a great spot to do some damage. Again, the sample size is small, but the improvements are meaningful and his salary hasn't yet caught up.