NFL Draft Futures Betting: Who Will Be the First Quarterback Drafted?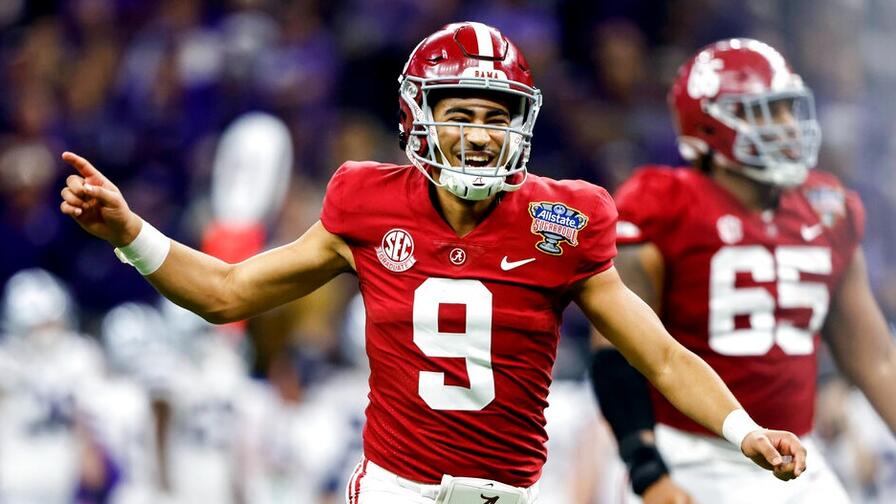 There is probably no more important position in all of sports than quarterback. This importance is reflected in the hunger -- the need -- that NFL teams have when acquiring them. This need frequently sees them pushed up draft boards -- often to the very top. The Chicago Bears seem to have their franchise quarterback in place, so they could be looking to trade out of the first overall spot,or maybe they are not sold on Justin Fields and look to trade HIM away and take his replacement at number one.
Either way, there is a good chance the first player taken in April will be a quarterback.
But which one? FanDuel Sportsbook has odds on which quarterback will be the first to hear his name called in this year's NFL Draft. Here, we take a look at some of the contenders for this honor, and I will let you know who I think you should get some coin behind.
Bryce Young, Alabama (-170)
Bryce Young is the favorite to go first for a reason. He has enjoyed a stellar career with Alabama, completing 611 of his 927 pass attempts over the last two seasons for 8,200 yards and 79 touchdowns, with just 12 interceptions. 559 of these yards came in a single game against the Arkansas Razorbacks in 2021, which was a school record.
Young won the Heisman Trophy in 2021 and was sixth in the voting in 2022. He is the only Alabama quarterback to ever win the trophy. His college deeds make him a worthy candidate to be the first signal-caller drafted, but his size and weight may force the team picking first to go in another direction on draft day.
Will Levis, Kentucky (+600)
After two years of limited playing time with the Penn State Nittany Lions, Will Levis transferred to Kentucky where he played his last two seasons. In that time, he completed 65.7% of his passes, finishing with 5,232 yards and 43 touchdown passes for the Wildcats. Levis also showed some ability to use his legs to make plays, rushing 107 times for 376 yards and 9 touchdowns in 2021.
Levis played in a pro-style offense with Kentucky, and this "readiness" may make him attractive to NFL evaluators, but how he recovers from the litany of injuries he played through in 2022 -- plus how he explains away his double-digit interceptions in back-to-back seasons -- makes him something of a black-box prospect.
Still, he'll probably go quite early.
Anthony Richardson, Florida (+650)
If there is one player at the quarterback spot who could help his stock at the NFL Scouting Combine, it is Anthony Richardson.
Richardson's passing stats for the Florida Gators do not look too impressive, holding a career completion rate of 54.7% and a 24:15 touchdown to interception ratio. But he is sizable, strong, and has a cannon for an arm. He needs to learn to calibrate his sights.
As a rusher, Richardson has turned heads with 401 and 654 rushing yards in his last two seasons. If he dominates in the athletic testing and aces the interviews in Indianapolis, there could start to be a groundswell toward making him the first quarterback off the board.
Hendon Hooker, Tennessee (+7500)
Hendon Hooker was good in three seasons for Virginia Tech. He completed 197 of his 312 pass attempts for 2,894 yards and 22 touchdowns with just 7 interceptions.
However, he was great for Tennessee, for whom he played his last two seasons. Hooker completed 68.8% of his passes for 6,080 yards at a ludicrous 11.1 adjusted yards per attempt, tossing 58 scores and just 5 picks. He also rushed for 2,079 yards and 25 touchdowns in college.
Hooker finished 5th in the Heisman voting in 2022 and is a great story heading into the draft.
But, he suffered a torn ACL late in the 2022 season, from which he is still recovering and will be 25 when the season starts. Plus, the Volunteers' offense is incredibly friendly for quarterbacks and is perhaps not the best barometer for NFL readiness. A fully healthy Hooker might have snuck into the early day two conversation. But, at present, he is not going to the taken before every other quarterback.
Clayton Tune, Houston (+10000)
If we can call the Tennessee offense quarterback friendly, then the Houston Cougars offense has been quarterback nirvana for much of the last two decades.
The most recent captain of this particular ship is Clayton Tune, who racked up an impressive 11,994 passing yards for the Cougars to go with 104 passing touchdowns. Only Case Keenum and Kevin Kolb have more career passing yards than Tune, and only Keenum tossed more scores.
However, it would be a major shock if Tune's production was enough to make an NFL GM decide to forgo every other quarterback in this draft and make him the guy. He does not possess the strongest arm, and as I've already said, the Cougars' offense can lead to many quarterbacks putting up numbers. It will be interesting to see when -- and by whom -- Tune is drafted. It just will not be before everyone else.
My Pick
I see the case for Bryce Young clearly, from a production and skillset point of view. He is a worthy favourite to be the first player taken.
However, we still don't know which team will take the plunge, and if he can capture the imagination with a good week in Indianapolis, I would not be stunned if we started to see Anthony Richardson's hype train begin to gather speed.
At his current price, he's easy to like if teams fall in love with his dual-threat upside.