Fantasy Football: 3 Things We Learned in Week 2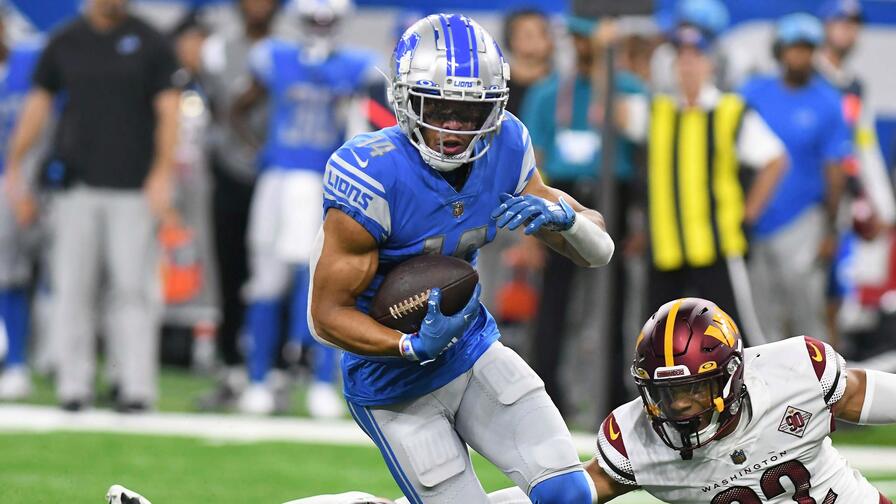 Perhaps more than anything, fantasy football is a game of adjustments. Season-long fantasy doesn't end at the draft, and smart managers learn to take the trends and data that each week of games offers and apply it to their roster decisions moving forward.
This weekly piece will look at trends from the previous slate of games and determine which trends in snaps, usage, and matchups are actionable moving forward. Let's dive in and look at some interesting pieces of information from an exciting 2022 NFL Week 2.
The Eagles' Running Back Roles Are Now Clear
In the slugfest that the Philadelphia Eagles play against the Detroit Lions in Week 1, things looked messy for those trying to decipher the rushing roles of various Eagles players.
Miles Sanders and Kenneth Gainwell saw 15 and nine opportunities (rush attempts plus targets), respectively. Jalen Hurts rushed the ball 17 times. All three of those players scored a rushing touchdown. Even Boston Scott got into the mix with his own goal-line score. Things looked murky but have now begun to clear up after the dismantling of the Minnesota Vikings on Monday Night Football.
Hurts still got his 11 rush attempts (which it looks like he is going to have 10-plus a game at this rate), but the other 23 rush attempts and six running back targets were distributed in a more understandable way. Here is the breakdown of snaps from that game, courtesy of Pro Football Focus.
It's clear the team is going to remain committed to Sanders as the primary early-down back and the goal-line back (when Hurts doesn't run it in). Gainwell will get the third down and two-minute work. And Scott is a valuable backup in all these situations. That means Gainwell gets a bump in situations where there might be a shootout or when the Eagles project to face a large deficit. He clearly gains more value in PPR leagues but should be a bench piece until the usage dictates otherwise.
For those who roster Sanders, we can just hope that the Eagles don't want to run their franchise quarterback into a pile at the goal line 25 times a season and Sanders picks up some of that work. It's still a bit of a mess but a manageable one with the right information.
Amon-Ra St. Brown Is a Top-Five Receiver
Two weeks of data (plus six weeks from last year) is enough, isn't it?
If I told you that you can't have Cooper Kupp, Justin Jefferson, Stefon Diggs, Ja'Marr Chase or Davante Adams on your fantasy team, but you could have any other wideout you wanted, who would you pick? And if you didn't say Amon-Ra St. Brown, what is your justification at this point? You could point to Tyreek Hill or CeeDee Lamb or Jaylen Waddle or A.J. Brown, but we can poke holes in those receivers. It's clear right now that St. Brown has no holes in his game, and the Detroit Lions and going to use him relentlessly.
St. Brown tied an NFL record on Sunday, becoming the only player to have six consecutive games with at least eight catches and a touchdown. He is being targeted just as much as any other receiver in the league, and defenses haven't been able to stop him.
Target per route run rate leaders through two weeks:
(not including MNF guys)

35% - Tyreek Hill, Amon-Ra St. Brown, Isaiah Likely
34% - Jaylen Waddle
33% - Ashton Dulin, Cooper Kupp, Drake London
31% - Mark Andrews, Garrett Wilson
30% - Jakobi Meyers, Stefon Diggs, Davante Adams
— Jacob Gibbs (@jagibbs_23) September 19, 2022

Yes, Jared Goff is his quarterback. So what? Goff is top half of the league in deep-ball completion percentage, red-zone completion percentage, under pressure accuracy rating, and clean pocket accuracy rating. St. Brown has half a season's worth of data now showing that he can earn as many targets as any player in the league, and we shouldn't continue to discount those opportunities just because Goff is throwing him the football.
St. Brown is currently fourth in fantasy points in PPR leagues after two weeks, and I think we should start getting used to his name appearing in the top five.
Chicago Pass Catchers Are Not Worth Starting
If you are a fantasy manager who rostered any of Darnell Mooney, Cole Kmet, David Montgomery, Khalil Herbert, or Justin Fields, I feel your pain right now. I do. There is a support group for us every Tuesday night where we have donuts, remember fondly the days of Rex Grossman, and decide which Bears player we are going to release to waivers that week.
Week 1 was a lesson in false hope after the Chicago Bears scored three touchdowns (in a monsoon) in their home debut. The scores were by Herbert, Dante Pettis, and Equanimeous St. Brown -- players no one rosters -- but, still! Signs of life were creeping into Chicago's offense after a miserable 2021. Then Week 2 against the Green Bay Packers happened, and we are back to Abandon Hope All Ye Who Enter.
After throwing just 17 times in Week 1 (which we all excused due to weather), Fields was asked to throw only 11 times on Sunday Night Football, which meant no Bears player saw more than four targets or more than 39 receiving yards. Kmet is stuck on zero catches and just two targets this season. Darnell Mooney recorded negative (!) four yards receiving on Sunday. The highest-ranked Bears' wide receiver in PPR leagues is St. Brown at 66th overall.
According to numberFire's Net Expected Points (NEP) metric, the Bears rank 29th through two weeks with -0.17 Passing NEP per play. This, of course, matters only on the plays where the Bears actually allow Fields to throw the football. Through two weeks, it doesn't appear that is going to be enough to justify starting any Chicago pass-catcher.
We were all fooled by Week 1 -- the Bears will be as bad on offense as we all thought they would be.