2022 NFL Draft: 3 Running Back Standouts Based on Adjusted Production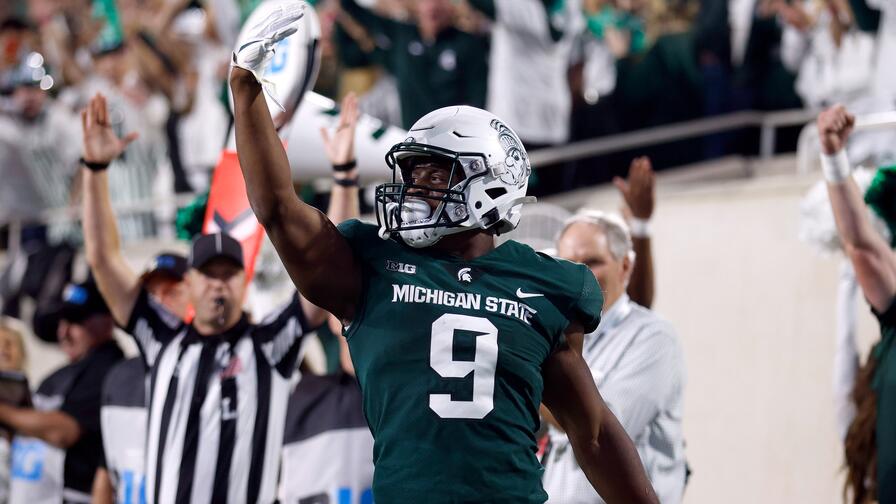 As soon as the Super Bowl ends, NFL Draft season begins.
The NFL has announced the prospects invited to participate in the NFL Scouting Combine, a list that includes 40 receiver hopefuls.
Which of them had the best 2021 campaign from a production standpoint?
We can look at yards and touchdowns, sure, but why not expected points added (EPA)? We did that for the receivers last week.
For running backs, EPA is a bit trickier, given that the expected EPA on a carry in college football by a running back is -0.01 since 2014 (via CollegeFootballData.com's model).
So I instead took yardage outputs and adjusted them for opponents (based on some internal tweaks from numberFire's algorithm) to see who had the best 2021 season among the running back class.
Here is how the 35 FBS combine-invited backs fared (excluding Pierre Strong, who played at an FCS school, South Dakota State).
Running Back
School
Scrimmage
Yards Over
Expectation
Kenneth Walker III
Michigan State
487.5
Breece Hall
Iowa State
477.0
Ty Chandler
North Carolina
426.9
Jerome Ford
Cincinnati
387.7
Abram Smith
Baylor
326.8
Rachaad White
Arizona State
276.0
Tyler Badie
Missouri
272.4
Kennedy Brooks
Oklahoma
265.6
Trestan Ebner
Baylor
259.5
Quan White
South Carolina
255.4
Keaontay Ingram
USC
235.0
Jashaun Corbin
Florida State
231.3
Hassan Haskins
Michigan
230.8
Isaiah Spiller
Texas A&M
227.2
Sincere McCormick
UT San Antonio
225.6
James Cook
Georgia
221.8
Dameon Pierce
Florida
210.0
Bam Knight
NC State
204.9
Jerrion Ealy
Ole Miss
201.9
Jaylen Warren
Oklahoma State
201.3
Brian Robinson Jr.
Alabama
200.8
Kyren Williams
Notre Dame
182.6
Max Borghi
Washington State
174.6
Zamir White
Georgia
165.3
Ty Davis-Price
LSU
148.3
Tyler Allgeier
BYU
148.0
Snoop Conner
Ole Miss
119.7
Tyler Goodson
Iowa
105.7
Ronnie Rivers
Fresno State
104.6
Leddie Brown
West Virginia
14.0
Kevin Harris
South Carolina
8.4
Greg Bell
San Diego State
-38.4
Isaih Pacheco
Rutgers
-102.2

Some Added Context
Without any context, these numbers mean nothing, so let's dig deeper.
Running back production profiles can be skewed pretty easily, and it's quite possible that these numbers don't even matter. However, they pass the eye test.
Here are the top final season yards over expected outputs from drafted backs since the 2015 NFL Draft: Darrell Henderson (+986.3), Melvin Gordon (+919.3), J.K. Dobbins (+847.4), Tevin Coleman (+794.8), Khalil Herbert (+636.8), Derrick Henry (+624.7), Rashaad Penny (+616.7), Jonathan Taylor (+611.3), Michael Carter (+606.2).
The bottom of the list isn't very impressive, either: Kalen Ballage (-137.6), David Montgomery (-30.3), Matt Jones (-15.5), La'Mical Perine (+24.0), Joshua Kelley (+60.0), Kene Nwangwu (+61.6), Cam Akers (+73.1), and Kenneth Dixon (+80.0).
Here's the list of backs in the top three rounds to clear 400 yards over expected in their final season.
Draft
Pick
Player
Final Year
Yards Over
Expected
70
Darrell Henderson
986.3
15
Melvin Gordon
919.3
55
JK Dobbins
847.4
73
Tevin Coleman
794.8
45
Derrick Henry
624.7
27
Rashaad Penny
616.7
41
Jonathan Taylor
611.3
86
Zack Moss
582.7
41
Dalvin Cook
569.8
89
D'Onta Foreman
568.1
32
Clyde Edwards-Helaire
563.7
48
Joe Mixon
553.2
54
Ameer Abdullah
553.1
4
Ezekiel Elliott
539.7
35
D'Andre Swift
483.8
35
Javonte Williams
466.5
90
CJ Prosise
459.7

We've got three backs in this class who clear that threshold.
Despite only 19 receptions over three seasons during his tenure at Wake Forest and Michigan State, Kenneth Walker III leads the pack in yardage over expectation this season. Walker's consensus big board rank -- via NFL Mock Draft Database -- is 60th overall (and 3rd among running backs). He'll need to show some added receiving prowess at the NFL level, but the yardage over expectation output is quite promising (more on that later).
Breece Hall of Iowa State is the consensus RB2 in the draft (44th overall), just trailing Isaiah Spiller. The adjusted yardage output profile is much stronger for Hall.
Third on the list is an interesting name. Ty Chandler from North Carolina has a big board rank of 210 with a peak of 153.
The tier of Jerome Ford, Abram Smith, Rachaad White, and Tyler Badie is a quartet worth monitoring in the middle rounds, as well.