Hunter Henry Can Be Fantasy Football's Next Elite Tight End
Move over Travis Kelce, Zach Ertz and George Kittle, there's a new elite tight end in town.
Hunter Henry's upside is flying under the radar in fantasy football. The 24-year-old tight end is set to fill some massive shoes in Los Angeles with Chargers legend Antonio Gates retiring, and Henry is stepping into a pretty perfect situation.
The Chargers' offense has been a top-five unit in each of the last two years, per our schedule-adjusted numbers, and our models expect them to be good once against, projecting them as 2019's seventh-best offense. Philip Rivers has been the primary driver of this efficiency, as their passing game has ranked fourth and third in Passing NEP per play in those two seasons, and we have them pegged as the sixth-best aerial attack this year.
Locked into a meaningful role on one of the league's best offenses, Henry is a player you should be targeting once the big three tight ends are off the board. Let's dig in.
Most Efficient Chargers Weapon
When Henry has played, he's been really good, per our Net Expected Points (NEP) metric, which you can read more about in our glossary.
In 2016, Henry posted a clip of 0.93 Reception NEP per target, which was the second-best figure among tight ends with at least 50 targets. He followed that up with 0.85 Reception NEP per target in 2017, again finishing second among tight ends (behind only Rob Gronkowski).
Henry also averaged over 9.0 yards per target in both of those seasons. Neither Keenan Allen nor Antonio Gates hit that figure clip for the Chargers over the last two years, meaning Henry is arguably the team's best offensive weapon.
His talents were on full display in the red zone. In 2016, Henry nearly doubled Gates' efficiency inside the 20, notching 1.31 Reception NEP per target. Henry outperformed Gates again in 2017, finishing with a 0.66 Reception NEP per target in the red zone. The young tight end was a key target for Rivers.
| Player | 2017 Red Zone Reception NEP Per Target | 2016 Red Zone Reception NEP Per Target |
| --- | --- | --- |
| Hunter Henry | 0.66 | 1.31 |
| Antonio Gates | 0.57 | 0.67 |

Henry's consistent efficiency bodes well for his future as he now steps into the role of being the unquestioned starting tight for the Bolts. Henry didn't see even a 60 percent share of snaps across 2016 and 2017, but he should now be on the field in a lot more situations.
Gates averaged 80 percent of the team's tight end snaps in the three seasons prior to Henry's draft selection in 2016, according to data from Pro Football Reference, so the Chargers have shown they're willing to lean heavily on one tight end -- albeit that one tight end was one of the best to ever do it.
Henry lost his 2018 regular season to an ACL tear, but the good news is that the injury occurred in May, during the Chargers' OTAs. That puts him 15 months removed from the injury as of now, so he should be back to 100%. Henry even made an appearance in the Chargers' Divisional Round loss to the New England Patriots last year, playing 14 snaps. He dropped a zero in the box score, but his ability to get on the field should have put any health-related concerns to bed.
Concerns With His Teammates
There are some question marks right now among the Chargers' skill position players.
Keenan Allen, LA's star wideout, suffered an ankle injury in practice that will keep him out of the preseason, though he's expected to be good to go for Week 1. Allen -- owner of a lengthy injury history (26 missed games) -- commanded a 29 percent target share last season, so if he misses any time, it would free up a lot of looks, potentially benefiting Henry.
And there's also the situation with Melvin Gordon, who is holding out and reportedly may miss regular-season games.
At this point, #Chargers RB Melvin Gordon's holdout is expected to continue into the season, sources say. Contract talks have not progressed as he hoped, and he'll continue to train in Florida for the foreseeable future.
— Ian Rapoport (@RapSheet) August 21, 2019
That could be a boon to Henry's potential targets. Gordon saw 5.5 targets per game last season, operating in the short and intermediate parts of the field. According to PlayerProfiler, Henry's average target distance hasn't exceeded 10 yards in each of his two seasons, meaning he could be in line to absorb some of Gordon's short targets if the running back's holdout carries over into the regular season.
An Intriguing Value
All of this makes Henry a very interesting option as, on average, the six tight end drafted in fantasy football, per PPR ADP data from Fantasy Football Calculator. Henry has multiple efficient seasons to his name and will now -- for the first time -- likely see a big-time snap share on an offense that could potentially have some targets to replace.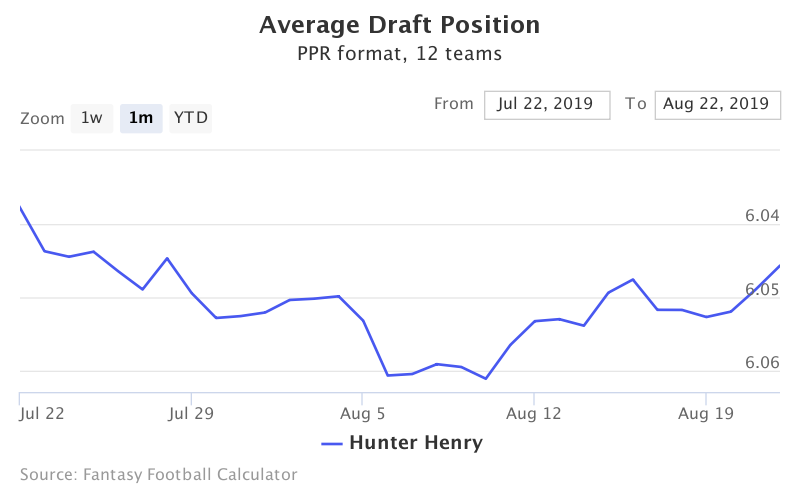 The first tight end tier is pretty clear -- with Kelce, Ertz and Kittle each off the board before the end of Round 3. The next tight end isn't taken, on average, until Round 5, when Evan Engram and O.J. Howard are being selected, with Henry up next at an ADP that puts him in the middle of the sixth round.
Henry's ceiling should have him right there with Engram and Howard, and you could argue that he's got as much upside as anyone outside of the position's big three. Our models see it that way as we have him ranked fourth among tight ends, projecting him for 59 catches, 744 yards and 8.3 scores -- the second-most touchdowns at the position (trailing only Kelce).
If you want a stud tight end but don't want to pay the premium for Kelce, Ertz or Kittle, Henry should be your target.