Fantasy Football: Jared Cook Is an Ideal Late-Round Tight End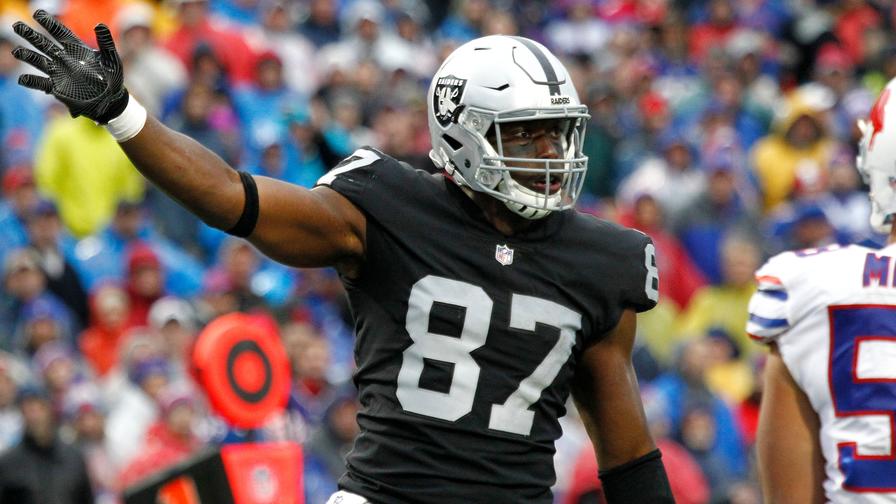 After eight seasons in the league, Jared Cook experienced a career year with the Oakland Raiders in 2017. He finished with 54 receptions for 688 yards, along with a pair of touchdowns. Despite his recent production, fantasy gamers seem be overlooking Cook's accomplishments, with his average draft position (ADP) of falling outside the top 20 tight ends in point-per-reception (PPR) formats, according to Fantasy Football Calculator.
Our own JJ Zachariason recently performed a study on tight ends, finding it to be the most unpredictable position for fantasy football. Outside of Rob Gronkowski, drafting a late-round tight end has been the easiest way to gain an edge on the rest of your league. In terms of a late-round tight end, no one embodies that strategy better than Jared Cook.
Opportunity & Efficiency
On top of his impressive counting stats, Cook showed elite efficiency in 2017, based on our in-house Net Expected Points (NEP) metric. NEP uses historical down-and-distance data to determine what is expected of a player on a per-play basis. (You can read more about NEP in our glossary). Among 15 tight ends with at least 70 targets, Cook ranked fourth with a Reception NEP per target of 0.67, trailing only Travis Kelce, Rob Gronkowski, and Cameron Brate.
Cook also showed strong efficiency based on Reception Success Rate, the percentage of receptions contributing positive NEP. Among the same group of tight ends, Cook ranked third -- ahead of Kelce -- with a Reception Success Rate of 88.89%.
Cook also performed well from a target share perspective. He saw a 14.78% target market share in the Raiders' offense and 15.2% of their red zone targets. Only eight qualified tight ends had a higher overall target share in 2017. Cook looks like a good bet to see similar volume this season after the Raiders decided against upgrading the position.
Early-Season Schedule
Cook has the added benefit of opening up against one of the softest tight end schedules in the league. The Raiders play against the Los Angeles Rams , Denver Broncos, Miami Dolphins, and Cleveland Browns in their first four games. Aside from the Rams, each of the other three teams ranked bottom five in yards allowed to the tight end position last season.
Their opening opponent, the Rams, have a strong defense overall (10th by our rankings), but look weakest over the middle of the field. As a team, they ranked 19th in tight end defense, per Football Outsiders, which marked their worst position to defend in 2017.
By the same metrics, the Broncos, Dolphins, and Browns ranked 31st, 28th, and 32nd, respectively, against tight ends. Browns defensive coordinator Gregg Williams routinely deployed hybrid backend player Jabrill Peppers 20-to-25 yards deep, creating open areas over the middle of the field. Aside from selecting Alabama's Minkah Fitzpatrick in the first round, the Dolphins did little to address the middle of their defense -- one that allowed the fifth-best rating (94.8) to opposing passers. The Broncos did even less, spending only a fourth round pick on linebacker Josey Jewell.
Cook remains a strong target for fantasy drafters not only because of his price but also due to his opening schedule. If he's unable to capitalize early -- or at the very least maintain some early-season success, Cook is a tight end you can essentially stream for the first four weeks of the season before addressing the position on the waiver wire (if need be).
Conclusion
According to his high level of efficiency, expected volume, and a favorable early-season schedule, Jared Cook looks to be an ideal late-round tight end candidate. Our models project him for 46.1 catches, 518.5 yards and 4.23 touchdowns on 82.2 targets, placing him 16th at the position in our rankings.
He's currently going outside the top 20, but Cook's role in the Raiders' offense provides a week-to-week floor with TE1 upside in plus matchups.