Chris Hogan Is One of the Best Values in Fantasy Football
It won't shock you to read that, every year, the New England Patriots field one of the league's best offenses. They've been in the top eight in points scored in each of the last 11 seasons.
Last season, New England had the top offense in the NFL, per our schedule-adjusted metrics, and among signal callers with at least 200 drop backs in 2017, Brady ranked first in Passing Net Expected Points per drop back. (You can read more about NEP in our glossary.)
We are expecting much of the same this year as we project New England to have the best passing offense in 2018.
This is all just quantifying that, yes, the Patriots have one of the league's most efficient passing offenses, and in fantasy, it's an offense we should be salivating over.
Yet that's not the case outside of Rob Gronkowski, who is the only New England pass catcher going inside the first 50 picks, per Fantasy Football Calculator's average draft position (ADP) data for 12-team, standard formats.
That creates an opportunity for us to find some fantasy football value in an elite offense, and Chris Hogan, currently the WR24, is a great way to take advantage of the situation.
Opportunity
You already know this, but opportunity is king in fantasy football. Snaps lead to routes, routes lead to opportunity, opportunity leads to volume, and volume leads to fantasy points.
This is great news for Hogan, who is stepping into potentially significant volume in New England's high-powered attack. Snaps shouldn't be an issue, as Hogan played more than 80% of the team's snaps over the first eight weeks of last season before suffering a shoulder injury. Through Week 8, Hogan was second on the team in snaps among offensive playmakers, trailing only Brandin Cooks, per FantasyLabs.
Oh, and volume? With Cooks and Danny Amendola gone, the Patriots have the fourth-most air yards (2,489) and the fourth-most targets (240) missing from last season's roster.
While we can certainly expect Julian Edelman to step in and soak up a good chunk of those targets, he's not going to see 240 looks, and he's suspended for the first four games of the season. He's also a 32-year-old receiver coming off an ACL tear who has averaged just 12.87 games played per season without counting last year's zero-game total against him.
At a minimum, it's no guarantee that Edelman plays the entire season or that he maintains the same level of short-area quickness that made him Brady's trusted target.
Edelman's absence should help Hogan get off to a fast start. Despite his career average of 13.1 yards per reception and Amendola's presence in 2017, Hogan played a lot in the slot last year. In fact, 77.97% of Hogan's regular season targets came from the slot in 2017, per Football Outsiders.

Even if Hogan doesn't play a ton in the slot, air yards is arguably the more relevant metric here. There are a ton of air yards missing from this offense. Despite being known as a slice-and-dice quick thrower, Brady's 2017 average depth of target (aDOT) was 9.5, which dwarfs his aDOT from the previous six seasons. He's not afraid to throw deep, and among receivers that saw 50 plus targets last year, Hogan ranked 24th in the league in average air yards per target, per NFL Next Gen Stats.
With Brady averaging longer targets and Hogan's 99th-percentile SPARQ score, there is a ton of fantasy upside here.
Also worth noting is a recent study conducted by TJ Hernandez of 4for4.com. Hernandez found that aDOT has the stickiest year-over-year correlation among wide receiver statistics. Sure enough, from 2015 to 2017, Hogan's aDOT has stayed between 13.1 yards and 13.8 yards. For reference, Antonio Brown's 2017 aDOT was 13.4 yards.
Hogan's versatility and secure role should offer him a tasty combination of high-percentage slot routes mixed in with high-upside intermediate and deep targets.
All of this is very, very good for Hogan.
Competition
There really isn't a ton of competition for targets for Hogan among the Pats' wideouts. In just eight games last year, he played more snaps for the Patriots than any receiver on the current roster.
There was some buzz around Jordan Matthews, but that's pretty much run its course now that J-Matt is on injured reserve. Cordarrelle Patterson has never reached 500 receiving yards in a season and was likely brought in for his special-teams prowess. Malcolm Mitchell still isn't healthy, and Phillip Dorsett has just 63 receptions and 3 touchdowns for his career despite playing with Andrew Luck and Brady. Braxton Berrios is a sixth-round rookie who is likely fighting for a roster spot.
So that leaves us with Kenny Britt and Eric Decker, who the team signed Thursday, as Hogan's chief combatants until Edelman returns.
Man, that sounds like a great situation for Hogan.
Success With Brady
It can't be overlooked just how good Hogan was with Brady last season. Across the first eight weeks of 2017, before Hogan's shoulder injury, he was the PPR WR10. In standard leagues, he was the WR7.
To put it simply -- when he was healthy, Hogan was a fantasy WR1 last year, and we can get him for a lot cheaper than that right now.
Some of you may point to Hogan's one-catch, one-yard Week 14 performance against Miami as cause for concern. But it's pretty clear Hogan wasn't fully healed from his shoulder injury at that point; he'd missed four consecutive games (plus a bye week) before the Miami outing and then missed the following three games. That game looks more like an injury-fueled outlier than a cause for concern. When he was finally healthy, Hogan exploded for 6 grabs, 128 yards and a score in the Super Bowl.
Across 27 career regular season and playoff games with Brady, Hogan has recorded at least 60 receiving yards and/or a touchdown in 16 of those outings. Hogan has seen 19 targets inside the 10-yard line over the past two seasons, 6 more than Rob Gronkowski, per Evan Silva of Rotoworld.
Brady is clearly comfortable targeting Hogan in all areas, but he's also willing to target Hogan between the 20s. Through Week 8 last year (again, when Hogan was healthy), he maintained an 18.18% target market share in the Patriots' offense. Cooks' market share was 19.48%, while Amendola's was 14.94%. With Cooks and Amendola gone, that leaves a whole mess of volume up for grabs.
Putting It All Together
Let's review.
Hogan was a top-10 receiver over the first eight weeks last season despite Gronk missing only one game in that span and Cooks leading the team in target share. The Patriots are among the league leaders in both air yards and targets missing from last season's offense. Hogan played more than 80% of New England's snaps last year, and the rest of the wide receiver depth chart consists of nothing much to write home about outside of Edelman, who is banned for the first four games.
All of that is well and good, because we know volume is king in fantasy. But when volume and efficiency couple up, that's when true fantasy goodness emerges.
Indeed, advanced metrics paint Hogan as an efficient receiver. From 4 to 15 yards out, his touchdowns rate dwarfs the league average, per airyards.com. Among receivers with at least 50 targets in 2017, Hogan ranked 20th in fantasy points per target (1.86). His catch rate is at or significantly above league average in the short and intermediate parts of the field (again, per airyards.com). And he grades out well in aDOT, the most consistent year-over-year stat for wideouts.
In short, Hogan is one of the best value picks at wideout in fantasy right now, and the masses are catching on.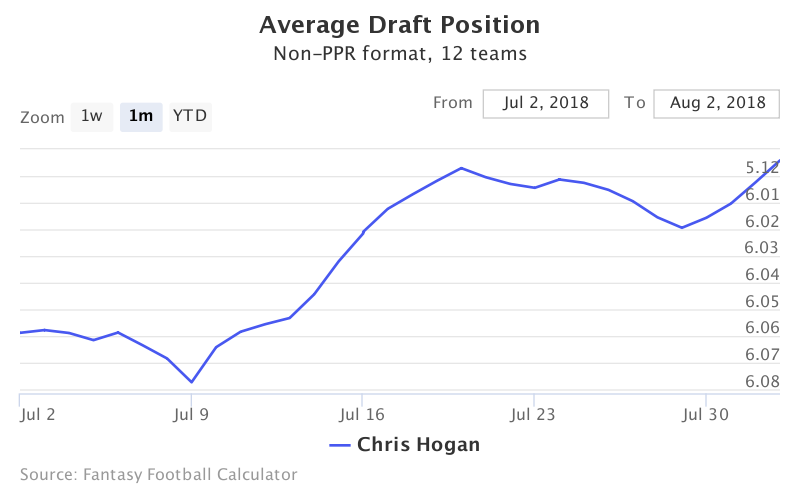 Our projections have Hogan totaling 58 catches, 845 yards and 6.38 touchdowns, which, you could argue, is closer to his floor than his ceiling. Stepping into massive opportunity in a perennially potent passing attack, Hogan is an obvious value right now.