Tarik Cohen Is Worth His Rising Fantasy Football Draft Cost
Powerful tandem backfields have come to fruition in the football world as of late, a modern shift from the bellcow roles commonly seen throughout the history of football. Teams are relying on multiple faces in the backfield to generate a rushing attack, alternating between two backs as opposed to having one specific back shoulder the responsibility on his own.
While this strategy has been beneficial for teams in real-world football, it doesn't make it easy for fantasy owners trying to build a roster. Anticipating which of the two -- or even three, at times -- backs in a timeshare are best to invest in for production is a difficult task. Some teams may have multiple running backs worth buying into in fantasy while in other backfields, the top back is the only fantasy-relevant runner.
The 2018 Chicago Bears are one such dilemma. With a new season upon us, third-year pro Jordan Howard is expected to once again lead the way, with Tarik Cohen possibly seeing an expanded role after a solid rookie season. That "expanded" role is what needs further investigation; is drafting Cohen a viable strategy, regardless of whether Howard is on your team? Does Cohen have standalone value as weekly flex option, particularly in PPR formats?
Let's dive in.
Rookie-Year Success
Cohen's impact in his first season in the Bears' backfield came mostly as a pass-game option. He finished with 71 targets last year, tied for the 10th-most of any running back, per Pro-Football Reference. He turned those targets into 53 receptions for 353 yards and 1 score, and he hauled in 74.6% of his looks.
With 87 carries for 370 yards -- good for a solid 4.3 yards per carry -- as well as 2 rushing touchdowns, Cohen also turned his limited ground-game opportunities into decent results.
The game-breaking ability that made Cohen a fourth-round selection from North Carolina A&T was well displayed in 2017. Adding in a jaw-dropping, field-reversing punt return touchdown as well as a trick-play passing touchdown, Cohen totaled five scores on the season. That was in spite of receiving only one goal-line carry -- defined as an attempt inside the five-yard line -- in his debut year.
Cohen's highlight package oozes with speed, screaming breakaway play with every twist and turn he put into action. It is tough not to get excited about his talent when watching him with the ball in his hands.
Mid-round rookie running backs are far from a guarantee to come in and produce immediately. With Cohen coming from such a small school, his rookie year was awfully impressive.
But his play wasn't just exceptional, it was also an exception on what was a lackluster Chicago offense.

New Faces, New Expectations and New Opportunities
Everyone knows that the more success an offense has, the more likely they are to produce opportunities. If a team can't sustain drives, they'll run fewer plays, capping the fantasy upside of their players on a weekly basis.
That's exactly how things went for Chicago in 2017. The Bears ranked 31st in plays, 26th in yards per play and 29th in points scored. That led to an offseason of changes for the offense.
Fresh talent is everywhere. Out is head coach John Fox, and in comes Matt Nagy, formerly the offensive coordinator for the Kansas City Chiefs. His innovative offensive schemes and success operating one of the league's best offenses last season was likely one of the reasons Chicago was able to attract some new faces for a unit in desperate need of change. Wide receivers Allen Robinson, Anthony Miller and Taylor Gabriel joined the fold as well as tight end Trey Burton, with Robinson's signing bringing forth the most excitement. The belief is that A-Rob's presence will help the development of Mitchell Trubisky, the team's franchise quarterback.
While the offseason hype around the Bears, some of which pegs them as the team most likely to be this year's version of the 2017 Los Angeles Rams, may have gotten out of hand, there are undoubtedly reasons to think this offense is on the rise.
More success for the offense as a whole will mean more chances for their skill-position players to score fantasy points, and more opportunity is exactly what Cohen needs.
Nagy and has apparently moved Cohen "everywhere" on offense in anticipation for the new season, trying to find ways to get Cohen's game-changing ability more involved in the attack.
Consistent touches isn't something Cohen got in 2017. While his 140 touches were acceptable for a rookie, they came without stability. He finished the season with seven games in which he had three or fewer carries. He eclipsed 10 carries in only three games the entire year, despite averaging 6.6 and 6.5 yards per carry in two of those games in which he had 10-plus attempts. That type of usage made him a boom-or-bust fantasy play in terms of reliability, and it was hard to feel any sort of confidence about his usage heading into a game.
Time will tell if things will be different this fall, but early reports sure paint of a picture of a coaching staff that wants to utilize Cohen's unique abilities.
Room for Improvement
While there are reasons to be optimistic about Cohen in his second season, it doesn't mean Cohen had a perfect rookie campaign. There is no denying there is room for improvement as in terms of efficiency, at least by our metrics, he simply needs to be better.
Let's peep Cohen through our Net Expected Points (NEP) metric. NEP is the metric we use to track the efficiency of both teams and players, with the team side being adjusted for strength of opponent. A three-yard run on 3rd and 2 is wildly different than a three-yard run on 3rd and 4, and NEP helps account for that by tracking the expected points players add to their team's total over the course of a season. You can read more about NEP in our glossary
In 2017, among the 52 backs with at least 80 carries, Cohen checked in 36th in Rushing NEP per attempt. In terms of Rushing Success Rate, the percentage of his carries which resulted in positive NEP, Cohen ranked 35th. He also averaged only 1.3 yards after contact, so there are reasons to hesitate here.
But still, investing in him doesn't need to be more than what it is; drafting him is not the first step in anointing him as the best running back football. In fantasy, chasing volume and big-play potential in late rounds is important, and the young speedster clearly did some things well.
Tarik Cohen finished 2nd in yards per carry on rushes to the ⬅️ last season #Bears pic.twitter.com/XAAwBLuzG6
— PFF CHI Bears (@PFF_Bears) June 26, 2018

It's also worth remembering who Cohen works alongside in the Bears' backfield. Howard has been good through two years, but he is far from an analytical darling. In 2017, among the 47 backs with at least 100 carries, Howard ranked 18th in Rushing NEP per carry and 21st in Success Rate.
Is Cohen Worth His Current Cost?
The role that Cohen will likely serve -- a versatile piece who thrive as a pass catcher -- makes him significantly more valuable in PPR formats. Pass-game specialists are always enticing picks in PPR leagues, and Cohen's stock is on the rise, according to Fantasy Football Calculator's PPR average draft position data.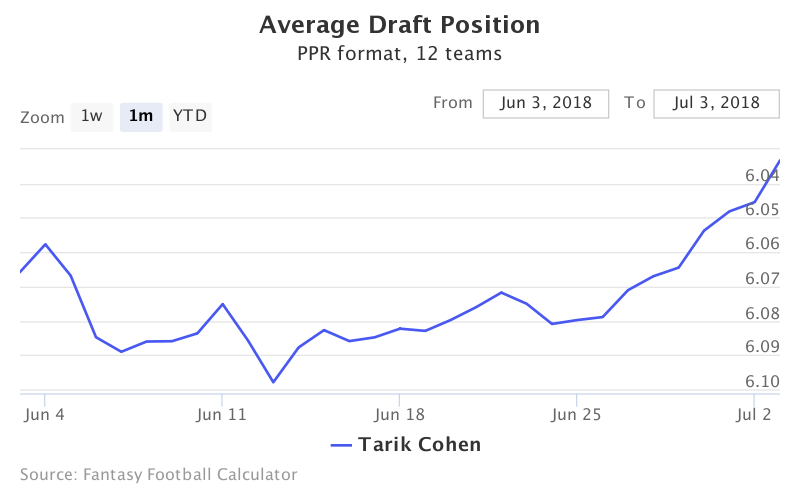 Cohen is currently being drafted early in the sixth round, coming off the board, on average, at pick 6.04, making him the RB29.
While his value is surely being lifted by the buzz around the Bears this offseason, Cohen can live up to that price. Our models project him for 55 catches, the 10th-most among all running backs, in addition to 83 carries and 328 yards on the ground. Those numbers are right in line with what he produced as a rookie -- 87 carries for 370 yards and 53 grabs for 353 yards -- so if Cohen sees an expanded role, like many are expecting, he could surpass our projection.
The lack of goal-line carries he received as a rookie is spooky, for sure, and that's something that may not change going forward given his build. Still, what Cohen has shown is the ability to create big plays.
The most critical element here, unsurprisingly, is his role, and while it's not easy to invest in the unknown, there are plenty of signs -- namely coaching staff chatter as well as what should be an improved offense leading to the Bears running more plays -- that Cohen will see more touches than he got in 2017.
On an offense trending up, Cohen is a worthwhile roll of the dice in PPR formats at his current ADP.