9 Undervalued Players in Fantasy Football Based on Expected Win Totals
Fantasy football can be a complicated game.
You want volume. You want efficiency. You want upside. You want floor. You want a balanced roster.
It's a lot to juggle all at once. But at the end of the day, we really want just one thing.
We want them tuddies.
Touchdowns are the easiest path to upside in fantasy football, regardless of position. You can have all the rushing yards you want, but if your players aren't finding the end zone, good luck posting a number that'll top the squad of Steve in accounting.
While there are also plenty of factors that go into touchdown scoring, the easiest path to finding them is by targeting good teams. Good teams score more points, and that gives your players more chances to hit paydirt. If you have too many players who are on poor teams, you're cutting into your overall upside and putting yourself in a hole.
Thankfully, each year, betting markets will give us a glimpse at which teams are projected to be good in the upcoming season. And we can learn a lot from this info.
In a study we did two years ago here on numberFire, we saw that there is a decently strong relationship between bookmakers' win totals for a team and the fantasy production for that team's players within the season. That relationship is strongest for kickers and quarterbacks, but it applies to every position on the board to at least some degree.
Previously, we went through assets that were overvalued based on expected win totals. Today, we'll do the opposite and take a look at those who may be a bit undervalued thanks to the strength of their teams.
All win totals will be from BetOnline while all average draft position (ADP) data is from Fantasy Football Calculator and is for 12-team, PPR drafts.
Undervalued Quarterbacks
Kirk Cousins, Minnesota Vikings
ADP: QB9 | Team Win Total: 10.5
The Minnesota Vikings are tied for the highest season win total at the moment, sitting at 10.5. They also have great weapons at wide receiver and running back while playing inside a dome, all of which are plus factors for quarterbacks in fantasy.
So why is Kirk Cousins just the ninth quarterback off the board?
Part of it is because the quarterbacks going before Cousins are really freaking good. But it also may be because we haven't seen Cousins in this new environment yet, keeping the price reasonable before it jumps in season.
Right now, Jimmy Garoppolo is going a few slots ahead of Cousins, and even with the excitement behind him, that seems misguided. Cousins has the better weapons, and Vegas pegs the Vikings to get two more wins than the San Francisco 49ers. With that in mind, if you decide to dabble in the quarterback waters in the eighth round, Cousins seems to be the superior choice.
Ben Roethlisberger, Pittsburgh Steelers
ADP: QB14 | Team Win Total: 10.5
It's not hard to figure out why Ben Roethlisberger is going this late in drafts. His home-road splits will make your skin crawl, and he got off to a wretched start last year. But those negatives are forcing us to overlook the upsides, and that seems to be a mistake.
While we remember Roethlisberger's sluggish start, we seem to be overlooking what he did in the second half of the season. He scored at least 15 fantasy points in each of his final 9 games, scoring at least 28 points in 3 of those. We want upside from our late-round quarterbacks, and Roethlisberger absolutely has that.
The Pittsburgh Steelers do have three road games in their first six prior to their bye, so you will have to deal with some bumps, but none of the matchups is overly offputting. Roethlisberger has top-five upside and comes at a much lower cost than that, so we'd be wise to give him a sniff at the end of the 10th round.
Undervalued Running Backs
Dalvin Cook, Minnesota Vikings
ADP: RB10 | Team Win Total: 10.5
There is a clear top tier at running back, and it would be hard for any of the secondary players to hop into that. But in the second tier at the position, there's some room for movement, and Dalvin Cook may be going a bit too late within it.
This second tier basically starts once you get past Saquon Barkley, who is the sixth running back and the seventh overall pick. Then it's Kareem Hunt, Melvin Gordon, Leonard Fournette, and Cook. Cook's team is the only within that tier projected for 10.5 wins whereas Hunt's Kansas City Chiefs are down at 7.5 wins. So why is Hunt going ahead of Cook?
The answer is pretty easy with Cook coming off of a major knee injury and Hunt having led the league in rushing during his rookie season. But when Cook was healthy, his workload was on par with Hunt's for the full season, and Cook's team upgraded at quarterback this offseason. Until we know more about how Patrick Mahomes will perform with the Chiefs, we may want to view Cook as being closer to the top of this second tier at running back.
Lamar Miller, Houston Texans
ADP: RB26 | Team Win Total: 9.5
The Houston Texans' offensive line is an embarrassment to society. It's an affront to liberty. It might get Deshaun Watson in some serious trouble in a hurry.
But it might not be bad enough to prevent Lamar Miller from being a value in fantasy football.
Miller is currently the 26th running back off the board, going in the middle of the fifth round. The players going in his same range are largely committee backs with a lot of ambiguity in their backfields. With D'Onta Foreman coming off of a torn Achilles in December, there's no guarantee he'll be ready for the start of the season, putting Miller in a spot to carry a large load.
When Watson was healthy, the Houston Texans' offense was a juggernaut last year. Miller scored 48.1% of his full-season half-PPR points in the 6 games that Watson started, topping 20 points twice in that stretch. The offensive line concerns are legit, which means we can't push Miller too high on the board, but he should likely be going ahead of some of the backs going a full round ahead of him.
Aaron Jones, Green Bay Packers
ADP: RB34 | Team Win Total: 10.5
This could honestly be a broader public service announcement to draft any and all Green Bay Packers running backs. It's not often that a team with a 10.5-win total has backfield ambiguity in which each piece is going outside the top six rounds. But with that being in play this year, we should be taking as many stabs as possible, starting with Aaron Jones.
There were 55 running backs last year who had at least 75 carries. Only one of them (Alvin Kamara) added more expected points on a per-carry basis than Jones, and only one (Duke Johnson) saw a higher percentage of his carries increase the team's expected points for the drive than Jones. Jones also got work in the passing game when he was in college, further inflating his value should he get the role.
That's enough to justify drafting Jones at the start of the seventh round. But it also shouldn't stop us from getting Jamaal Williams in the 9th round or even Ty Montgomery in the 10th. We want to find the person who will be the lead back in this offense even if it means we wind up wasting a draft pick in the process. The upside is more than enough to outweigh that risk.
Undervalued Wide Receivers
Alshon Jeffery, Philadelphia Eagles
ADP: WR21 | Team Win Total: 10.5
You're probably not going to get an overwhelming market share out of anybody in the Philadelphia Eagles' offense this upcoming season, which is certainly a buzzkill for fantasy football. But that has also kept prices low, allowing us to buy guys like Alshon Jeffery and Nelson Agholor without breaking the bank.
Even though Jeffery is the most expensive asset here, there are plenty of reasons to be excited. The first is that he's the biggest threat down the field. Jeffery had 36.8% of the team's targets at least 16 yards downfield last year, which positions him well with the return of Carson Wentz. Wentz had the third-highest deep rate in the league for 2017.
Additionally, Jeffery did all of this while essentially playing with just one arm.
#Eagles WR Alshon Jeffery had successful surgery this morning on a torn rotator cuff, sources say. He suffered it in training camp and played through it, somehow, on the way to a Super Bowl.
— Ian Rapoport (@RapSheet) February 21, 2018

Now that Jeffery is healthy with an additional offseason in the offense, both he and Agholor (who is currently going in the 10th round) are players we should be willing to buy.
Julian Edelman, New England Patriots
ADP: WR29 | Team Win Total: 10.5
Yes, Julian Edelman is likely going to miss the first four games due to a suspension, and yes, he is coming off of a torn ACL. When Edelman gets back, though, he should transition into a major role within the offense.
Since 2016, the last time Edelman was heavily involved on offense, the Patriots haven't made any inroads to the pass-catching core. Brandin Cooks came and left, meaning the two biggest additions are Kenny Britt and Jordan Matthews, neither of whom is a surefire stud. In that 2016 season, Edelman had 29.5% of the team's overall targets. When he gets back, Edelman could easily slide into a similar role.
We've already seen Edelman's draft cost slip almost two rounds, and it may not be done yet.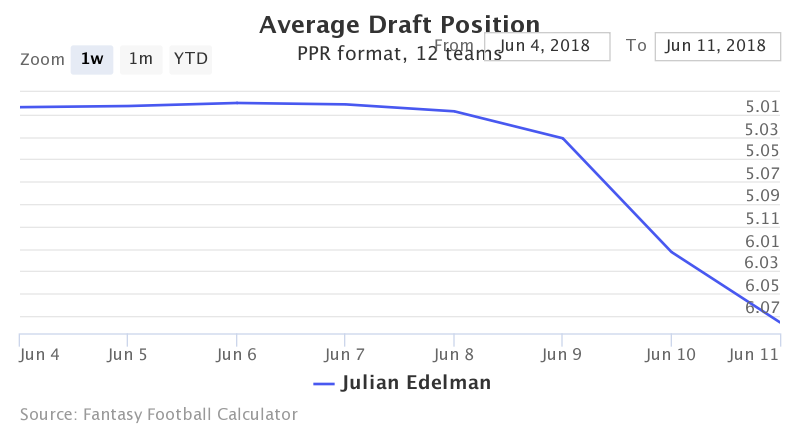 Edelman's a viable pick where he's going now at the end of the seventh. But if he continues to fall even deeper in drafts, the buying window will become that much wider.
Marquise Goodwin, San Francisco 49ers
ADP: WR42 | Team Win Total: 8.5
The bookmakers are buying into Jimmy Garoppolo and the 49ers, putting their season win total at 8.5. That's pretty lofty even when you consider how awesome Garoppolo was in his cameo last year. And if they live up to that, Marquise Goodwin could be a major steal.
It is true that Pierre Garcon will be coming back after missing a ton of time in 2017 with a neck injury. But in Garcon's absence, Goodwin was fantastic. In the five games that Garoppolo started, Goodwin had 24.7% of the team's overall targets and 47.1% of their deep targets. Those numbers should go down with Garcon back, but it's clear that Goodwin's a legit weapon here.
Despite that, Goodwin's still available in the ninth round of drafts. The 49ers signed him to a three-year extension over the offseason, meaning they expect him to be a factor. We should start expecting the same in fantasy, making that current price tag look simply scrumptious.
Undervalued Tight End
Vance McDonald, Pittsburgh Steelers
ADP: TE16 | Team Win Total: 10.5
When you're playing alongside studs like Antonio Brown, JuJu Smith-Schuster, and Le'Veon Bell, you're never going to get a ton of targets. That's not really in Vance McDonald's range of outcomes. But he can definitely score some touchdowns, and as the 16th tight end off the board, McDonald seems like a value.
What's surprising about McDonald is that the hype train hasn't caught on yet despite some signals that should have nudged things forward. The first was his 16-target game in the Steelers' playoff loss last year. The second was some positive buzz during organized team activities.
'It's nice having the whole offseason to develop. Just get more detailed on the plays and getting to know the offense better. It makes a huge difference.' - Vance McDonald is proof that OTAs can benefit vets as well as young players.

More: https://t.co/pU2PD5gHUF pic.twitter.com/JMRAha5Ye6
— Teresa Varley (@Teresa_Varley) May 30, 2018

Although the cost on McDonald has gone up a hair, he's still only a 14th-round pick, and that doesn't seem to capture how immense his upside could be.