Fantasy Football: LeSean McCoy Belongs in the Top Tier of Running Backs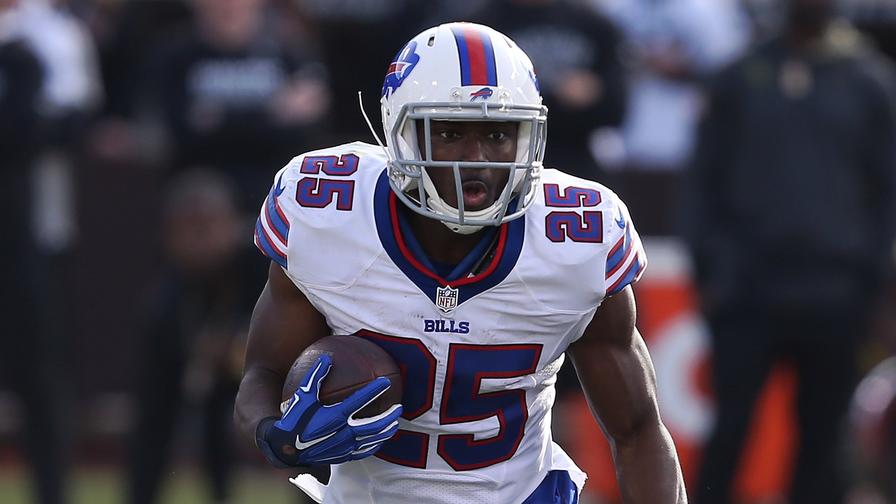 With the fantasy football draft season approaching, a consensus top three has emerged, according to average draft position data (ADP) from Fantasy Football Calulator.
David Johnson, Le'Veon Bell, and Ezekiel Elliott are generally the first three players drafted in any format, although Elliott's off-the-field behavior might soon change that.
With those three running backs in their own tier, LeSean McCoy is generally left out of the conversation of fantasy's top backs, but he shouldn't be.
Last season, McCoy finished third among all running backs in total fantasy points scored in standard leagues and was fourth in fantasy points per game, per FantasyData.com. When we dig further into McCoy's 2016 performance, there is upside for more production in 2017.
High-End Production in a Split Backfield
Buffalo has led the league in rushing for the past two seasons, and last year, the Bills scored a league-high 29 rushing touchdowns. McCoy contributed 13, but Mike Gillislee found the end zone 8 times, which was tied for the 11th-most rushing touchdowns among all backs.
Outside of his 13 rushing touchdowns, McCoy was particularly effective in 2016 despite battling a hamstring injury midway through the year. He averaged a career-high 5.41 yards per carry, and his 1,267 rushing yards marked the fifth time he has gone over 1,000 in his eight-year career.
Although McCoy put up impressive numbers, he was anything but a workhorse back. He saw only 47 percent of the Bills' rushing attempts, as Gillislee took 21 percent of the carries, and Tyrod Taylor accounted for 19 percent.
McCoy's workload in 2016 pales in comparison to that of fantasy's other top running backs.
| Running Back | Rushing Attempts Per Game | Percentage of Team Rushing Attempts |
| --- | --- | --- |
| David Johnson | 18.3 | 73% |
| Le'Veon Bell | 21.8 | 64% |
| Ezekiel Elliott | 20.1 | 65% |
| LeSean McCoy | 15.6 | 47% |
| Melvin Gordon | 19.5 | 64% |
| DeMarco Murray | 18.3 | 62% |

Last season, McCoy averaged only 15.6 rushing attempts per game, which ranked 17th among all backs. Despite fewer opportunities, McCoy still finished the season as a top-five back.
If we look at total touches for these backs -- accounting for rushes and receptions -- we see that McCoy was nearly as effective as Johnson on a point-per-touch basis.
| Running Back | Total Touches | Fantasy Points Scored | Fantasy Points Per Touch |
| --- | --- | --- | --- |
| David Johnson | 373 | 327.8 | 0.88 |
| Le'Veon Bell | 336 | 242.4 | 0.72 |
| Ezekiel Elliott | 354 | 293.4 | 0.83 |
| LeSean McCoy | 285 | 248.3 | 0.87 |
| Melvin Gordon | 295 | 209.6 | 0.71 |
| DeMarco Murray | 346 | 240.8 | 0.69 |

Although he saw fewer touches than the other top backs, McCoy was one of the most effective fantasy producers in 2016, and there could be more opportunity coming in 2017.
Gillislee Departure
This offseason, the Bills declined to match an offer sheet for Gillislee, allowing him to walk to the division rival New England Patriots. But with Gillislee gone, the run-first Bills now have 101 rushing attempts from the previous season unaccounted for.
Surely they can't all go to McCoy, but it'd be a leap of faith for Jonathan Williams to take the lion's share of those after his middling rookie season. In 2016, Williams had only 27 carries for 94 yards and 1 touchdown.
If we look at the efficiency metrics here at numberFire, you can see Williams shouldn't be much of a threat to McCoy.
Two metrics that we'll use are Net Expected Points (NEP) and Success Rate. Our NEP metric tracks the efficiency of both teams and players by evaluating whether a play helped or hurt a team's chances of scoring. Additionally, our Rushing Success Rate metric is the percentage of carries which result in a positive NEP gain. For more on both of these stats, check out our glossary.
Williams produced a -0.38 Rushing NEP per attempt in 2016, which was well below the -0.02 league average for running backs. Williams also posted a below-average 33.0 percent Success Rate on his carries. That ranks him with the likes of former teammate Reggie Bush and Cameron Artis-Payne among all backs in 2016 -- not good.
On the flip side, McCoy had one of the best seasons of any running back last year, according to our metrics.
Of the 42 running backs with at least 100 carries last season, McCoy ranked second in Rushing NEP per attempt (0.15). Oddly enough, McCoy trailed only Gillislee (0.30) in this category.
If we look at Success Rate, McCoy (45.7 percent) ranked ninth among those 42 backs, coming in right behind Mark Ingram (45.8 percent) and ahead of Le'Veon Bell (44.8 percent). Once again, Gillislee was the top back in the metric with 56.44 percent of his carries resulting in positive NEP (maybe the Bills should've kept him).

So, despite Gillislee and McCoy thriving in Buffalo's running game, Williams struggled in the same environment.
Injury Concerns
Most likely, the biggest knock on McCoy is his injury history. Although McCoy only missed one game last year, he has missed five games in the past two seasons combined, and he has only played a full 16-game season in three of his eight years as a pro.
Now, does that make McCoy injury prone? Perhaps. But you could also look at McCoy's career history and see that he has only missed a total of 11 games in eight seasons -- pretty darn good for a running back. Injuries are unpredictable and probably a form of recency bias, and they shouldn't cloud his outlook when considering McCoy's potential for 2017.
Fantasy Value
In his strength of schedule article, our own Brandon Gdula points out that the Bills will face the league's 18th-most difficult schedule in terms of opposing defenses, which is far from intimidating. Further, we're projecting the Bills ground game to be the second-best rushing attack in the NFL in 2017, trailing only the Dallas Cowboys.
These factors combined with McCoy's past performance make him a solid mid-first round pick with upside for plenty more should he stay on the field for 16 games.
When drafting for 2017, don't overlook McCoy. He needs to be in the conversation with Johnson, Bell, and Elliott -- if not ahead of Elliott should Zeke be suspended in the near future.