Doug Baldwin Is a High-End Value This Year in Fantasy Football
Pop quiz!
Sorry, I didn't mean to scream at you the second you begin reading this article.
Anyways, there are four wide receivers who have finished in the top 10 in point-per-reception (PPR) scoring among wideouts in each of the past two seasons. Can you name them?
OK, time's up! Most of you could probably guess Antonio Brown, Julio Jones, and Odell Beckham. But surprisingly, Doug Baldwin has also finished in the top 10 in back-to-back seasons. Maybe it's the stigma of Baldwin being an undrafted free agent out of Stanford that has caused people to sleep on him for so long.
Per Fantasy Football Calculator, his current average draft position (ADP) in PPR leagues is WR13. He has finished at WR9 and WR8 over the past two seasons. Where should you target him this summer?
The Safety Dance
Baldwin hasn't missed a game due to injury since 2012. While there's no way to actually predict injuries, he has been reliably healthy in recent years. He has also become the focal point of the Seahawks' passing offense.
Baldwin was targeted on about 25% of the Seahawks' passes in 2016. In 2015, when Baldwin scored 14 touchdowns, he was targeted on 21.87% of the team's passes. The target share is very nice (Borat voice), but a lot of people still view the Seahawks as a running team. That's not really true anymore.
While the Seahawks' defense has declined a bit from their Legion of Boom days, Wilson has seen his responsibilities increase. More passes should mean more targets for Baldwin.
They also have seemingly lost their strong running game with the departure of Marshawn Lynch and the sudden lack of an offensive line. Per Football Outsiders, in 2016, the Seahawks allowed their running backs to be stuffed at the line on 24% of their carries, which ranked 30th in the league. Seattle would be smart to focus more on the passing game if they can't get their running game back on track.
At worst, Baldwin is in line to get as many targets as he has in his previous seasons, and he could get more if the Seattle offense continues its upward trend in passing volume. While Baldwin isn't the sexiest pick in the draft, he may be one of the safest.
What Are The Alternatives?
The number of volatile wide receivers quickly becomes apparent when you reach Baldwin's ADP. He is surrounded by Keenan Allen, Allen Robinson, and Alshon Jeffery, who have both helped and burned fantasy owners over the past two seasons.
Are you willing to take a chance on one of them during the third or fourth round of your draft? I'm not saying those players are all bad picks, but there is some definite risk with each of them. Baldwin presents the least risk of any wide receiver outside of the top 10 in ADP.

While I expect him to finish in the top 10 among wideouts, that does not mean you should reach for him there as you may be able to get him a little later. Let's take a look at some of the wideouts who are going in front of Baldwin, focusing first on the headliner in one of this offseason's biggest moves.
Too Many Cooks
It takes a lot to make a stew. A pinch of salt and laughter, too!
Drafters have been far more inclined to take players like Brandin Cooks. The ADP for the newly-acquired Cooks has shot up the charts since he joined the New England Patriots.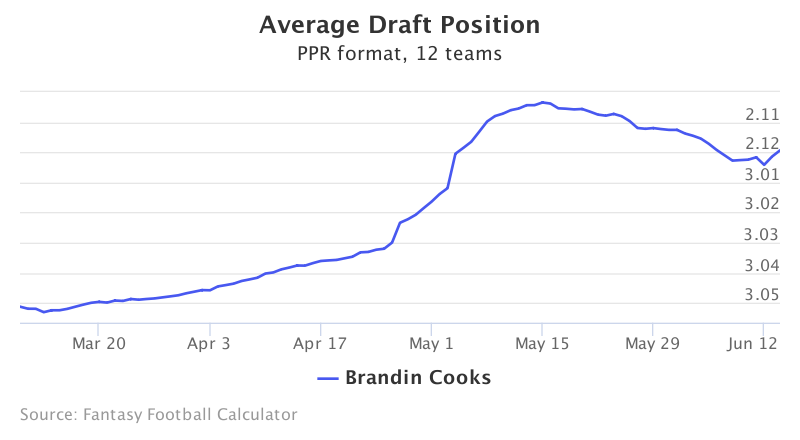 Cooks is currently being drafted about two picks ahead of Baldwin. I totally get it. Cooks is only 23, and he is going to be catching passes from Tom Brady. He has the upside to catch 100 or more passes in arguably the best offense in the NFL. But how much better of a situation is this than what Cooks had in New Orleans?
Over the past two seasons, the New Orleans Saints have finished in the top two in yards gained. They also finished second in the NFL in points scored in 2016. On the other side of the ball, the Saints defense ranked last or next-to-last over the past two seasons. It's the perfect storm for a wide receiver. In those two seasons, Cooks ranked a very respectable WR13 in 2015 and WR10 in 2016. At an ADP of WR12, it feels like he is being drafted for his best possible outcome, not the likeliest.
Too Many Crooks
Among the other wide receivers going right in front of Baldwin are Dez Bryant, DeAndre Hopkins, and Amari Cooper. Theoretically, these players possess more upside than Baldwin, but they could end up robbing you of success, too.
Bryant hasn't had a healthy year since 2014, and we haven't seen enough of him with Dak Prescott. Cooper has been outscored by teammate Michael Crabtree in back-to-back seasons. Cooper's dynasty value is understandable, but in redraft formats, why take Cooper so early when you can wait on Crabtree?
Hopkins finished as PPR WR4 in 2015 but saw his production decline during the latter half of the season once Houston's defense began playing well. Last year, amidst quarterback issues and the Texans' defense becoming even better, Hopkins saw his production decline to WR26.
Even players like T.Y. Hilton may see his ADP dive if Andrew Luck continues to battle shoulder issues.
Moving Forward
All in all, Baldwin is in line for another good season. But there's no need to reach for him, because as things stand now, you should have a chance to snag him at a discounted cost.
Since it's only June, ADP will change quite a bit before draft season really heats up. But if you're in an MFL10, now is the time to capitalize on Baldwin's price. By the end of the summer, his ADP could creep into the top 10 wide receivers, which is where it should be now.