Willie Snead Is Shaping Up as a Nice Fantasy Football Value
Since the New England Patriots traded for Brandin Cooks, most of the attention and debate has revolved around how Cooks fits with the Pats. That's a really interesting topic and one which I have absolutely no clue in regards to the answer.
So let's take a peek at the other side of that deal, where things appear a little clearer and simpler.
Cooks has seen 123 targets per season over the last two years, so he's leaving a pretty big hole in the New Orleans Saints' offense. Since those available targets will be coming from Drew Brees, this is a situation we need to investigate from a fantasy perspective.
Willie Snead was the Saints' third receiver last year, working behind Cooks and then-rookie Michael Thomas. Snead parlayed that role into a second straight quality season, finishing as the WR32 in points-per-reception (PPR) formats.
Ostensibly, with Cooks out of town, Snead is in line to see a few more looks, and his average draft position (ADP) reflects his changed role.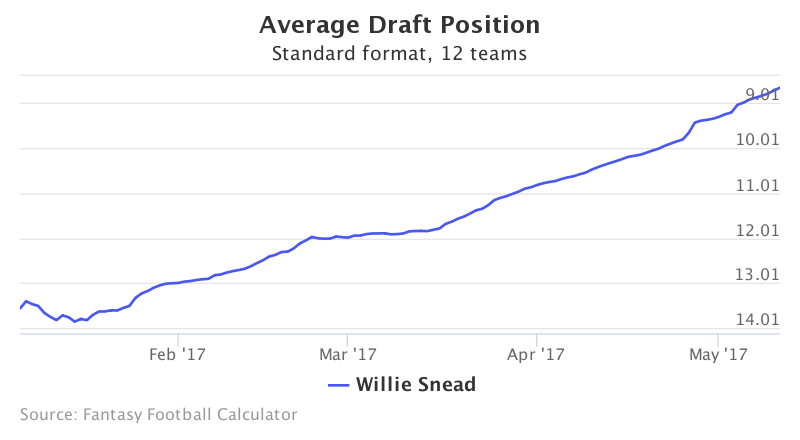 On January 15th, per ADP data from Fantasy Football Calculator, Snead was the 12th pick in the 13th round. Now, with it being assumed that he'll be the number-two guy down on the Bayou, Snead's ADP has crept up into the eighth round as WR37.
A jump of more than four rounds is significant, to be sure, but he's still an undervalued commodity. Actually, he's now being taken where he should have been in January.
Even if you remove the Cooks trade from the equation, Snead is undervalued. Here's a look at what the Ball State product has done is his two seasons with New Orleans.
| Year | Targets | Catches | Yards | Touchdowns | PPR Finish |
| --- | --- | --- | --- | --- | --- |
| 2015 | 101 | 69 | 984 | 3 | 34th |
| 2016 | 104 | 72 | 895 | 4 | 32nd |

As a reminder, he's currently WR37 in early drafts, so even if Snead comes out and produces at a very similar level this fall, he is a bit of a value since he's finished 34th and 32nd among wideouts in PPR formats over the past two years.
Now, let's factor in the trade.
With Cooks gone, there are roughly 120 targets -- Cooks had 117 and 129 targets, respectively in the past two years -- up for grabs. Those will likely get divvied up among the Saints' pass-catchers, but it's perfectly reasonable to assume Snead will see a few extra targets.
Snead has posted catch rates of 68.3% (2015) and 69.2% (2016) so far in his career, so we can feel pretty good about his ability to turn any extra volume into useable production. He also checks out well according to Net Expected Points (NEP), our in-house metric. Per wideouts to see at least 80 targets in 2016, Snead was 12th in Reception NEP per target, and he ranked 25th in that group in 2015.
Snead finished with 69 grabs, 984 yards and 3 scores last season, so a slight bump in volume could push him over the 1,000-yard mark. In 2016, only two receivers -- Kenny Britt and DeSean Jackson -- finished outside the top 23 PPR wideouts while having 1,000-yard campaigns. Britt was on a horrific offense, something Snead won't have to deal with, and DJax's boom-or-bust style dings his production a bit in PPR formats.
The beautiful thing about Snead's situation is we don't need to get all fancy or work up a sweat trying to project things. There isn't a need to say "If Snead sees X more targets, he can be a top-24 wideout."
Over the last two seasons, Snead has proven he's a solid, trustworthy WR3, and his offense -- quarterbacked by a Hall of Famer -- just lost the guy who has led them in targets over the past two years. That gives Snead upside he hasn't had to this point in his career.
Common sense tells us Snead will likely see some more looks and could end up posting career-best numbers. But even if we're wrong there, Snead should, at worst, see a similar target volume to what he's gotten in each of the past two years, and he's still a value in that scenario.
While he isn't the insane value he was in January, Snead is still an underappreciated commodity in fantasy football.