College Football Betting Guide: Saturday 10/30/21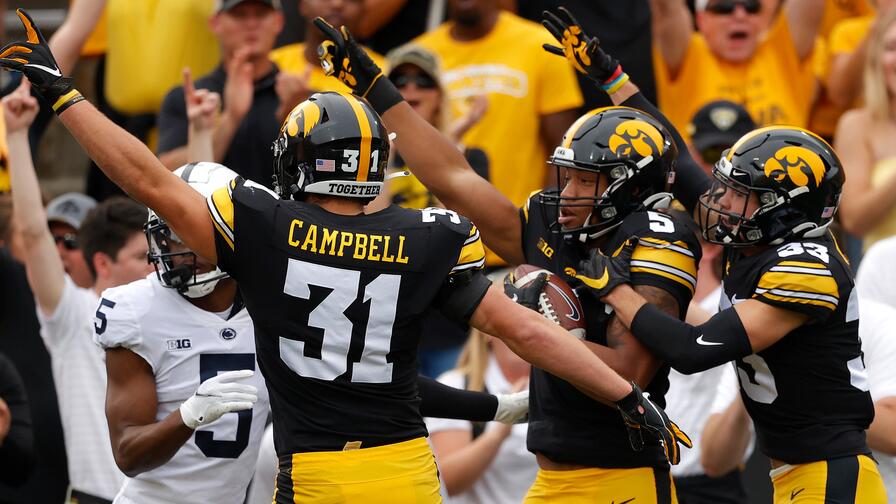 It was a tough day of betting for this column last week, as Notre Dame was the only team to cover the spread. We'll look to bounce back this week with a number of intriguing matchups with betting value.
The slate is headlined by Michigan vs. Michigan State and Penn State vs. Ohio State, but our model doesn't see too much value in either, so we'll look elsewhere. Iowa has a road trip to Wisconsin to keep pace in the Big Ten West, while Notre Dame looks to keep its playoff hopes alive with a home game against the disappointing North Carolina Tar Heels. Let's see how our model projects these games to play out.
numberFire has built comprehensive algorithms to pinpoint the bets with the highest probability of returning money, whether you are betting on the total, the spread, or the moneyline. For those new to numberFire, we use a five-star system to show which bets you should be targeting for any given game. Stars represent how much you should risk on a wager relative to what you would normally bet.
For example, if you would normally bet $110 to win $100 on a -110-spread wager, if we give a 3-star ranking, we suggest risking three times that amount: $330 to win $300. Here are the best bets for this weekend with guidance from our model.
Please note that lines are subject to change after this article is published. Please check here to make sure you are seeing the most updated information.
Iowa +3.5 (-130): 3-Star Rating out of 5
The Hawkeyes had a week off to recuperate from a devastating loss to Purdue, which gives them much less margin for error in the playoff race going forward. Iowa must win in Madison against a Wisconsin team that started 1-3 before winning their last three, including a 30-13 win on the road against Purdue last week.
Both Wisconsin and Iowa are amongst the top three defenses in yards allowed per game in the Big Ten (the other being Michigan), so this projects to be a defensive battle. Despite poor quarterback play from the Badgers, Wisconsin is actually right around the middle of the pack in the conference for offense due to a strong rushing attack.
Iowa's defensive line might be the key to a mismatch. Even though the Badgers run the ball well, their line is only 40th in average line yards, per Football Outsiders, whereas the Hawkeyes are 9th in the same metric on defense.
If Iowa can force Wisconsin to beat them through the air, they should be in business. Badger quarterback Graham Mertz has fallen far short of expectations this year, as he's thrown two touchdowns and seven interceptions with a 55.9% completion rate. Mertz only attempted eight passes last week in Wisconsin's win over Purdue.
Taking the points with Iowa earns three stars according to our model, which projects that the Hawkeyes cover with a 63.4% likelihood. Iowa is coming off a bye and looking to bounce back after their first loss, and their defense will make all the difference in what should be a tight, low-scoring game.
Notre Dame -3.5 (-114): 3-Star Rating out of 5
The quarterback situation became clearer last week for the Irish with Jack Coan getting the majority of the touches.
Coan had a key part in leading the Irish to a 31-16 win over their oldest rival, USC, but the offensive MVP for Notre Dame was Kyren Williams, who had 138 yards and 2 touchdowns on 25 carries. Notre Dame's offensive line hasn't been the best at run blocking, but USC's defensive line is bad, and North Carolina's isn't much better against the run. Williams should have another big day in South Bend on Saturday.
Sam Howell's Heisman campaign was seemingly over before it started, but he remains a top NFL prospect even as the Tar Heels have struggled this season. One aspect working against Howell is the pass blocking of his offensive line, which is allowing an 11.5% sack rate.
The Irish aren't a particularly great pass-rushing team, but if they're able to generate pressure against a weak offensive line, the secondary should make life difficult for North Carolina -- even without Kyle Hamilton, who will not play on Saturday. Hamilton is one of the best defensive backs in college football, but the rest of the Irish defensive backs have incrementally improved throughout the year.
Our model projects Notre Dame to cover with 65.9% probability, which is good for a three-star rating. The Irish have looked shaky at times this year, but they can remain in the playoff discussion if they win the remainder of their games, starting with North Carolina, who might be their most difficult opponent left.
San Diego State -1.5 (-105): 2-Star Rating out of 5
After a win at Air Force last week, San Diego State returns home to play Fresno State to remain undefeated. While the Aztecs have survived some close matchups, they do have two wins over Power Five teams in Arizona and Utah. Meanwhile, Fresno State lost to Hawaii and barely escaped against Carson Strong and Nevada last week.
This is a classic great offense versus great defense matchup, as Fresno State is first in the Mountain West in yards gained per game, while San Diego State is first in yards allowed per game.
Bulldog quarterback Jake Haener has put up solid numbers so far, and Fresno State has benefited from their passing attack in high-scoring games, like the win at UCLA and the loss at Oregon where they outgained the Ducks but came up a touchdown short.
Clearly, the Bulldogs have had a volatile year and they haven't faced a defense like the Aztecs yet. San Diego State is second to Georgia in defensive drive efficiency, defensive points per drive, and defensive yards per play according to Football Outsiders.
San Diego State can win this game if they slow the pace with their rushing attack and rely on the defense to make stops. Running back Greg Bell has been reliable for the Aztecs this year, and he might be the key to a win.
Our model gives San Diego State a 58.9% likelihood to cover the spread against Fresno State and continue their campaign to win the Mountain West.