3 NBA FanDuel Studs to Target on 4/7/21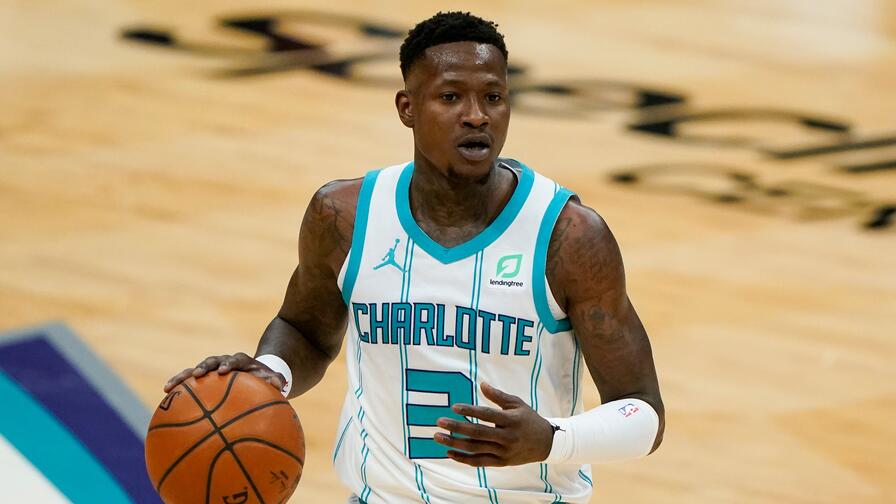 Basketball is the most consistent sport for daily fantasy purposes.
A top slugger in baseball will have his fair share of 0-for-4 days, and an elite fantasy football player is at risk of having games where his team's offense as a whole is shut down. A high-salaried NBA stud is generally going to get his, though. With so many possessions in a game providing opportunities to produce, top fantasy basketball options will be posting high scores just about every night.
While this consistency puts us in a good position to identify top plays, it also means you can't afford to miss when you're paying a heavy salary to roster someone. Even with strong value plays in your lineup, getting a dud from a stud is likely going to leave your lineup lacking.
Let's get right into it and look at which top players should be the focal points of your lineups today.
All injury updates are via the NBA's official injury report or numberFire's player news.
Terry Rozier, PG, Charlotte Hornets
FanDuel Salary: $7,400
One of my favorite plays on the entire slate tonight is Terry Rozier going up against the Oklahoma City Thunder.
For this contest, the Charlotte Hornets will be missing LaMelo Ball, Gordon Hayward, and Malik Monk -- that's a ton of volume out of the lineup. With those three off the court this season, Rozier utilizes a team-high 33.1% of possessions, while averaging a rock-solid 1.12 FanDuel points per minute, according to RotoGrinders.
That kind of usage should go a long way versus an OKC team that struggles to defend, well, anyone. Point guards, in particular, have had their way against the Thunder recently -- they've ceded the second-most fantasy points to the position over their last 15 games, per FantasyPros.
In the eight games since Ball went down with an injury, Rozier has managed at least 34.6 FanDuel points seven times, including outputs of 39.4, 42.4, 45.6, and 49.5. A performance in the mid-40s is a very real possibility tonight.
Zion Williamson, PF, New Orleans Pelicans
FanDuel Salary: $9,700
According to numberFire's Matchup Heatmap, the contest between the New Orleans Pelicans and Brooklyn Nets has the slate's highest over/under, currently sitting at 231.5 -- we'll want to chase that. One way to gain exposure to those points is by rostering the explosive Zion Williamson.
After a brief struggle following the All-Star break, Zion has rebounded in a big way, showcasing a solid floor in addition to an impressive ceiling. Over his last eight games, Williamson has amassed fewer than 46 FanDuel points just once, and that includes totals of 49, 52.1, and 64.5 in three of his last four contests.
If the Pels are going to want to go toe-to-toe with the Nets, they're likely going to need a massive performance from their young star. Luckily, this matchup aligns perfectly, as Brooklyn has surrendered the fifth-most fantasy points to opposing power forwards in their last 15 games.
Zion's position-high salary makes it hard to imagine that he'll be very popular tonight, which only increases his appeal in tournaments.
Nikola Jokic, C, Denver Nuggets
FanDuel Salary: $10,200
Look, I get that Nikola Jokic has produced a mixed bag of results over the last 10 days or so, but to be able to roster him for a salary this low is not an opportunity we should take lightly.
Fantasy's leading scorer hasn't been this cheap since the fifth game of the season, which should tell you all you need to know. At tonight's salary, the Serbian would need 51 FanDuel points to accrue five-times value (or 5.0 fantasy points for every $1,000 in salary), and he has racked up 55.1 or more in 31 of his 50 games this season. And, when it's all said and done, he's produced 57-plus in 5 of his last 10 efforts.
This matchup against the San Antonio Spurs is not one we need to fear. Opposing fives have averaged 53.6 FanDuel points per 48 minutes against San Antonio, which ranks 18th in the Association, according to numberFire's DvP tool. When Jokic went up against the Spurs in January, he dropped 35 real-life points and 56.5 of the fantasy variety.
numberFire's algorithm projects Jokic to be the top scorer on tonight's slate, and has him as the best point-per-dollar play among all those with a salary above $7,700.