Updated NBA Championship Odds: Fading Long Shots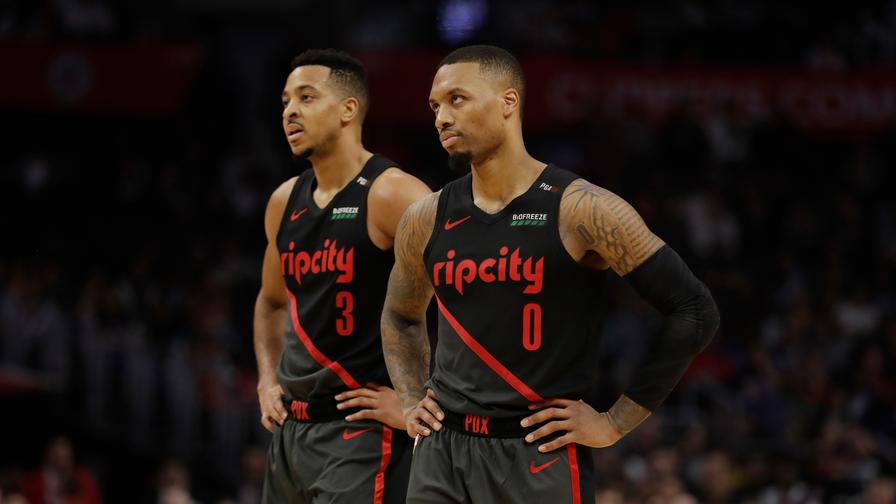 The further along the season goes, the more the standings begin to make sense. Houston has won nine of their last 10 games and are now firmly in the playoff race. Even the Spurs are hanging on to the last seed in the West after winning seven of their last 10. Boston has continued to win, as well, and although they haven't completely clicked (just 5-5 in their last 10), our models project them to make the playoffs with 99.9% likelihood.
It's likely that not every team currently in the playoff race is going to actually qualify for the postseason. While some of the teams that would make the playoffs if they started today have enticingly long odds, our model may disagree. Here are some examples of teams bettors should avoid based on our models' playoff probabilities.
Portland Trail Blazers
numberFire Title Probability: 0.3%
FanDuel Odds: 100-1
The Blazers are currently holding on to the 7 seed in the West, but they have the 10th-best point differential per game in the Western Conference. Damian Lillard is one of the best scorers in the league, and he and C.J. McCollum have led the Blazers to the 12th-best offensive rating, according to Basketball Reference. However, they've done so with an effective field goal percentage (eFG%) of 51.7% and a turnover percentage of 12.6%.
Evan Turner and Jusuf Nurkic have been the main reasons why a team with Lillard hasn't been an efficient shooting team. In particular, Nurkic takes the majority of his shots from the restricted area but has a shooting percentage of just 57.9% from there, per NBA.com. Portland has been good at cleaning the glass in part because of Nurkic, but he hasn't been an efficient shooter even though most of his shot attempts come from around the basket.
You can't spell "turnover" without Turner, who leads the Blazers' rotation (players who average 15 minutes per game) in turnover ratio. Nurkic and his backup at center, Zach Collins, have also struggled with turnovers, although they don't handle the ball as much. Collins has a turnover rate of 15.8% while Turner's turnover rate is 20.1%, which is amongst the worst in the league.
Portland is due for some negative regression on offense unless they can address their shooting and turnover issues. Even at current odds, bettors should stay away -- our models rank the Blazers 21st overall and project them to barely make the playoffs, putting their postseason odds at 54.2% and pegging them for 43.5 wins.
Detroit Pistons
numberFire Title Probability: 0.2%
FanDuel Odds: 210-1
Detroit is sitting at eighth in the East, so the current odds seem fairly high. However, they have a negative point differential per game, and our models rank them 23rd in the league. The Pistons have played poorly on offense, ranking 24th in offensive rating, so they've had to rely on their defense to win games.
While the Pistons rank 11th in defensive rating, they're just 13th and 12th, respectively, in eFG% and turnover percentage. They've managed to limit their opponents' second-chance opportunities with the rebounding prowess of Andre Drummond and Blake Griffin. Detroit's frontcourt is imposing, but defensive rebounding is the only thing that they're elite in and they're 28th in opponent free throws per field goal attempt.
Offensively, while Griffin is averaging 24.7 points per game, they just don't have the scoring ability to match up with the best teams in the East. Reggie Bullock has been the only efficient perimeter scorer; he has an eFG% of 53.8% that can be attributed to his 39.1% clip from three-point range. The Pistons' other guards with at least 20 minutes per game (Reggie Jackson, Ish Smith, and Langston Galloway) all have eFG% of 50% or under.
Our models project Detroit to finish with 38.5 wins and barely make the playoffs, giving them 55.2% odds of making the postseason, but they're not even worth a dart throw at current odds. The Pistons have to rely too much on Griffin to score, and without more depth, they'll be susceptible to playoff game plans geared to stop Griffin.