Miami's Buzzer-Beating Win Over Detroit Had Huge Playoff Implications for Both Teams
March Madness carried over into the NBA last night.
The Miami Heat and Detroit Pistons -- two of the three teams battling for the eighth and final playoff spot in the Eastern Conference, with the Chicago Bulls being the other -- played a back-and-forth affair with a thrilling ending, and the result had a massive impact on the playoff odds for both squads.
First, let's peep the game itself, because it was a wild one.
This game had it all -- playoff implications, late lead changes and a buzzer-beating finish.
Oh, and there was also this.
James Johnson with the poster dunk! (via @XimoPierto) pic.twitter.com/gK2WDIjfnp
— Alex Kennedy (@AlexKennedyNBA) March 29, 2017

Poor Marcus Morris.
As for the finish, things got crazy. Detroit took a 96-92 lead on an Ish Smith jumper with 30 seconds remaining, but Stanley Johnson followed with a stretch he'd like to forget.
First, Johnson was whistled for a technical for being over the line when he was defending the in-bounds pass. That led to a Goran Dragic free throw, and Dragic pulled Miami within 96-95 with a 6-foot jumper on the ensuing possession.
With just 21 seconds left, the Heat needed to get a steal or foul, and Johnson turned it over, giving Miami a chance to win it late. The Heat took advantage of that chance, capping a chaotic final sequence with a Hassan Whiteside tip in.
From last night: Hassan Whiteside might've saved the Heat's season, and ended the Pistons': https://t.co/HApZVLV2MF pic.twitter.com/bLgigmXjsp
— Dan Devine (@YourManDevine) March 29, 2017

Our win probability model lost its mind.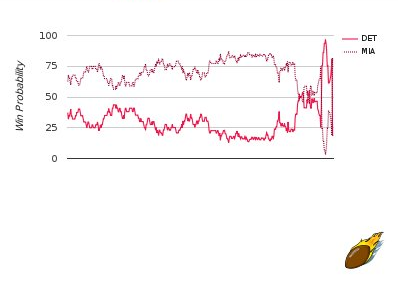 Whiteside's tip in had a huge impact on each team's playoff odds.
Per our models, Miami's postseason chances went from from 53.2% to 69.0%, certainly a meaningful jump. On the flip side, the loss was a death blow to the Pistons, who weren't in great shape before this game but are now on life support.

| Playoff Odds | Before Tuesday's Game | After Tuesday's Game | Difference |
| --- | --- | --- | --- |
| Miami | 53.2% | 69.0% | +15.8% |
| Detroit | 12.4% | 3.4% | -9.0% |

The Pistons hadn't been playing well -- entering last night losers of seven of their last eight, including four straight -- but a win over Miami would've given them a fighting chance at the 8 seed.
Now, they're basically done barring a miracle finish.
Detroit sits in 10th in the East, 1.5 games back of 9th-place Chicago and 2.5 behind 8th-place Miami. Among teams on the outside looking in, our projections give the Bulls (51.9%) much better postseason odds, and we even have the Charlotte Hornets (4.2%) in front of the Pistons.