What Trends Do We See in This Year's 50-Point Games in the NBA?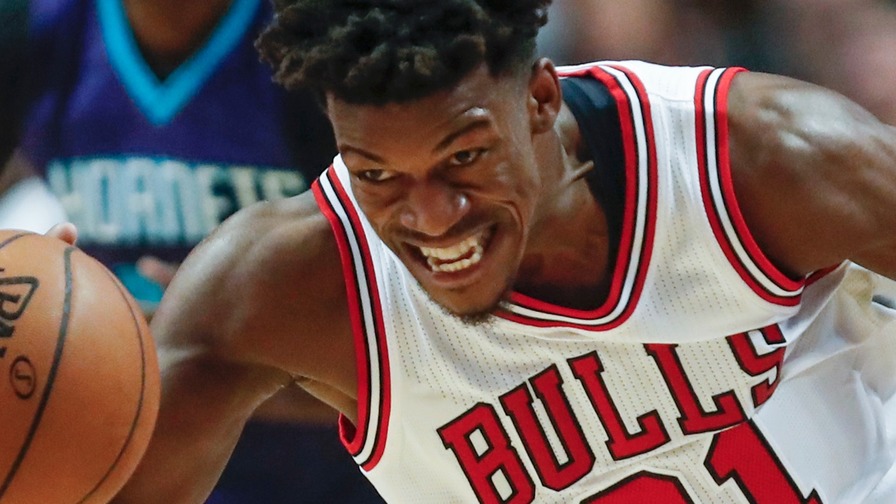 In last night's 118-111 win over the Charlotte Hornets, Jimmy Butler led his Chicago Bulls with 52 points while absent running mate Dwyane Wade.
That made him the second player in Bulls history with at least two 50-point games. But, that alone, next to Michael Jordan's 30 such games, doesn't amount to much.
More noteworthy, Butler's 50-point game was the eighth of the NBA season through roughly 35 games. It makes three 50-burgers in the last four days and ties an NBA record for the most in a season -- and we're not even to the halfway point.
Outside of the obvious outside factors -- a high pace of play and an emphasis on offensive efficiency -- what has players churning out these gigantic games with ease in the 2016-17 season?
Let's examine the anatomy of a 50-point game in today's NBA.
Just the Basics
Here are the averages of the eight 50-point games so far.
| Minutes | Points | FG% | 3P% | FT% |
| --- | --- | --- | --- | --- |
| 39.4 | 53.1 | 54.5% | 52.0% | 89.4% |

All but Klay Thompson, who completed his 50-point performance in just 29 minutes, have required at least 37 minutes to achieve the feat. And, in that time, two have produced at least 55 points and six have scored 52 or more. Only Anthony Davis and Russell Westbrook scored fewer than 52, with 50 and 51 points, respectively.
As for raw shooting, the only player to shoot worse than 50% from the field in his big game is Westbrook at 38.6%. In terms of three-point shooting, Westbrook, Davis, and Jimmy Butler have all been held below 3 three-pointers and 50% shooting.
The five others -- Thompson, DeMarcus Cousins, James Harden, Isaiah Thomas, and John Wall -- tallied at least 5 three-point makes and over 50% from long range.
Per game, the eight players have hit an average of 4.9 three-pointers on 9.4 attempts from deep. That makes up a decent amount of their 16.8 made field goals and 30.8 attempted field goals.
On top of that, the 50-point scorers have averaged 14.8 conversions on 16.5 free throw attempts per contest.
Digging Deeper
What about more advanced stats -- like usage rate -- and efficiency measures like effective field goal percentage and true shooting percentage?
One thing each of the eight performances have in common is a usage rate of at least 40%, meaning each player used more than 40% of their team's possessions while on the court.
The lowest usage rate from any of the eight was Butler at 40%. The highest was Westbrook at 50.2% -- over half of his team's available possessions. Four of the eight players owned a usage of 45% or higher when they crossed the 50-point threshold.
Despite their massive workloads, their efficiency -- at least, in general -- did not suffer.
Their combined effective field goal percentage, which accounts for the fact that a three-point field goal is worth more than a two-point field goal, of 62.4% is outstanding.
That gives us some indication of what type of role three-point shooting has played in 50-point games -- and it's a sizable one. The average three-point attempt rate across the eight games is .305. That means that more than 30% of the field goals they attempted were from beyond the arc.
Somewhat unexpectedly, though, only three -- Thompson, Thomas, and Harden -- posted rates at or above .400. Harden topped the list, having taken .615 threes for every one of his 26 field goal attempts, but in today's three-point happy league, we'd expect a larger portion of the eight to have higher rates given the output.
What three-point rate and effective field goal percentage don't account for are free throws. That's where true shooting percentage and free throw rate come in.
In comparison to the combined effective field goal percentage, the combined true shooting percentage (69.9%) says volumes for the type of nights these players enjoyed at the charity stripe. Not only is the combined percentage higher, but six of eight shot at or above 70% in their game, which tells us that they were much more reliant on free throws than they were three-pointers, as a whole.
The average free throw rate of .537 -- again, like three-point rate, .537 free throws for every field goal attempt -- is very significant, especially when you consider that the players averaged 30 field goal attempts per game. That five of the eight owned rates at or above .500 is even more significant until you realize that seven shot at least .450 free throws per shot attempt.
The only other factor to take away is that all eight instances came in home games. So, maybe there was a little home cooking going on even as the players themselves were cooking up a storm of their own on the court.
On the other hand, to say that getting calls and making free throws is the biggest factor would be blowing it out of proportion. First, that player must have a large usage rate in that game. Then, it's up to them to make the most of it, even though there are many opportunities to get shots up. Whether they do it from inside or outside the arc doesn't matter -- 50 points games have occurred both ways this year.
And, last but not least, there's an element of aggressiveness that comes with the ability to get to the free throw line. When a player's on, he knows it, and he's willing to take it into contact. After all, free throws help players to stay in rhythm, particularly when they see them going through the hoop on a regular basis. It's part of both building the hot performance and sustaining it.