Daily Fantasy NASCAR: Toyota/Save Mart 350 Driver Preview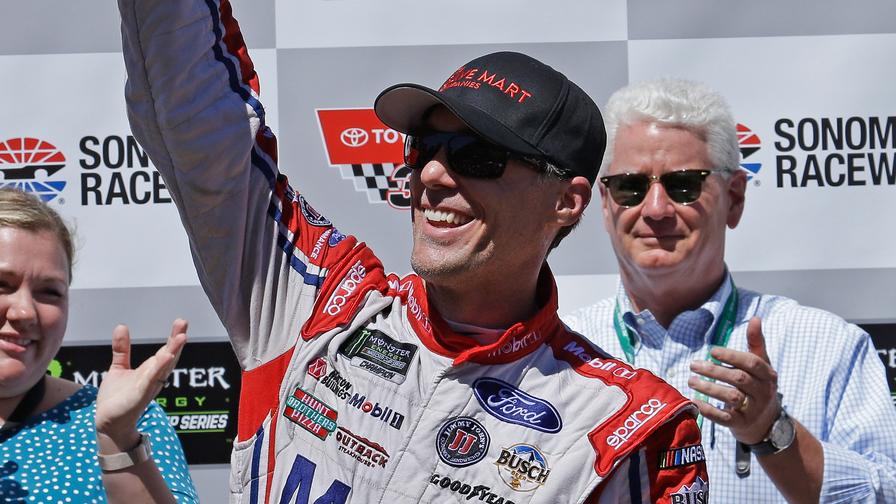 Two of the biggest pillars of driver selection in daily fantasy NASCAR are track history and current form. Knowing where drivers sit on both of those spectrums is going to make our lineups look a whole lot nicer at the end of the race.
By looking at which drivers have excelled at this week's track in the past and those who are currently racing well, we can know which drivers are in line to be good plays for the slate. That's what we're going to try to do today, dividing drivers into those two buckets with noteworthy track history or noteworthy current form.
Clearly, this isn't to say that all of these drivers will be great plays in this race. A lot of that will be dictated by where they start and the scoring history at that track. To read more about what strategies we need to deploy based on starting position, check out this week's track preview.
Later in the week, once qualifying is in the books, we'll go through the top plays for the race based on all of these factors. But which drivers should we be keying on for the time being? Let's check it out. Here are drivers we should be keeping an eye on for the Toyota/Save Mart 350 in Sonoma
Track History
Kyle Busch (FanDuel Price: $12,200): Kyle Busch never used to excel in Sonoma, logging just 2 top-10s in his first 10 starts. But the past three have been impressive, and his general road-course prowess is noteworthy.
Busch won at Sonoma back in 2015, his second win at the track after he also won in 2008. He has finished seventh and fifth in the two Sonoma races since then, and when you toss in his races at Watkins Glen -- the other road course on the schedule in past years -- Busch has 6 straight top-10 finishes at road courses and 4 career wins.
Busch has been in the upper echelon during 2018, as well, so he can be a player we lean on regardless of where he starts.
Kevin Harvick ($12,600): In what should not be a shock, good drivers are good at road courses, too. You will have some guys whose performances tick up at these tracks, but the best of the best will push for wins no matter where they're racing. That includes Kevin Harvick.
Harvick won at Sonoma last year, making it his third straight top-six finish at the track. He has now finished seventh or better in five of the past seven road-course races, and the two poor finishes have both been at Watkins Glen.
The Big Three we've had the whole season will be The Big Three this weekend, as well. Judge Busch, Harvick, and Martin Truex Jr. (more on him later) based on practice times and starting positions and feel free to load them into your lineups.
Clint Bowyer ($11,700): Clint Bowyer is right beneath that top tier in pricing, coming off of a win two weeks ago in Michigan. The current form is solid, and he has an impressive history at Sonoma, too.
Bowyer has finished in the top five in five of the past seven races here, including a win in 2012. Last year, Bowyer spun early on and still managed to make his way forward for a second-place finish.
Because Bowyer's salary is so close to those of the top three this weekend, it's possible he goes a bit overlooked. But he has a great blend of current form and track history, so if he's fast in practice and starting in a place to snag place-differential points, he's a great play. He can also be a contrarian play if he starts near the front of the pack if you think he has a shot to lead a few laps and win the race.
Kurt Busch ($10,600): Kurt Busch is another former winner here, taking the checkered flag back in 2011. That started a run for Busch at Sonoma that has been abundantly impressive.
Starting with that 2011 win, Busch has now logged a top-10 finish in 6 of his past 7 races here, and his lone non-top-10 was a 12th-place finish in 2014. Busch was third in 2012, fourth in 2013, and second in 2015.
Busch's runs in 2018 have been similar with extreme levels of consistency. He was third two weeks ago in Michigan and has been eighth or better in five of the past six races. Handle Busch in a similar manner to Bowyer, where he can be used heavily if he starts further back and sprinkled in for tournaments if he starts in the front.
A.J. Allmendinger ($9,100): A.J. Allmendinger is one of the drivers in this field with a reputation for being strong on road courses. However, his last top-10 finish at Sonoma came back in 2012, and he has been 35th or worse in 3 of the past 4 races. Can we actually buy him when he has been priced up to account for his reputation?
This is a situation where the finishes may be a bit misleading. Allmendinger has led 60 laps here over the past 4 races, which is more than any other driver in the field. He has had a top-15 average running position in 6 of his past 8 races here, including a 6th-place average running position in 2016. He just hasn't been there at the end of the race.
Allmendinger seems a bit too volatile to trust if he's starting near the front. But if he winds up starting a bit further back, he could be a good source of place-differential points at a reasonable price.
Current Form
Martin Truex Jr. ($12,000): At first glance, Martin Truex Jr. doesn't look like a guy we'd want to target in Sonoma. He has just 3 top-10 finishes here in 12 starts, and he has been 37th or worse in the same number of races. But finishes can be deceiving.
Last year, Truex was dominant in Sonoma. He was fastest in one of the practices, led 25 laps, and won the first stage. But he ran into mechanical issues later on and wound up finishing 37th.
Truex also won at Watkins Glen last year and has finished seventh or better in three of his past four road-course races. Toss in a 2013 win in Sonoma and his top-shelf current form, and Truex deserves to be right up there with Busch and Harvick.
Ryan Blaney ($10,000): The big advantage to using Ryan Blaney this week -- from a DFS perspective -- is that he's nearly the same price as Jimmie Johnson ($10,100). Johnson has been a popular play recently and won a stage in this race last year. That could suck ownership away from Blaney, who is also worthy of some love.
First, Blaney has been running well this year even if the finishes haven't always reflected that. He has had a top-seven average running position at four of the past five races, including at Pocono, another track where drivers are forced to shift. Blaney has turned that into just 2 top-10 finishes, but his car clearly has speed.
Blaney wasn't bad on the road courses last year, either. He posted a top-10 finish in both and had the 7th-best average running position in Sonoma. If both Blaney and Johnson are equal in qualifying and practice, don't be afraid to opt for Blaney in tournaments.
Ryan Newman ($8,000): Ryan Newman's recent string of races has been a more extreme version of Blaney's. He's flashing speed, but he can't turn it into good finishes with 5 straight races outside the top 20. This might be a good spot to get things back on track.
Over the past 5 races at Sonoma, Newman has finished 15th or better each time, and that will work at this price. Two of those have been top-10 finishes, coming in 2015 and 2016.
Newman has been running in that same range this year. He has had just two average running positions outside the top 20 this year, and one of those was back in the second race of the season. Newman can't be trusted if he starts near the front, but he's a solid value play if he starts 15th or lower.
Chris Buescher ($6,600): Chris Buescher is a driver who tends to do best at the tracks where the driver is more important than the equipment. Because Sonoma is such a slow track, it qualifies as such, and he could be a huge value if he starts outside the top 20 this week.
In Buescher's Cup series career, he has finished 11th or better 10 times. Three of those have been at restrictor-plate tracks, two were at short tracks, and another was at a road course last year in Watkins Glen. Those are all tracks that put a heavier emphasis on the driver, inspring confidence in Buescher here.
This shined through in what Buescher did last year at Sonoma and Watkins Glen. He was in the top 20 at both tracks last year, and he excelled at these types of tracks when he was in the Xfinity Series, as well. Buescher won the 2014 race at Mid-Ohio Sports Car Course and was fourth the following year while also finishing fourth in Watkins Glen and ninth in Elkhart Lake. As long as Buescher's not starting near the front, he's a high-upside way to save some salary.
Michael McDowell ($6,200): Speaking of former Xfinity Series winners on road courses, Michael McDowell ran just one race in that series in 2016. It was at Elkhart Lake, and McDowell got the win after leading 24 of 48 laps. He's another potential cheap source of upside.
That past success translated that into some solid runs on road courses in the Cup series last year. McDowell was 14th in Sonoma and 12th in Watkins Glen, gaining spots from where he started in both.
McDowell has rattled off 5 straight top-25 finishes this year, so his equipment seems good enough to allow him to be competitive. He's a great alternative option should Buescher wind up qualifying too high for our liking.