Daily Fantasy NASCAR: Toyota/Save Mart 350 Track Preview
One of the unique challenges with daily fantasy NASCAR is that every track is different. Not only does this mean that certain drivers will perform better at one place than another, but each track will have different scoring tendencies than the previous one. That means we need to alter our strategies pretty drastically.
Each week here on numberFire, we're going to dig into the track that's hosting the upcoming weekend's race to see what all we need to know when we're setting our lineups. We'll have a separate piece that looks at drivers who have excelled there in the past; here, we just want to know about the track itself. Once qualifying has been completed, we'll also have a primer detailing which drivers fit this strategy and should be in your lineup for that week.
This week, the Monster Energy NASCAR Cup Series is heading to one of three road courses on the schedule in Sonoma for the Toyota/Save Mart 350. It's the second-shortest race on the schedule from a laps perspective, which drastically changes our thought process for DFS. Let's take a look at what strategies we should deploy.
Track Overview
From a real-world perspective, there are almost no similarities between the tracks in Daytona and Sonoma. Daytona is a superspeedway where they have to use restrictor plates to slow the cars down. Sonoma had the third-slowest average speed of any race on the schedule last year. Daytona's a tri-oval, and at Sonoma, drivers turn right. You can't get much more different than these two places.
But for daily fantasy NASCAR, they're almost sisters.
At Daytona, we stack the back -- or target drivers starting outside the top group -- because it's so easy to pass and make up positions during the race. At Sonoma, we're going to deploy the same strategy. It's partly due to the ability to pass, but it also has to do with how few laps they run in the race.
With just 110 laps scheduled for Sunday, there are only 11 points available for laps led on FanDuel. And with stage racing and all the strategy that goes into road courses, it's unlikely any driver will come close to leading each circuit. The maximum number of laps led at a race here over the past four years is just 45, equating to 4.5 points on FanDuel.
When that's the case, place differential becomes our lone source of additional upside beyond finishing positions. And we need to account for that when building lineups.
On top of the construction of the race, though, drivers can make up ground at this track. It's certianly not Daytona-esque, but a couple of passing zones on the track will allow for upward mobility.
This finish to the 2016 race is a great example of how multiple passes can be made within a single lap.
Denny Hamlin passed Tony Stewart for the lead in one corner, and Stewart got back by Hamlin just a few later. And that was all within just half of a lap. In last year's race, each of the top 4 finishers started 12th or lower, and 7 of the past 12 winners have started outside the top 10.
So, there aren't many points available for laps led, and passing is possible if your car is good enough. The takeaways here should be fairly clear, but let's run through historic scoring trends to drive them home.
Historic Scoring Trends
Based on what we've discussed above, it would seem as if we'd want to target drivers who are capable of gaining spots from where they start and basking in place-differential points. That's absolutely how things have played out here in the past.
For the purposes of this discussion, we'll be focusing exclusively on the past four races at Sonoma. However, that means we'll be looking at a time in which there were 43 cars in the field as opposed to the cap of 40 that has been in place the past two years. As a result, any starting position or finishing position that was worse than 40th was adjusted up to be exactly 40th for the 2014 and 2015 races.
Over this four-race span, 12 drivers have scored at least 55 FanDuel points. Only two of them started the race in the top five, and just four of them were in the top 10. That means 75% of the top-12 scorers here have started 11th or lower, and that is an abundantly actionable takeaway.
To display things more visually, here's a look at the scoring distribution by starting position over these past four races at Sonoma.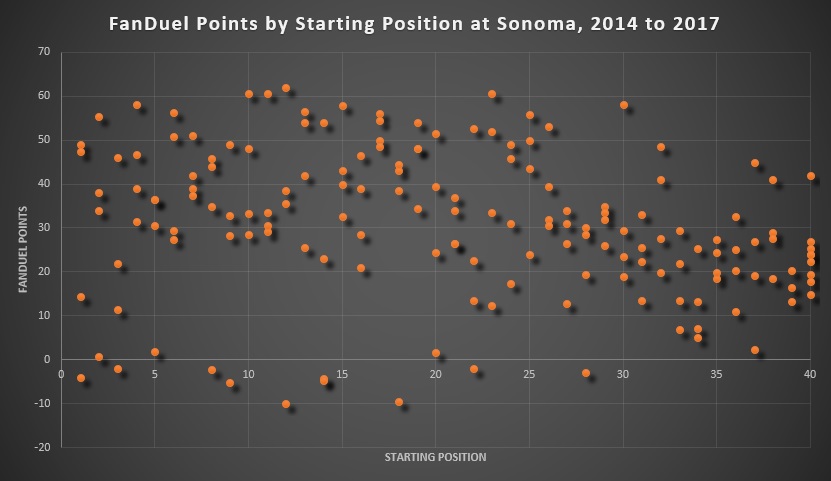 Normally when we post this chart for a track, there will be a pretty clear downward trend from those starting near the front to those starting in the back. Although those who start at the rear do still perform poorly at Sonoma, those in the middle seem to be the ones posting the best scores.
If you look at each interval of five starting positions from this four-race sample, the highest-scoring interval based on average FanDuel scores is from the drivers starting between 16th and 20th.
| Starting Range | Average FD Points |
| --- | --- |
| 1st to 5th | 29.65 |
| 6th to 10th | 36.57 |
| 11th to 15th | 34.98 |
| 16th to 20th | 38.11 |
| 21st to 25th | 34.27 |
| 26th to 30th | 29.52 |
| 31st to 35th | 22.21 |
| 36th to 40th | 23.54 |

Broadly, every range from 6th through 25th has a higher average score than the drivers starting in the top 5, and the drivers starting 26th to 30th aren't far off, either. Average scores aren't a perfect way to measure things, but they do tell us something.
Scroll back up to that chart with the FanDuel points by starting position. If you look in the lower left-hand side of that chart, you'll see a good number of dots that failed to score many points despite starting near the front. That's not a huge shock.
A lot can happen at a road-course race. If you make one mistake, a driver who started at the front could end up in the tire barriers, ending their day prematurely. Or maybe they just get off sequence in the pits and can't make up the ground they lost. There are a ton of factors that can send a day south in a hurry.
This means that drivers starting in the top five are going to have the lowest floors in the pack, and their odds of reaching that floor are higher than they would be at most other tracks. As mentioned before, they also don't have the best ceiling with most of the top scores coming from outside the top 10.
So, does this mean we need to ignore any driver starting inside the top five? Not necessarily.
In our four-race sample, here's a look at the starting positions of the five highest-scoring drivers in each of the races. The "1st" column represents the starting position of the highest-scoring driver in that specific race and then works down from there.
| Race | 1st | 2nd | 3rd | 4th | 5th |
| --- | --- | --- | --- | --- | --- |
| 2017 | 12th | 23rd | 13th | 14th | 17th |
| 2016 | 10th | 6th | 25th | 7th | 1st |
| 2015 | 11th | 2nd | 17th | 13th | 19th |
| 2014 | 4th | 30th | 15th | 17th | 22nd |

As you can see, only three drivers starting in the top five have finished among the five highest-scoring drivers in this span, and only one race had multiple drivers who started in the top 10. The 2017 running had no drivers who started in the top 10. That gives us a good formula for our lineups.
If you think a certain driver is an absolute stud and a great bet to lead laps and snag a win, it's fine to use them no matter where they're starting in the lineup. But if that driver is starting near the front, you should make sure the rest of your lineup has room to pick up place-differential points.
As long as these drivers are outside the top 10, you've got a bit of creativity in starting positions. The most fruitful ones in the past have been drivers starting between 6th and 25th, but that's not to say that a driver starting way in the back should be excluded. If a strong car struggles in qualifying or fails to get through inspection, we should feel good about plugging them into our lineups.
The best way to identify drivers who will rise is by looking at practice times, current form, and track history. Both practice sessions will take place on Friday with qualifying Saturday, so we should be able to figure out which cars will be fast. Find those faster cars that aren't starting right at the front, plug them in, and hope things break their way on Sunday.