Introduction to FanDuel Daily Fantasy NASCAR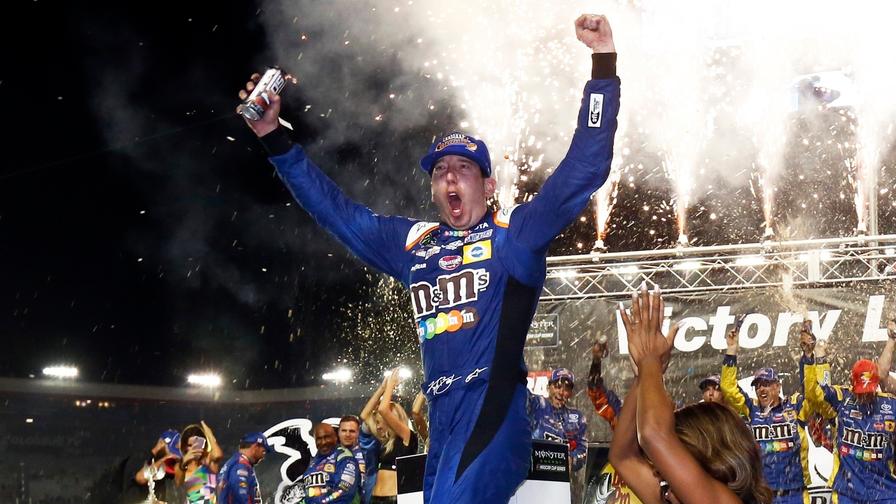 It's Christmas morning. Your parents just got you that brand new LEGO set you've been bugging them about for the past 364 days. You're jumping up and down, grabbing their pant legs, screaming loud enough for the neighbors to get nervous.
You want to dive in right away. This long-coveted set has eluded your grasp for a full year, and you need to set it up as soon as humanly possible.
Unfortunately, this is the point where we all remember that LEGOs don't work that way. You've got to slow down, read the instructions first, step on at least a half dozen of them, and then you can have your fun. Otherwise, it's all going to be a complete mess, and we'll be left with nothing but regret.
FanDuel just gifted us with that new LEGO set today with the announcement that they will now be offering daily fantasy NASCAR, something we've wanted seemingly forever. And if you're like me, there's going to be some excitement.
But before we get our hands dirty and start filling out lineups, we need to take a look at the instructions. You can find a full rundown of the rules on FanDuel's site, but we'll try to sprinkle in some analysis here along with what it all means. We'll start off with what rosters look like before breaking down how you score points and what you'll need to look at each week to prepare.
With that said, let's bust out these directions so we can get to crafting our masterpiece.
Roster Construction
Thankfully, NASCAR DFS is much simpler than putting together a LEGO set. These instructions won't tear families apart.
All you do to submit a lineup is pick five drivers you think will do well, stay beneath the salary cap of $50,000, and click submit. That's it. There will obviously be additional intricacies, which we'll get to later on, but the bare bones of it are quite simple.
How You Score Points
Not only are the rosters easy to fill out, but it's also not hard to understand how you score points. There are four different categories to consider.
To start things off, you get points based on where your driver finishes in the race. There can be as many as 40 drivers in each race, and finishing points set up as such.
| Finishing Position | Points |
| --- | --- |
| 1st | 43 |
| 2nd | 40 |
| 3rd | 38 |
| 4th | 37 |
| 5th | 36 |
| 6th through 40th | 35 to 1 |

Essentially, each position is worth one point, and you get a slight bump for finishing first or second. Easy enough.
The other three scoring categories are below. Although the bulk of your points will come from the finishing position, these are the categories that will lend your driver upside.
| Category | Points |
| --- | --- |
| Laps Led | 0.1 Per Lap Led |
| Laps Completed | 0.1 Per Lap Completed |
| Place Differential | +/- 0.5 Points Per Position |

Place differential is simply the driver's starting position minus his finishing position. If Brad Keselowski starts 30th and finishes 10th, his place differential is 20 places. Multiply that by 0.5, and he gets 10 points for that, equivalent to 10 positions in finishing points. That's clearly pretty important.
But this is also the only category in which drivers can lose points. If Martin Truex Jr. starts 5th, crashes, and finishes 35th, his place differential will be -30, resulting in a loss of 15 points. That's something you'll need to keep in mind; if a driver is starting high and unlikely to maintain his or her position, you'd be wise to look elsewhere.
The other two categories -- laps led and laps completed -- make it crucial that we know the number of laps in the race, and this will vary from one week to the next. You can find the total number of laps in each race for the 2018 season on NASCAR's website with the "Final Stage" column representing the number of laps in the race.
The number of laps in a race will dramatically alter the way we want to attack it. If we get 0.1 points for each lap led, that means a 110-lap race in Sonoma will have 11 total points available for leading laps. A 500-lap race in Bristol, however, will have 50 such points available. If there are fewer laps-led points available, we may want to focus more on drivers who will have positive place differentials while we should be hunting for laps led at races with a bunch of laps.
Thankfully, you don't have to do this research yourself (though you can with the link above). Each week, we'll have a track primer here on numberFire that details how many laps are in the race, whether or not it's easy to pass there, and which starting positions you should target to exploit these differences. This is a pretty essential part of daily fantasy NASCAR, and it means our strategy will be different each week.
What You Need to Know
Now that we've got the rules out of the way, let's run through some of the high-scale things you'll need to know before filling out a lineup.
The first is something we've referenced a couple times already, and that's starting position. Because our two biggest sources of upside are laps led and place differential, this is going to have a major effect on our lineups.
Qualifying for each race occurs either one or two days before the event. You can find starting orders on NASCAR's site, but they will also be posted numerous other places once they're finalized. For a number of reasons, it's important that we wait to finalize our lineups until after qualifying has taken place.
If a driver is starting near the front of the pack, he or she has much better odds of leading laps and racking up points there. There will be some instances in which a driver is able to lead the pack without starting at the front, but that's closer to being the exception rather than the rule.
If laps led are out of the question for a driver, then we need to make sure he or she has the ability to motor up through the pack to pick up place differential points. Most drivers on your roster should have the ability to get points in either one category or the other; otherwise, your team's upside will be taking a hit.
The big question is how do we find drivers who will be able to do that? That comes from their practice times, their current form, and their course history. Let's go through each of those quickly here.
Unlike other sports, practices for NASCAR are public knowledge. Basically, it's as if you were able to see how well a pitcher's curveball was working in his bullpen session before a game. We know how fast each car is at that track entering the weekend, and it's valuable knowledge to have.
Just like qualifying, practice will happen in the days leading up to the event. It will matter more at some places than others (it is almost worthless at Daytona and Talladega because they run in large packs), but it is something you should be checking before filling out lineups.
There are two different aspects of practice we should check: the fastest-lap time and 10-lap averages. The fastest time is simply the fastest lap the driver ran during that practice ranked relative to other drivers. The 10-lap average is the 10 fastest consecutive laps they ran in that session. Not every driver will run 10 consecutive laps, but for the tracks where they do, this can help us know which drivers will be able to maintain their speed over a longer run.
Practice can help us find those high-upside drivers. If a driver is starting near the front and has been blazing fast in practice, they're probably a good bet to lead some laps. If they had speed in practice but faltered in qualifying, then place-differential points could be in their immediate future.
On top of practice, we can also look at a driver's current form and course history.
Because each track is different, some drivers will naturally perform better there than others. Some drivers are aces at the restrictor-plate tracks in Daytona and Talladega, and others clean up at the short tracks like Bristol and Richmond. This is valuable information to have.
To see how a driver has performed at a track in the past, Racing Reference is your best friend. Simply go to that site, click on the "Tracks" link in the top navigation bar, and select the track you want to see. Once you do so, you will see the option to view each driver's performance at that track, where you can toggle the timeframe (i.e. past 10 races, past 5 races) you would like to view.
That's one part of the equation. The other part is how well that driver is performing now, and it's important to balance the two.
Just like athletes in other sports, a driver's performance will change from one year to the next. It's possible they have changed teams, improved, or declined since their last couple of times visiting the current track. This means we should be checking to make sure drivers who have done well at this track in the past are still performing well in the current season.
To do this, we're venturing back to our pal, Racing Reference. This time, click on the "Cup" banner at the top, and click on the current year. Here, you can check to see what a driver has done over the past few races to make sure things haven't been going catastrophically awful.
Once again, we'll be helping you along this path each week on numberFire. In addition to the track preview, we'll have a driver preview that looks both at which drivers have done well at that track in the past and which are boasting stout current form. Once you combine this with the knowledge you've gained from qualifying and practice, you should be well on your way to filling out a sweet lineup.