Daily Fantasy NASCAR: Why Each Track Is Unique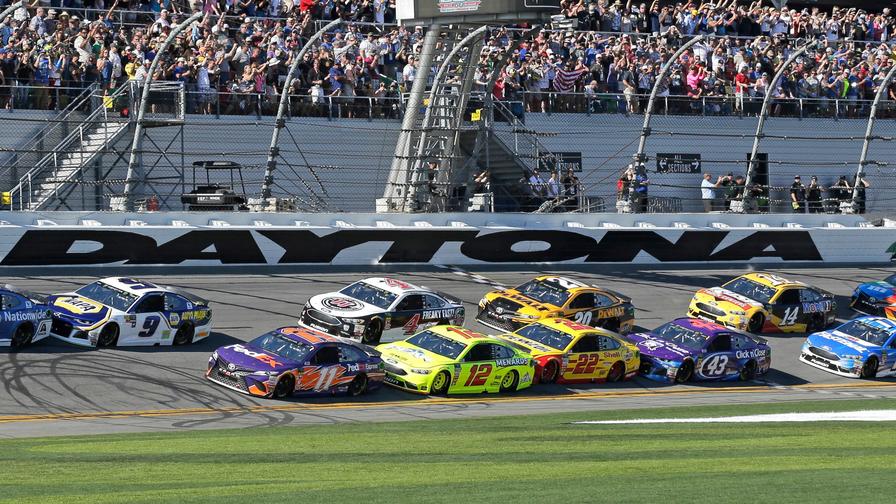 In almost every daily fantasy sport, your strategy is going to be the same from one event to the next.
In football, you want touchdowns. You're dinger-hunting in baseball. And if you can catch that shooting guard who goes off for a 50 burger in basketball, you'll be sitting pretty.
NASCAR's a whole new ballgame. In this sport, your objectives for one week are going to be wildly different than the previous one, and almost all of that boils down to the immense difference between tracks.
That doesn't exactly help us pin down a definitive strategy, though. Thankfully, you won't be entering each week blind. We'll be publishing a track primer here on numberFire, detailing which strategies have been successful there in the past based on FanDuel's NASCAR scoring rules and how you can use that to your advantage.
Today, we're going to give a broad overview of the difference between tracks and why we can't have the same mindset every week. This should at least give you an idea of what you need to look for at each track so that you're chasing the right stats each Sunday.
With that said, let's dive in and discuss why tracks make each NASCAR event so unique.
It All Starts With Laps
If you refer back to the scoring rules on FanDuel, you'll see that we receive 0.1 points for each lap run and 0.1 points for each lap our drivers lead. Clearly, we need to know how many laps are in each race, which is the first thing that differs from one week to the next.
You can see how many laps are in each event for 2018 by going to NASCAR's site and looking at the "Final Stage" column on the far right. If you take a look at that page, you'll see some pretty wild differences from one race to the next.
The shortest race in 2018 is at Watkins Glen, which is a 90-lap road course event. Because it's 90 laps, and we get 0.1 points for each lap led, the most we can get for laps led is 9 points. There, we'll likely want to put a heavier emphasis on place differential, the other big source of upside outside of laps led.
Bristol is a different animal. There, drivers run 500 laps, giving us 50 potential points for laps led. The most points a single driver can get for place differential in a race is 19.5. At those tracks, we'll need to focus more on laps led to find our upside while still giving some thought to finding drivers who will make up ground.
Look at the Track's History
Once you know how many laps are in the race, you'll have the first part of the equation down. But it's also not going to tell the full story. To get that, it's good to look back at past races so you know how easy it is to pass and make up positions at that track.
At restrictor-plate tracks (Daytona and Talladega), cars run in giant packs for pretty much the entire race, running three wide around the track. There, it's fairly easy for a car to make up ground. This means that a driver can start 38th and have just as good of odds at a top-10 finish as someone starting 10th.
However, in Pocono -- a track shaped like a triangle -- passing is a bit more difficult. Drivers starting in the back are more likely to stay there unless they have an elite car or are able to make gains via pit strategy. That's going to give us a different plan of attack than we'll have at Daytona.
This is something that will be covered in each race's track preview. But as a quick look, here are results from races in 2017.
This table shows the correlation between finishing position and starting position at each track on the circuit during the 2017 season. If a track has (2) after its name, that means there were two races at that track in that year, giving us additional data from which to draw.
| Track | Correlation |
| --- | --- |
| Chicagoland | 0.895 |
| Las Vegas | 0.819 |
| Watkins Glen | 0.749 |
| Homestead | 0.731 |
| Darlington | 0.678 |
| Pocono (2) | 0.654 |
| Michigan (2) | 0.649 |
| Fontana | 0.639 |
| Dover (2) | 0.599 |
| Richmond (2) | 0.572 |
| Bristol (2) | 0.567 |
| Charlotte (2) | 0.559 |
| Fort Worth (2) | 0.518 |
| Phoenix (2) | 0.517 |
| Atlanta | 0.516 |
| Kentucky | 0.514 |
| Loudon (2) | 0.495 |
| Martinsville (2) | 0.484 |
| Sonoma | 0.466 |
| Kansas (2) | 0.282 |
| Talladega (2) | 0.244 |
| Indianapolis | 0.129 |
| Daytona (2) | -0.062 |

Remember the discussion about how easy it is to pass at Daytona? There was no relationship between starting position and finishing position there in 2017. This means we should be loading up on drivers starting in the back there, hoping to net as many place-differential points as possible.
This data needs to be used in conjunction with our discussion around the laps in a race. Even though Watkins Glen had one of the highest correlations between starting and finishing position, we may still want to emphasize place differential because there are so few points to be gained via laps led.
It is worth noting briefly that last year's race at Indianapolis was a unique beast, which is important context for both this table and the following table. Only 21 of 40 cars were running at the end of that race due to a number of crashes that took out contenders like Kyle Busch, Martin Truex Jr., and Jimmie Johnson. In the 2016 race, the correlation between starting position and finishing position was 0.545, so we should take data from the 2017 race with a sizable grain of salt.
We can have a similar discussion around the importance of practice with selecting our drivers. Just like qualifying, some tracks are going to be more predictable based on practice speeds than others.
Let's again turn to the tracks on the schedule in 2017. The table below shows the correlation between practice rankings and where drivers finished in that race. For this exercise, a driver's practice ranking was his average ranking for each practice session leading up to that race rather than his ranking from one individual practice.
| Track | Correlation |
| --- | --- |
| Chicagoland | 0.850 |
| Fontana | 0.774 |
| Fort Worth (2) | 0.768 |
| Watkins Glen | 0.740 |
| Las Vegas | 0.724 |
| Michigan (2) | 0.691 |
| Loudon (2) | 0.679 |
| Kentucky | 0.677 |
| Homestead | 0.615 |
| Dover (2) | 0.615 |
| Pocono (2) | 0.607 |
| Phoenix (2) | 0.598 |
| Darlington | 0.586 |
| Charlotte (2) | 0.565 |
| Atlanta | 0.561 |
| Bristol (2) | 0.559 |
| Richmond (2) | 0.522 |
| Martinsville (2) | 0.521 |
| Sonoma | 0.513 |
| Kansas (2) | 0.487 |
| Talladega (2) | 0.237 |
| Indianapolis | 0.119 |
| Daytona (2) | 0.082 |

It shouldn't be surprising to see Daytona and Talladega near the bottom of this list. Cars will often run in packs even in practice, which can heavily skew how fast a driver performs in that session. It's safe to disregard practice times there. But for other tracks, that's definitely not the case. In fact, practice is often even more important than where a driver starts the race.
At 13 of the 23 tracks on last year's schedule, the correlation between a driver's average practice position and their finishing position was higher than the correlation between starting and finishing positions. This means we can lean heavily on practice times when trying to find drivers who will move up through the pack and get us positive place-differential points.
Once you know how many laps are at a track and the importance of qualifying and practice, you're well on your way to knowing what you want to do from a strategy perspective at that track. But in the end, it can still help to look back at past races to see what happened there.
To do so, you can go to your one-stop-shopping for NASCAR data, Racing Reference. Once there, click "Tracks" on the top navigation bar. Then find the track you want to research, and click it. You'll be able to see past races at the track to look the importance of starting position, or you can see how individual drivers have performed there in the past 10 races, 5 races, or whatever timeframe you want.
Doing this allows you to do your own research and see how that track is unique compared to other venues at which they race. Again, we will cover all of this in the track preview each week, but it can't hurt to do a bit extra digging so that your lineups are as tailored to that event as they possibly can be.