FanDuel Daily Fantasy Baseball Helper: Friday 5/14/21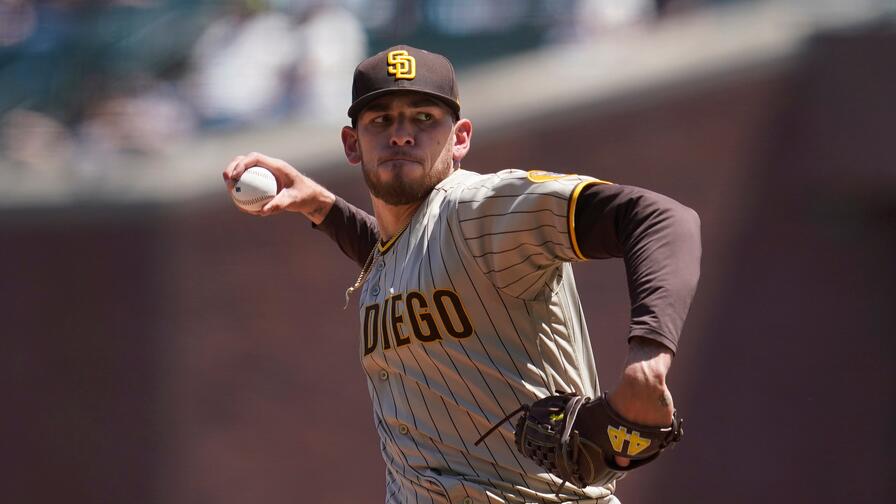 Friday's slate sure isn't lacking in ace pitching, and between Coors Field and some top offenses in plus matchups, we have plenty of ways to go for our stacks, too.
Our daily helper is available every day to analyze FanDuel's main slate and help give you a starting point when you're building lineups. Be sure to also incorporate our great tools into your research process. Whether you're looking for daily projections, the latest starting lineups and weather, or batting and pitching heat maps to find the best matchups -- we've got you covered!
Let's check out the top options on tonight's main slate.
Pitchers
Tyler Glasnow ($10,500): We've got some big names headlining tonight's pitching group, but at the end of the day, strikeouts are what truly matter for fantasy points, and few are better at racking those up than Tyler Glasnow. The Tampa Bay right-hander has posted a stellar 2.68 SIERA and 39.5% strikeout rate over eight starts, with his lone weakness being a 10.0% walk rate. The New York Mets aren't a particularly great matchup for punchouts (22.1% strikeout rate versus righties), but that might not matter with the way Glasnow has been dealing, and they aren't expected to put up much of a fight (2.97 implied total).
Max Scherzer ($12,500): The next best guy in terms of strikeout rate is Max Scherzer at 35.5%, and he also boasts a 2.54 SIERA and 4.1% walk rate. Like Glasnow, the matchup isn't the best for upside, as the Arizona Diamondbacks are only a smidge worse than the Mets when it comes to strikeout rate (22.6% versus righties), but Scherzer piled up 55 FanDuel points against the D-backs earlier this season. At this salary, Scherzer probably isn't a must, but he deserves to be in your tournament mix.

Joe Musgrove ($8,000): Recent lackluster results have led to a drop in salary for Joe Musgrove, but this looks like a fantastic opportunity to "buy low" on someone with a 2.42 SIERA, 34.8% strikeout rate, and 4.5% walk rate. The St. Louis Cardinals have a slate-low 2.78 implied total and come in with an 86 wRC+ and 24.3% strikeout rate versus righties -- not exactly intimidating stuff. Honestly, given the savings you're getting for such a talented arm -- in addition to the matchup -- there's a strong case for Musgrove being the top overall hurler to roster tonight.

Others to Consider: Clayton Kershaw ($11,000)
Stacks
Toronto Blue Jays: Oddly enough, Vince Velasquez's results might not be as bad as you think, as he's actually posted a respectable 4.18 ERA as a starter this season. But those results have come alongside a 15.2% walk rate and 2.28 home runs allowed per nine innings, and we know an offense like Toronto can capitalize on those worrisome trends. Toronto's implied total tops the slate at 5.74.
Five of the six dingers Velasquez has allowed have come off righty sticks, as he's allowing a 47.1% fly-ball rate in the split. This bodes well for a lineup that boasts right-handed power up and down the order, and you can happily stack up anyone of the projected one through five in Vladimir Guerrero Jr. ($4,000), Bo Bichette ($3,900), Teoscar Hernandez ($3,200), Marcus Semien ($3,200), and Randal Grichuk ($2,800).
Lourdes Gurriel ($2,000) is struggling, but he owns a career .202 ISO and offers us a righty punt at minimum salary.
New York Yankees: Dean Kremer is another pitcher enduring home run issues (2.08 per nine innings) due to a low 31.3% ground-ball rate. He's struggling to whiff right-handed batters this season, too, producing a mere 15.2% strikeout rate against them.
Like Toronto, the bulk of this Yankees lineup is filled with right-handed bats, led by the power of Giancarlo Stanton ($3,600) and Aaron Judge ($3,300). You won't have much trouble fitting them in between the value salaries of Luke Voit ($2,800), Gary Sanchez ($2,700), Gio Urshela ($2,600), and Clint Frazier ($2,000).
Washington Nationals: No, I haven't forgotten about the Coors game, which is naturally very much in play as always. The matchups aren't amazing with Wade Miley and German Marquez taking the hill, but Marquez has struggled with walks (13.3%), and the Cincinnati Reds are the more potent offense, so I lean towards their side of the bout. Lefty sticks ought to be the priority.

But you probably don't need another write-up on Coors Field, so let's instead flip over to the Nationals against Riley Smith. Over 26.0 innings between the rotation and bullpen, Smith has put up a 5.47 SIERA, 10.7% strikeout rate, and 8.0% walk rate.
That sounds like a lot of balls in play for Washington, and the low-strikeout matchup should especially be a boost for Kyle Schwarber ($3,000) and Josh Bell ($2,900). Juan Soto ($4,100) and Trea Turner ($4,000) as top choices as always.
Washington is rocking a solid 4.83 implied total, the sixth-best on the board.
Others to Consider: Cincinnati Reds, Houston Astros, Boston Red Sox, Chicago Cubs, Los Angeles Angels, Philadelphia Phillies, Oakland Athletics