Fantasy Winners and Losers of the 2019 MLB Trade Deadline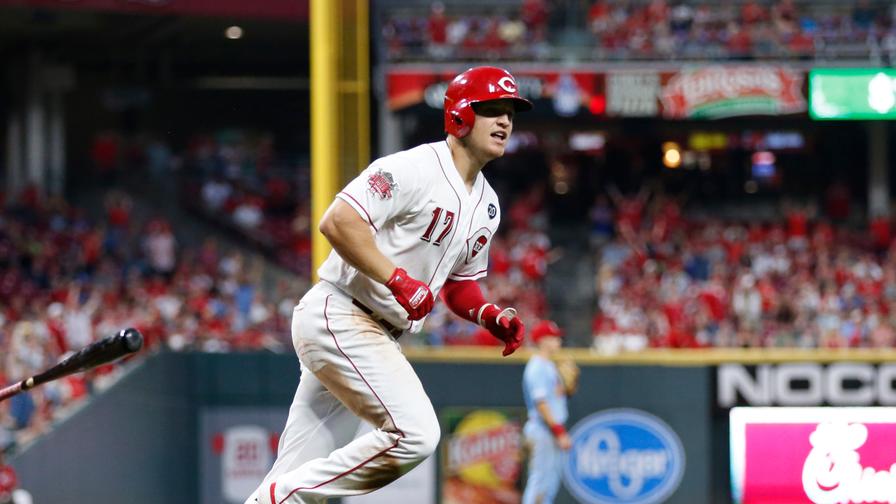 The 2019 MLB trade deadline has come and gone. It was an interesting trade season, with a lot of the guys who were expected to move staying where they are, and names that had not been heard in trade rumors -- hello, Zack Greinke -- being moved to new teams.
Even with the surprises, there were still some clear winners and losers from a fantasy perspective. Let's check out some of the guys who had their fantasy value most impacted by Wednesday's flurry of moves.
Winner
Josh VanMeter, 2B/3B/OF, Cincinnati Reds
Josh VanMeter was a name that was completely off of fantasy radars about two weeks ago, but the 24-year-old rookie has changed that with a scorching hot streak. In 36 plate appearances since July 19th, VanMeter is slashing .452/.528/.903 with four home runs and a 5:4 walk-to-strikeout ratio. This may come as a bit of a surprise, but VanMeter also dominated Triple-A pitching this season to the tune of a 1.097 OPS and 14 home runs in 211 plate appearances.
The Reds trading away Yasiel Puig and Scooter Gennett has opened up clear playing time for VanMeter, and thanks to a swing change he made in the offseason to try to get more power, he's become a very interesting fantasy option for the rest of the season.
Loser
Scooter Gennett, 2B, San Francisco Giants
Scooter Gennett has been one of the most consistent options at second base over the past two seasons, but a preseason groin injury this spring led to Gennett missing the first three months of 2019, and since his return, the results have been rough. His .217 batting average obviously isn't great, but the waning plate discipline (1:20 walk-to-strikeout ratio) is what is most worrisome.
Now, he moves from hitter-friendly Great American Ball Park to Oracle Park, a terrible spot for left-handed hitters. Gennett is a drop in all 12- and 14-team mixed leagues.
Winners
Will Smith, Ian Kennedy, Ken Giles, Alex Colome, Raisel Iglesias, and Mychal Givens, RPs
These were all closers who were talked about as having a chance of being moved, and all of these relievers stayed with their current teams. That makes each of them winners because they remain in the closer role -- especially in the case of Smith and Iglesias -- and have a chance to pick up big save totals as the season winds down.
Losers
Luke Jackson, Sergio Romo, Nick Anderson, and Roenis Elias, RPs
Luke Jackson is a loser for a different reason than the other three names on this list, as Jackson was the only closer on a contender to likely lose his job, which he did when the Atlanta Braves acquired Detroit Tigers closer Shane Greene. Jackson had a solid start to the season, but in his last 28 games, he owned a 5.53 ERA and has surrendered five home runs in 27 2/3 innings, leading to an ugly 11-for-16 rate in save chances.
Sergio Romo, Nick Anderson, and Roenis Elias are losers in value because they move to teams in which they will no longer be in a closing role, although there is a chance Anderson factors into the mix for saves for the Tampa Bay Rays, who have a very fluid ninth-inning situation.
Winner
Zac Gallen, SP, Arizona Diamondbacks
One of the biggest surprises of the day was seeing the Miami Marlins give up rookie Zac Gallen in exchange for shortstop prospect Jazz Chisholm. Gallen has been electric since his call-up, posting a 2.72 ERA/3.58 FIP with 43 strikeouts in 36 1/3 innings. He profiles as a future fantasy stud with three legit pitches. In moving to Arizona, he gets a much better team around him, which should give him a chance for more wins, as his current 1-3 record doesn't speak to how good he has been.
Loser
Nathaniel Lowe, 1B, Tampa Bay Rays
The first trade of the day featured the Rays trading for Milwaukee Brewers first baseman Jesus Aguilar. Aguilar has been absolutely abysmal in 2019, with a .694 OPS on the season, so there's a chance Tampa uses him primarily in a bench role, but Aguilar did have an .890 OPS with 35 home runs a season ago. He has been better in July, posting a .298/.346/.574 in the month, but that's been in very limited playing time.
I imagine we see relatively equal playing time at DH/first base between Aguilar, Lowe, and Ji-Man Choi, with Aguilar likely to play a lot against southpaws since Choi and Lowe are left-handed sticks. This is a trade where I don't think it really helped Choi, Aguilar or Lowe, but rather it just added more confusion to a frustrating situation as we'll likely see a lot of platooning and nobody in an everyday role.
Winner
Zack Greinke , SP, Houston Astros
This one is a bit obvious, but it is still worth talking about. Zack Greinke is already one of the best pitchers in baseball, and now he gets to go to a team that has turned Gerrit Cole and Charlie Morton into fantasy aces -- and maybe more impressively, a team that made Wade Miley into a pretty good pitcher. This move would be an upgrade for Greinke for just for that, but now he also has one of the best lineups behind him and has a chance to be absolutely dominant for your fantasy teams down the stretch.
Winner
Nick Castellanos, OF, Chicago Cubs
Nicholas Castellanos had been rumored to be on the move since midway through last season, and the Tigers finally made the decision to trade him to the Cubs for two prospect pitchers. Castellanos is out of the unfriendly hitter confines of Comerica Park and gets a big park upgrade and a bigger lineup upgrade. His numbers aren't what they normally are, but he's been significantly better on the road this season, with eight of his 11 home runs coming away from home. He's also got an .859 OPS on the road, compared to just a .715 mark at home.
Winners
Joe Jimenez , Jarlin Garcia , and Anthony Bass, RP
These three are winners for getting to move into closer role for their incumbent teams. Jimenez's numbers on the season aren't great, but he's been deemed the closer in waiting for a couple of seasons and clearly has strikeout stuff as shown by his 137 strikeouts in 104 2/3 innings over the last two seasons. Jarlin Garcia is the expected closer in Miami now, as Nick Anderson , Trevor Richards , and Sergio Romo were all shipped away. Garcia isn't as good as his 2.51 ERA, but he has shown solid control and increased movement on his slider, which has led to it being a more consistent swing-and-miss pitch.
Lastly, Anthony Bass is expected to step into the closer's role for Seattle. Bass hasn't been good for most of his career, but he is throwing harder than he ever has, with his fastball sitting at close to 97 miles per hour over the last month, which has led to a stretch of a 1.86 ERA with 14 strikeouts in his last 9 2/3 innings.