3 Daily Fantasy Baseball Stacks for 5/16/18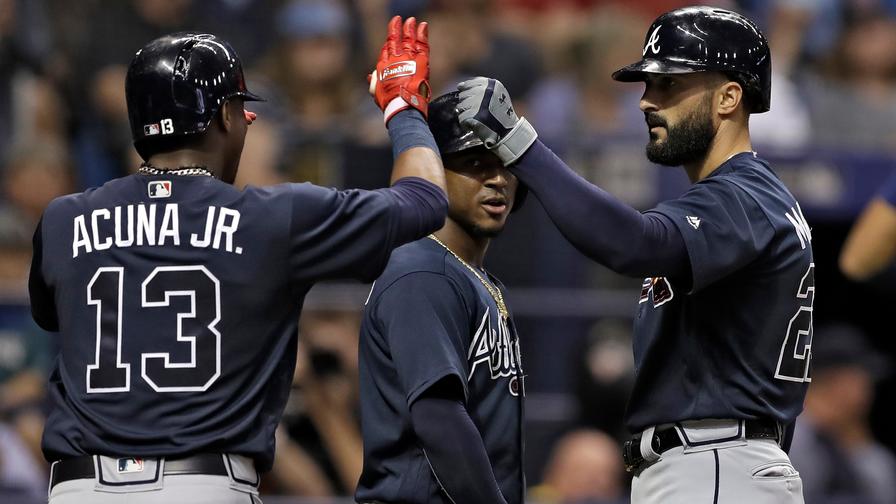 Stacking can be a controversial topic in many daily fantasy sports, but you can count baseball as a glaring exception. Here, it's universal.
Using multiple players on the same team on a given day presents you with the opportunity to double dip. If one of your players hits an RBI double, there's a good chance he drove in another one of your guys. When you get the points for both the run and the RBI, you'll be climbing the leaderboards fast.
Each day here on numberFire, we'll go through three offenses ripe for the stacking. They could have a great matchup, be in a great park, or just have a lot of quality sticks in the lineup, but these are the offenses primed for big days that you may want a piece of.
Premium members can use our new stacking feature to customize their stacks within their optimal lineups for the day, choosing the team you want to stack and how many players you want to include. You can also check out our hitting heat map, which provides an illustration of which offenses have the best combination of matchup and potency.
Now, let's get to the stacks.
Atlanta Braves
We only have five games to choose from on tonight's main slate, and with high-priced hurlers like Chris Sale and Max Scherzer taking the mound, you'll be hard pressed to fit in all the bats you want tonight. As of this writing, none of tonight's offenses are hitting the 5.00 implied team total mark, so the truth is we may not even see a ton of high-scoring games. Unless you're paying down at pitcher, don't necessarily feel compelled to force a four-man stack if you're not comfortable with how the rest of your lineup is shaking out.
All that being said, one of tonight's most compelling spots is the Atlanta Braves against Tyler Chatwood. We see Chatwood strutting around with a 3.35 ERA, but a 5.64 SIERA and cringeworthy 19.3% walk rate see right through it -- and that's not to mention an unsustainable 3.7% home-run-to-fly-ball rate. Chatwood does induce more ground-balls than we like, but high walk rates are one of the things we love to see for a stack, as that increases the chance of more baserunners and therefore more opportunities for big run-scoring plays. Bad things are coming for Chatwood, and those could start tonight.
Chatwood's career numbers are skewed from his Colorado days, but the numbers strongly favor using left-handed bats. Over his career, he's allowed a .348 wOBA to them, and if we try to exclude Coors Field, he's still allowed a .330 wOBA on the road. Given his control issues, though, we shouldn't be afraid to use bats from either side of the plate.
If you're building around a big-time lefty, Freddie Freeman ($4,800) is a monster against righties, and is one of the top overall plays of the night. The exciting Ozzie Albies ($4,600) and Ronald Acuna ($3,900) naturally top the list as well, and you'll be in business if you can find a way to grab all three.
Nick Markakis ($4,000) is a bit pricey, but he'll have the platoon advantage as he likely plays cleanup man for Atlanta. Even if you don't buy into the increased power he's shown, he's still produced an impressive .401 expected weighted on-base average (xwOBA).
On the value side, Kurt Suzuki ($2,700) is your best bet, and owns a .342 wOBA and .209 isolated power (ISO) against righties since the beginning of last season. Jose Bautista ($2,900) appears to still have some pop if he cracks the lineup. Even Johan Camargo ($2,400) can be considered as a punt option at shortstop on a limited slate.
To read all premium content, upgrade to a Premium account with numberFire
If you're not a Premium subscriber, it takes just a few seconds to sign up. You'll get access to all of our insider information, game projections, handicapping advice, DFS tools, advanced statistics, and more.