4 Daily Fantasy Baseball Stacks for 4/4/18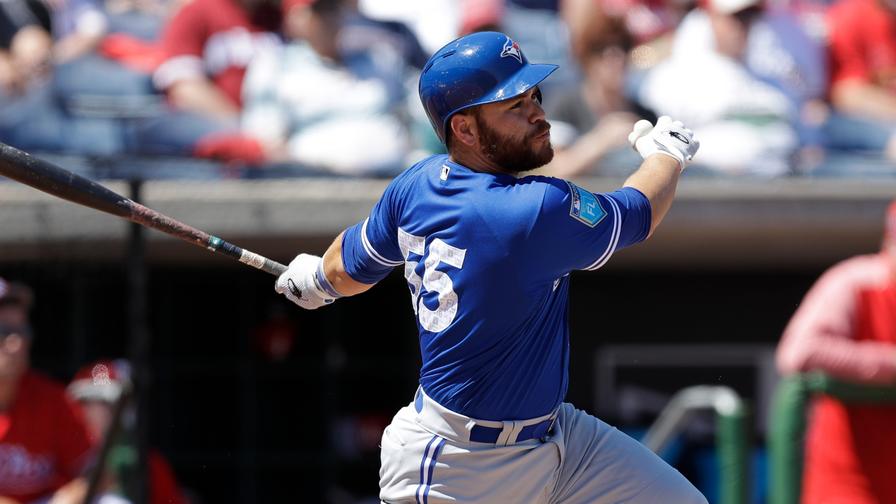 Stacking can be a controversial topic in many daily fantasy sports, but you can count baseball as a glaring exception. Here, it's universal.
Using multiple players on the same team on a given day presents you with the opportunity to double dip. If one of your players hits an RBI double, there's a good chance he drove in another one of your guys. When you get the points for both the run and the RBI, you'll be climbing the leaderboards fast.
Each day here on numberFire, we'll go through four offenses ripe for the stacking. They could have a great matchup, be in a great park, or just have a lot of quality sticks in the lineup, but these are the offenses primed for big days that you may want a piece of.
Premium members can use our new stacking feature to customize their stacks within their optimal lineups for the day, choosing the team you want to stack and how many players you want to include. You can also check out our hitting heat map, which provides an illustration of which offenses have the best combination of matchup and potency.
Now, let's get to the stacks.
Toronto Blue Jays
Carson Fulmer makes his 2018 debut against the Toronto Blue Jays, after an interesting campaign a year ago. Over 23 1/3 innings pitched, Fulmer did a nice job of limiting hard contact (20.9%) and also posted a solid swinging-strike rate (8.7%). The ugly came in the form a 5.59 SIERA and 12.9% walk rate, with righties giving him the most problems. Those hitting from the right side lit him up for a 30.0% hard-hit rate and 55.2% fly-ball rate.
All of this makes the Jays an interesting stack, and it starts with slugger Josh Donaldson, who's priced at $4,100 over at FanDuel. Donaldson and his buddies provided plenty of pop last night in a series-opening victory over the Sox:

In 2017, Donaldson was a strong performer against righties, rocking a .261 ISO, 34.7% hard-hit rate and 41.1% fly-ball rate. Fresh off a one-homer, two-hit, three-RBI night on Tuesday, he brings plenty of firepower to a Jays stack.
Russell Martin ($2,400) also has a history of strong performance against same-sided arms and, perhaps just as important, he's finding his way on base a ton. Martin produced a .354 on-base percentage and a 13.3% walk rate against righties last season.
Aledmys Diaz ($2,400) is also reasonably priced, and he's filling in at short stop with Troy Tulowitzki nursing an injury. Diaz rocked a home run last night, and recorded a .152 ISO against righties last year, but put up only a .055 ISO mark against lefties in 2017. So far this season, all four of Diaz's base knocks against righties have been for extra bases (two doubles, two home runs).
To finish off this stack, Devon Travis is another Blue Jay priced too cheap ($2,400) in a great spot. Travis didn't walk much against righties in 2017 (1.9%), but he posted a 32.8% hard-hit rate and 37.1% fly-ball rate.
St. Louis Cardinals
Coming off a walk-off loss against the Milwaukee Brewers yesterday, the St. Louis Cardinals will look to bounce back against Jhoulys Chacin in Milwaukee this evening.
Chacin enjoyed a very solid 2017 as a member of the San Diego Padres, posting a 20.0% strikeout rate en route to a 3.89 ERA over 180 1/3 innings pitched, all while limiting hard contact to 29.5%. But, in looking deeper, Chacin's home-road splits were a bit disturbing. Last season, over 80 road innings, the veteran right-hander dipped down to a 19.0% strikeout rate while sporting a 6.53 ERA and 31.0% hard-hit rate against.
Chacin's home run rate nearly doubled in 2017 in looking at home versus road splits, too. Chacin allowed 0.72 home runs per nine innings (HR/9) at home versus a mark of 1.24 HR/9 on the road. This all makes the redbirds a very attractive option at Miller Park. And if yesterday's game is any kind of indicator, more long balls could be on the way:

Dexter Fowler ($2,200) and Tommy Pham ($3,400) started the game off with a bang, hitting back-to-back jacks in the first inning. And both players provided plenty of muscle against righties in 2017, as Pham rocked a .201 ISO and 34.9% hard-hit rate while the switch-hitting Fowler recorded an even more impressive .243 ISO on a 38.0% hard-hit rate.
With no starting pitching priced above $8,500 on the main slate, we can continue to spend on bats, and Matt Carpenter ($3,500) fits the bill. In 2017, Carpenter blasted a 43.5% hard-hit rate and 52.4% fly-ball rate against righties, making for a tantalizing option at third base this evening.
Finally, don't sleep on first baseman Jose Martinez ($2,900). The 29-year-old bounced around a couple of organizations before finding his place with the Cards, and he seems to be taking advantage of it. To start 2018, Martinez has 8 hits in his first 18 at-bats, and he popped righties for a 36.3% hard-hit rate in 2017.
Chicago White Sox
Returning to Toronto, the White Sox own the highest implied team total (5.13) on the short main slate, thanks to a matchup with Aaron Sanchez.
Sanchez wasn't very good in his first start of the season, lasting 5 2/3 innings, allowing 12 base runners, 4 earned runs, and recording a 5.6% swinging-strike rate. This is coming off the heels of a rough 2017 shortened by blister issues where the right-hander posted a 5.62 SIERA, 12.0% walk rate, and 18.8% strikeout rate.
Sanchez did a good job of limiting hard contact to same-sided bats (28.1% hard-hit rate) last season, but he also allowed the ball to get in the air a bit more with a 35.4% fly-ball rate. So let's focus on righties for this stack today.
Matt Davidson ($2,900) sure proved that he get the ball in the air on Opening Day:

Davidson was particularly adept against righties last year, crushing them to the tune of a .242 ISO, 39.9% hard-hit rate and 46.6% fly-ball rate. Sticking with those righties, paying up for Jose Abreu ($4,000) is a good idea. Against same-sided arms in '17, Abreu tagged them for a .239 ISO, 39.6% hard-hit rate and 37.7% fly-ball rate.
Avisail Garcia ($2,700) is a bit cheaper than Abreu, but he can offer some similar muscle. Garcia delivered another long ball yesterday and, in 2017, hit 16 of his 18 homers against righties.
Oakland Athletics
Shut down by Cole Hamels in game one of the series, the Oakland Athletics will look to bounce back tonight against Doug Fister. And, if Fister's first outing was any indication, they could make for a sneaky stacking play.
Fister got a win in his first start, but it wasn't the prettiest of outings. Over five innings, Fister recorded identical strikeout and walk rates (15.0%), and he recorded a miserable 2.6% swinging-strike rate. For those of you counting at home, that's exactly two swings-and-misses out of Fister's 76 pitches.

Let's turn the clock back to 2017. In 90 1/3 innings, Fister put up a respectable 4.44 SIERA, 21.2% strikeout rate, and 28.9% fly-ball rate. Where Fister was undone was by the platoon, from which lefties blasted their way to a 39.6% hard-hit rate and 32.3% fly-ball rate against him, including a .476 slugging percentage. The A's aren't as lefty-heavy as some teams, but there's enough here to make things interesting.
Matt Olson ($3,400) is an obvious choice as the lefty bat rocked a .434 ISO and 43.3% hard-hit rate against righties a year ago. Elsewhere, Jed Lowrie ($2,500) has only five hits in his first 25 at-bats this season, which has led to some depressed pricing. But, tonight could be the cure to his ails. In 2017, Lowrie dinged up righties for a 35.6% hard-hit rate and 45.9% fly-ball rate.
To round things out, check to see if Boog Powell is in the lineup. At the site minimum ($2,000), Powell is a dirt-cheap option who showed improved rates in 2017 with the platoon advantage, including a notable bump in his fly-ball rate (from 14.3% to 37.5%). He's hit in every game that Oakland has faced a righty, so it's more likely that he'll be in the lineup than not tonight.


---

Matt Kupferle is not a FanDuel employee. In addition to providing DFS gameplay advice, Matt Kupferle also participates in DFS contests on FanDuel using his personal account, username MKupferle. While the strategies and player selections recommended in his articles are his/her personal views, he/she may deploy different strategies and player selections when entering contests with his/her personal account. The views expressed in his/her articles are the author's alone and do not necessarily reflect the views of FanDuel.
To read all premium content, upgrade to a Premium account with numberFire
If you're not a Premium subscriber, it takes just a few seconds to sign up. You'll get access to all of our insider information, game projections, handicapping advice, DFS tools, advanced statistics, and more.