Byron Buxton Is Having a Red-Hot Second Half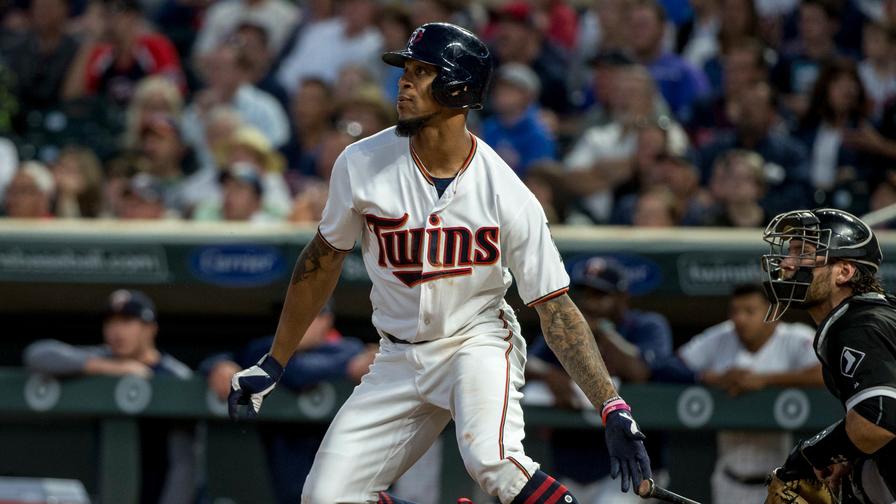 The first few months of the 2017 season couldn't have gone worse for Minnesota Twins outfielder Byron Buxton.
At 64-60, the Twins entered Tuesday's action with a half-game lead for the second wild card spot in the AL, thanks in part to Buxton's recent torrid play The 23-year-old has tallied 3.7 WAR this season, with a slash line of .243/.309/.374, to go with 9 homers, 29 RBIs, and 22 stolen bases.
Those stats don't leap off the page, but they've been boosted by a red-hot July and August. This comes after Buxton delivered perhaps the coldest start to 2017 by any player in baseball. Below are some of his numbers, broken down by timeframe.
| Time | Games | AVG | OBP | SLG | OPS | HR | 2B |
| --- | --- | --- | --- | --- | --- | --- | --- |
| April 3 - July 4 | 78 | .195 | .272 | .280 | .552 | 4 | 6 |
| July 4 - August 21 | 27 | .366 | .402 | .613 | 1.015 | 5 | 4 |

Last week, Buxton's incredible talent was on display against the Arizona Diamondbacks, as he hit a triple and an inside-the-park home run in the same game.
Here's both Byron Buxton's triple and inside the park homer. #MNTwins pic.twitter.com/dNbUHEjRYh
— Twins Highlights (@TwinsHighlights) August 19, 2017
ESPN Stats & Info noted that Buxton's 13.85 seconds around the bases on that inside-the-parker was the fastest ever recorded in the StatCast era, breaking his own 2016 record of 14.05 seconds. Since the All-Star break, he's batting .338/.378/.608, and in August, he's hitting .333/.367/.597. Not coincidentally, the Twins are 14-7 this month.
It's important to remember just how badly Buxton performed in the season's first few weeks. He started the year 4-for-49 (.082), during which time he racked up 24 strikeouts. However, his defense has helped keep him on the big league roster even as he struggled at the dish.
Despite an OPS+ of just 82 on the season (100 is considered a league average run producer), his 3.7 WAR (as calculated by Baseball Reference) has been buoyed by his 21 defensive runs saved (DRS), which is second-most among all outfielders, behind only Mookie Betts' 29.
Buxton's defense was already elite, but now he's starting to add offensive production into the mix.
Putting faith in the larger sample size is usually the better way to look at a player. But when you're dealing with a 23-year-old who is still developing -- and who was a perennial Top-10 prospect in baseball -- sometimes a recent sample, even if it's small, is an indication that the light switch has flipped.
So if the recent sample size is indeed to be believed, Buxton is on his way to becoming one of the biggest superstars in baseball.