Can Nick Foles Still Help an NFL Team?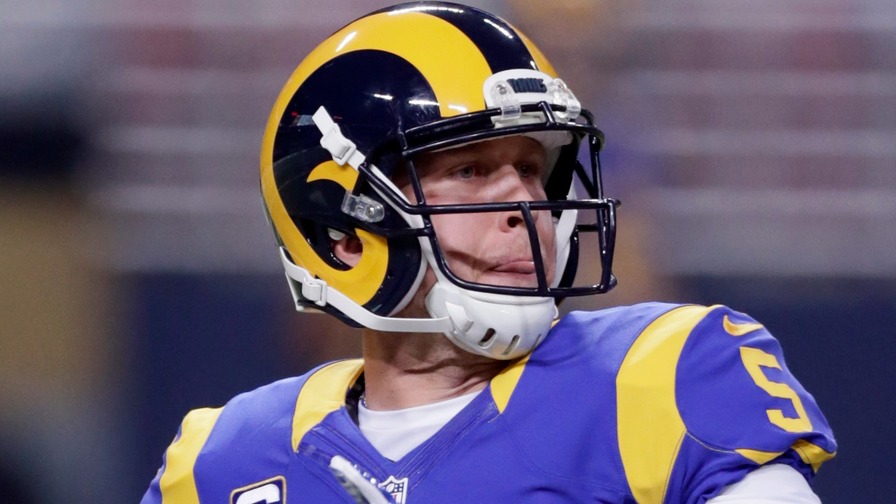 When I was in grade school, I looked forward to "school spirit week" every year. Each day that week had a different theme, and my favorite theme was Decades Day, when everyone would dress up like somebody from a certain decade of history.
When I think back on Decades Day, I realize just how limited of an understanding I actually had about what those time periods represented, and what events had transpired. To me, those pieces of history were most represented by the pop-culture fads; they were boiled down to Halloween costumes, essentially, but all the historical nuance was lost on us.
There was a short period of time where Nick Foles was possibly the best quarterback in the NFL, but we may look back on his brief starting tenure of as a sort of fad in and of itself. This week, the Los Angeles Rams finally cut Foles for roster room, just a few short seasons after they traded a fair amount of assets to acquire him.
Is the "Nick Foles" chapter of our NFL history books closed, and if so, how should we remember him?
He Ain't Nothin' But a Hound Dog
It isn't very often that people can pinpoint the high-water mark of their careers, but for Nick Foles, it's very clear: Week 9 of the 2013 season. This game saw Foles throw for over 400 yards and tie Peyton Manning and Drew Brees for the most touchdown passes in a single game at seven. Had his Philadelphia Eagles left him in for the full fourth quarter, Foles may have even set the record himself.
That's how dominant Foles was in the 2013 season, thanks to Eagles head coach Chip Kelly's "grip it and rip it" spread attack.
Still, the mirage of Foles' prowess would only last so long. We can see Foles' meteoric rise and calamitous fall through his production by numberFire's signature metric, Net Expected Points (NEP).
NEP is a metric that helps us take the numbers we get from the box score and shows how that player did versus expectation. By adding down-and-distance value to standard box score information, we can see just how much each play and each team as a whole influence the outcome of games. If Foles completes a pass for five yards on 3rd-and-2, it means more to the game than it does on 3rd-and-10, and those plays should be valued accordingly. For more info on NEP, check out our glossary.
The table below shows Foles' production annually in terms of both raw and per-drop back Passing NEP, as well as Passing Success Rate -- the percentage Foles' drop backs that resulted in positive NEP -- and his ranks among quarterbacks with at least 150 drop backs in each year.
| Year | Drop Backs | Pass NEP | Pass NEP/P | Pass Success % |
| --- | --- | --- | --- | --- |
| 2012 | 285 | -13.38 (28th) | -0.05 (30th) | 40.70% (34th) |
| 2013 | 346 | 108.68 (4th) | 0.31 (4th) | 48.55% (8th) |
| 2014 | 321 | 15.15 (26th) | 0.05 (22nd) | 42.68% (33rd) |
| 2015 | 351 | -59.52 (39th) | -0.17 (38th) | 37.61% (39th) |

The average Passing NEP per drop back over the last five years has been 0.07, and average Passing Success Rate has been 46.43 percent.
By these benchmarks, Foles' four years in the league have been one above-average season, one average season, and two well below-average years, and none of those in any discernible order. We do know that Philadelphia called their most balanced pass-to-run ratio (1.11) since 2000 in Foles' best year, as well, indicating that not having pressure on him to run the offense helps. Still, his horrendous 2015 with the Rams had a similar ratio (1.14), so it's not clear if this was a vital factor.
The only connective tissue between these seasons is that every year besides his incredible 2013 flash-in-the-pan has seen him rank in the bottom few qualifying quarterbacks in the league in Passing Success Rate. First of all, this indicates poor general accuracy; you can't gain positive NEP if you can't complete passes, and Foles has a 58.8 percent career completion rate when we factor out his unreal 2013 season.
Bear in mind, though, that he was used primarily to sling the ball deep downfield, and if those "Hail Marys" fail frequently, they'll lead to horrendously consistent inefficiency. Even when he joined the Rams and the offensive scheme bridled his arm -- forcing him to play a short-passing "game manager" role that he wasn't suited for -- he still was horribly inefficient and ineffective.
Accordingly, his rates of Passing NEP are all over the place in his career. When the Eagles had talented supporting cast members such as DeSean Jackson, Jeremy Maclin, LeSean McCoy, and others around Foles, he was excellent. After they traded those players away or released them, his efficiency didn't change much, but his margin for error got smaller and smaller.
In St. Louis, he had a motley crew of Kenny Britt, Brian Quick, and Tavon Austin to work with as pass-catchers, meaning his effectiveness was shrunk to nil.
99 Red Balloons
So what is in Foles' future?
No one is going to argue that Foles is a good NFL quarterback, but he was incredible at one point in time, and that kind of arm talent in the right system can be impressive. We know that he fit Chip Kelly's spread offense very well in 2013, when it focused on the high-speed, balanced attack that used the run game enough to sell the play-action decoy.
Unfortunately, though, simple logic gets in the way here: run plays keep the clock running, so the teams that often prioritize rushing the ball also tend to have much higher seconds-per-play rankings (per Football Outsiders). In fact, only five teams in the last five years have been both among the 10 run-heaviest and 10 fastest teams in their respective seasons, and none of those came from the 2015 season.
Foles is a cannon-armed passer with little creativity in his game; he was the product of a perfect storm of arm talent, scheme, and supporting cast. It's hard to imagine him getting back to even an average year in the NFL, whether that's as a starter or backup. Perhaps he was the ultimate example of Kelly's genius: he took a limited player and applied the perfect offense to shape him into pure greatness. That may not be immortality, but it feels pretty close.
Foles had his time in the sun, but the Rams and Eagles both have new pop-star rookies to try out in 2016 and beyond. In a league that demands timeless classics, his production just doesn't appeal to a modern sensibility.