NFL Draft Betting: Who Will Be the First Wide Receiver Selected?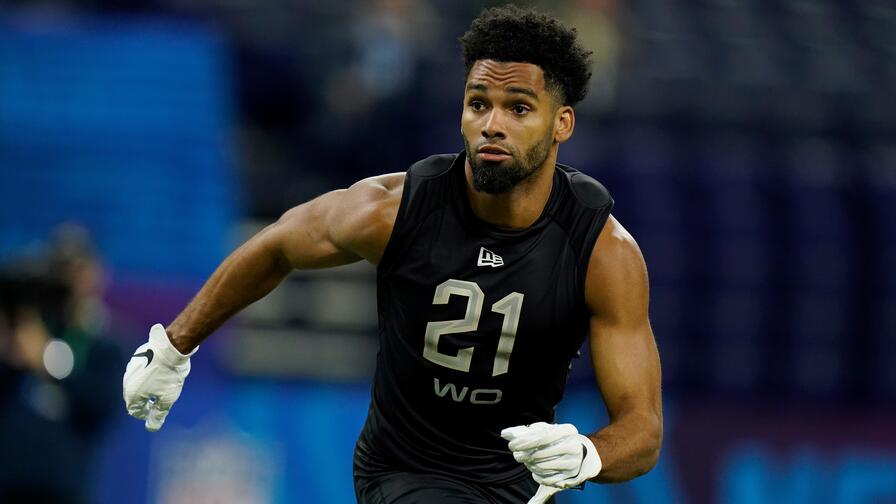 With the NFL Scouting Combine done and dusted, the pro day circuit is the next stage in the talent evaluation cycle leading up to the 2022 NFL Draft. One position group that is always of interest to fans and fantasy players alike is wide receiver. FanDuel Sportsbook has set the over/under of wideouts to be selected in the first round of the draft at 5.5. This is one of several markets available leading up to the draft.
But before five or more receivers can be selected, who will be the very first to be taken? Yes, you've guessed it -- there's a market on offer for this wager too. Let's take a look at some of the contenders to be the first player taken from this year's crop.
All odds are courtesy of NFL odds.

Garrett Wilson, Ohio State (+120)
The current favorite is former Ohio State wideout, Garrett Wilson.
Wilson averaged 4.5 receptions per game during his Buckeyes career, catching 143 receptions for 2,213 yards and 23 touchdowns. His best season was 2021; Wilson reeled in 70 balls for 1,058 yards and 12 touchdowns.
Wilson blazed with a 4.38 40-yard dash at the Combine, and in draft analyst Dane Brugler's latest mock draft, he has Wilson as the first wideout off the board.
The Cleveland Browns took Wilson in Brugler's draft, but this was before they swung a trade for Amari Cooper. Still, even if it's not the Browns who take the first wide receiver, Wilson has an excellent chance of being the first one off the board.
Drake London, USC (+150)

Drake London is one of the bigger wide receivers among the top tier in 2021, standing 6'4" tall while tipping the scales at 219 pounds.
He only played 22 games for the Southern California Trojans over three seasons but averaged 97.9 yards per game during this time.
Like Wilson, London's best season was his most recent. In 2021, London caught 88 of his 124 targets for 1,084 yards and seven touchdowns. He had only scored eight times in his previous two seasons.
London is a fascinating prospect with a physical profile that trends towards a model that some NFL teams don't value as highly as they once did. Still, his production at a big school makes him a legitimate contender to be the first receiver taken.
How he performs at his pro day could tip the balance one way or another.
Chris Olave, Ohio State (+3500)
Chris Olave was an Ohio State teammate of Garrett Wilson, the favorite to be the first wide receiver taken. That shadow doesn't help.
Olave finds himself further back in the betting despite enjoying a relatively productive college career of his own. Olave played four seasons with the Buckeyes, playing in 38 games between 2018-2021. He caught 175 passes for 2,702 yards and 35 touchdowns in his career.
His most impressive season statistically was 2020 with Justin Fields. Olave caught 50 passes for 729 yards and 7 scores despite only playing seven games.
Olave showed off 4.39 speed at the combine, but given his size, this only gave him a Speed Score of 99.3 according to Player Profiler (68th-percentile). Olave might fit the bill as a player to stretch opposing defenses, but this particular skill set might knock him down the draft boards of some teams.
That being said, NFL teams have a habit of reaching for speed from their early-round wide receivers. No one expected Henry Ruggs off the board first in 2020. That could certainly help Olave's chances of being the first wideout's name we hear on draft night.
Christian Watson, North Dakota State (+7500)
The first thing you notice when looking at Christian Watson's profile is speed.
The guy can flat-out fly as his 20.7 yards per reception average implies. Watson played four seasons at North Dakota State, appearing in 40 games. He averaged only 2.6 receptions and 53.4 yards per game but managed 2,135 yards and 14 touchdowns.
Watson had a great time in Indianapolis during the combine. He clocked a 96th-percentile 40-yard dash time of 4.36, contributing to a 98th-percentile Speed Score of 119.9.
Brugler has Watson going off the board in round two of his latest mock draft. No doubt, that is with his age (he'll be 23 when the season starts) and the quality of competition playing a part in his lower landing spot.
It would be a serious upset if he were to go ahead of all other wide receivers.
Skyy Moore, Western Michigan (+10000)
Skyy Moore is a player that is generating buzz as we get closer to the NFL Draft.
He was a dominant performer at Western Michigan, averaging 5.7 receptions and 82.7 yards per game over his 30 game college career. Moore pretty much was the passing offense in 2021, commanding a whopping target share of 36.7% on his way to 94 grabs for 1,283 yards and 10 touchdowns.
Moore showed off good straight-line speed at the Scouting Combine, logging a 4.41 40-yard dash time. But, his burst and agility Scores, as per Player Profiler, were far from impressive.
Moore is likely to be a player that landing spot will be vital for his chances to carve out an NFL career and make himself a factor in fantasy football. That landing spot won't be discovered before every other wide receiver, I don't think.
My Pick: Olave (+3500)
I am going bold here.
Chris Olave is the bet I see value on here. Given his speed -- and the NFL's current obsession with speed -- he could surprise all just as Ruggs did in 2020.
At enticing odds of +3500, that's a small gamble I would be willing to make with a massive payoff.
I like Wilson, and I think London could carve out a good role for himself depending on his landing with the right team. But, I can see a host of teams talking themselves into a player with Olave's particular skillset as Cooper Kupp and Tyreek Hill continue to flourish as smaller wideouts with tremendous football acumen.
As such, that makes him a player that teams will fight and scrap to select.