Todd Gurley Is an Excellent Value in Fantasy Football
The NFL offseason has brought plenty of changes, and seeing big-name players on new teams is the talk of the town. From Tom Brady signing with the Tampa Bay Buccaneers, to Stefon Diggs being traded to the Buffalo Bills, and of course, Todd Gurley being released by the Los Angeles Rams.
Gurley wasn't out of a job long, as he signed with the Atlanta Falcons the next day.
It's a new team for Gurley, but is his role secure as the starting running back? Atlanta didn't grab any running backs during the NFL Draft. In fact, they didn't draft any offensive position players. What does this mean for Gurley's fantasy value in 2020, and when should you look to draft him?
The Falcons' Top Back
The Falcons released Devonta Freeman earlier this offseason, and with them adding Gurley, it should set him up to be the starting running back.
This shouldn't come as a surprise, as the Falcons don't have a ton of experience from the other running backs on their roster. Speaking of those other running backs, they are Brian Hill, Ito Smith, Qadree Ollison, and a few other rookies/practice squad players. These three running backs shouldn't pose too much of a threat to Gurley, as they come in with under 1,000 combined career rushing yards and a total of 11 career rushing touchdowns.
This should make Gurley the de facto number one running back in Atlanta. But should you buy into that? The short answer is yes, but it depends on a few things.
Is Gurley Healthy?
Gurley's health is the main issue everyone in the fantasy football community is trying to grapple with, and as of now, we still don't have an answer.
Dirk Koetter in a media conference call said about Todd Gurley today: "The main question, that no one seems to know, is what is his health status?"
— Mike Conti (@MikeConti929) May 14, 2020

Until we have a firm answer on his health, Gurley's "value" as a fantasy football asset will be in flux -- but this presents an opportunity. Albeit a somewhat risky opportunity, Gurley's current cost is vastly cheaper than what we have seen from him in the past few seasons.
Coming into 2019, we saw Gurley's ADP fall slightly, as he was no longer a lock for a first-round pick. That sentiment was largely driven by the concerns of his health, which stemmed from the 2018 season combined with what we heard during last year's offseason.
Well, his ADP continues to fall as his health and overall productivity are still a question mark for many people. His health is one thing, and that is a wait and see for now. His production from last season is clear, and that is where we should look to determine his fantasy value.
During the 2019 season, Gurley posted a career-low clip in rushing attempts and rushing yards -- while having his second-worst season in targets, receptions, and receiving yards. There is no doubt he had a bad season compared to where his production was the prior years, and that has directly impacted his ADP.
Worth His Current ADP?
As noted above, Gurley's ADP was already on the decline last season, and that has been intensified this year, per Fantasy Football Calculator's PPR ADP info.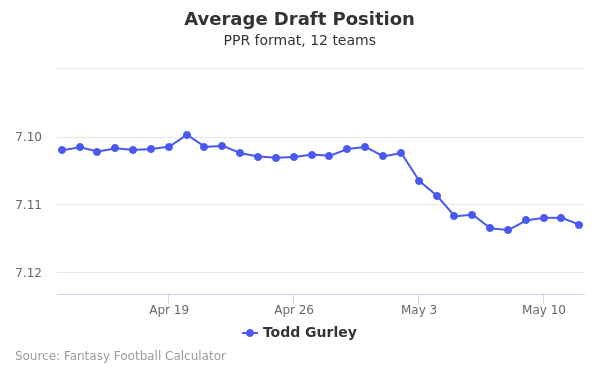 Gurley's ADP has slid to 8.04, and he is the 27th running back being taken in drafts. This is a dramatic difference from where he was just two seasons ago. And frankly, it gives you an opportunity to grab him at a dirt-cheap cost. Of course, FantasyPros' expert consensus rankings have him as the RB16 right now and closer to a third-round pick.
Naturally, there is still concern surrounding his health, and that can certainly scare some people away from drafting him. But, if you don't mind a bit of risk -- he is a player to grab if he starts to slide.
2020 Projections
How much will Gurley produce? Ultimately, that is the most important question when it comes to him or any fantasy player.
If we look to JJ Zachariason's projections for some insight, we see that he has Gurley going for 964 rushing yards (on 235 attempts) with 7.83 touchdowns. Add on 43 receptions and 338 receiving yards, and he comes out to the RB16 for JJ.
That gives you some serious production from a player whose stock seems to be trending down.