Dak Prescott Is a Top Quarterback Option in Fantasy Football This Season
The Dallas Cowboys placed the franchise tag on Dak Prescott last week and locked him up for one more season. Does this impact his fantasy value? Is he still an elite fantasy option?
Elite Fantasy Production
Prescott entered the league in 2016, and since then he has been one of the more consistent options among fantasy quarterbacks. You absolutely want to be looking to him again this season.
From a real-life football perspective, we know that the Dallas Cowboys have talked about extending Prescott long-term, but that has yet to be seen. Those reports date back to last season, but they put the tag on Prescott and locked up Amari Cooper to a five-year deal last week. Does any of this impact Prescott and his fantasy value?
In short, nothing should change for Dak and his production on the field. His numbers are strong and can help lead your team to a fantasy championship. Prescott's projections for this season are right where we've seen him over the first four years of his career, and we want to view him in the same light. He is an elite fantasy quarterback you should be looking to grab in your fantasy leagues.
JJ Zachariason's projections have Prescott at 4,622.16 passing yards, 28.67 passing touchdowns, 271.61 rushing yards, 2.12 rushing touchdowns, and 10.37 interceptions for a total of 318.73 points.
Here are Prescott's numbers from the past four seasons:
| Year | QB Finish | Fantasy Points |
| --- | --- | --- |
| 2016 | 6 | 284.5 |
| 2017 | 10 | 247.94 |
| 2018 | 15 | 252.38 |
| 2019 | 3 | 319.16 |

The 318-point projection would put him right on pace for where he was last season -- a top-three fantasy quarterback.
When Should You Draft Him?
Draft Prescott if he is available to you but only in the right range. Yes, Prescott is super consistent -- posting big fantasy numbers on a yearly basis -- but there is no reason to reach for him. If you are reaching for a quarterback in fantasy drafts, presumably you'd be looking to grab Lamar Jackson or Pat Mahomes.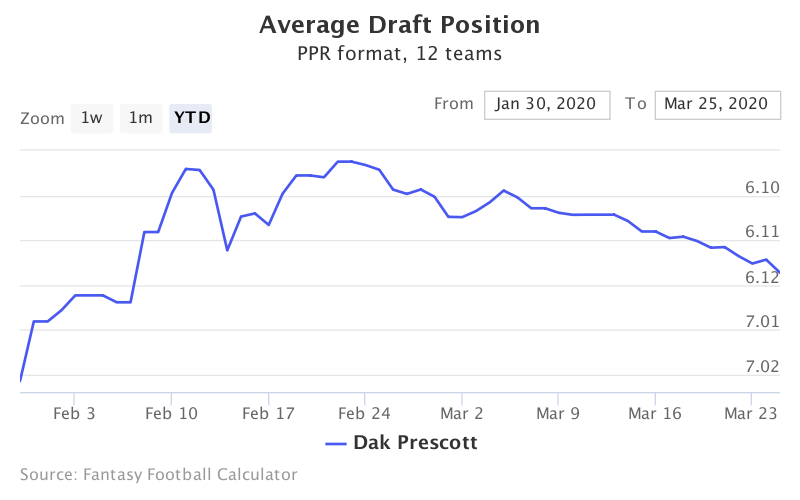 Prescott has a great ADP right now -- near the end of the sixth-round -- and is, on average, the seventh quarterback being taken off the board, according to FantasyFootballCalculator.
If other fantasy players in your draft are looking to reach for Jackson, Mahomes, Russell Wilson, or even Kyler Murray, draft another position player in those rounds and let Prescott fall to you a round or two later. Don't reach for Prescott when you don't have to and take a top-three fantasy quarterback in the sixth or seventh round.