Running Back By Committee Report: AFC North 2019 Recap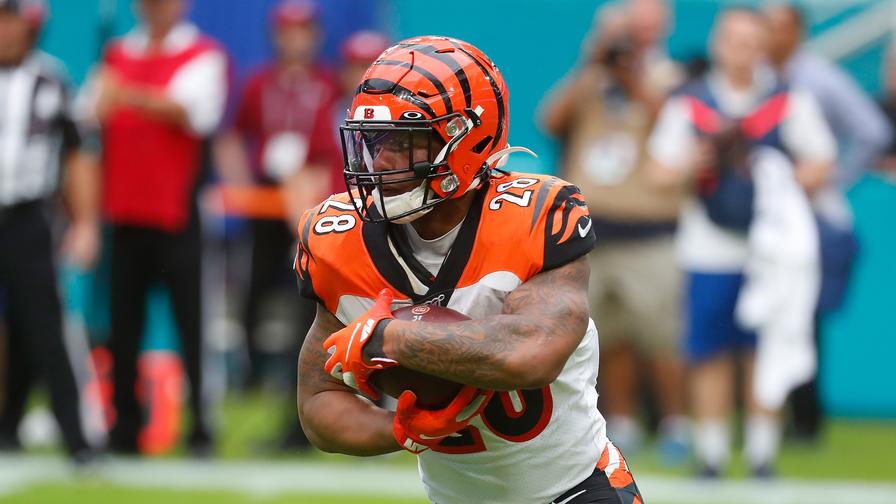 With the majority of teams utilizing a committee approach to their running back position, it is vital to pay close attention to the usage and workload each running back earns.
This season I was responsible for numberFire's weekly Running Back By Committee Report, focusing on how coaches used their running backs -- in what type of capacity and with what size of a workload. Are they getting a ton of snaps but few touches? Is the once-presumed starter now splitting more of the workload with a role player? Does a team have the ability to sustain multiple running backs on a weekly basis?
Now that the fantasy football season is over, I'm going division-by-division, taking a look back at how each backfield played out to see which teams truly utilized a committee approach. Within each section, I'll also include a summary of statistics that will put each players' performance this year into context compared to his teammates (all snap data comes from FantasyPros). The utilization rate posted in each table indicates the player's percent of snaps played where the player touched the ball or was targeted.
Cleveland Browns
Of the many things that went wrong for the Cleveland Browns in 2019, Nick Chubb's sophomore season may have been the lone bright spot. Chubb was one of the league's best workhorse running backs this past year, as he had the third-most rushing attempts and second-most rushing yards. He's deserving of a high draft pick coming into 2020, even if teammate Kareem Hunt is back with the Browns.
Opportunity is often what fantasy football players are concerned with, and Chubb was one of the most consistent getting work -- he was one of only two running backs with at least 20 rushing attempts in at least eight games. Not only did Chubb get a lot of opportunities, but he was one of the most efficient running backs.
Only RBs to rank top 10 in YPC when first contacted before the Line of Scrimmage *and* at or after the line of scrimmage were:

Nick Chubb: 7.94 (first) and 2.24 (third)
Derick Henry: 7.71 (third) and 2.39 (first)

Singletary ranked 2nd (7.81) and 9th (1.90)
— Scott Barrett (@ScottBarrettDFB) February 17, 2020
Chubb was also their primary running back when they got into the red zone, even when Hunt returned from suspension. Chubb's 50 red zone rushing attempts were fourth in the league (while Hunt only had four red zone rushing attempts), and six of his eight touchdowns came while the Browns were in the red zone. Unfortunately, when the Browns got within the five-yard line, Chubb struggled. Per Nate Hamilton, Chubb was the only running back in 2019 with double-digit carries inside the five that resulted in negative yardage.
Once Hunt entered the fold and returned from his suspension, he found a way into some decent usage. Hunt's primary role was as a pass-catcher, which is one area he thrived in while playing for Andy Reid. In the eight games that Hunt played, he averaged 4.6 targets per game, and this was really the only way that Hunt impacted Chubb's opportunity on the field.
| Nick Chubb | Games | Carries Per Game | Rushing Yards Per Game | 100+ Yard Rushing Games | Targets Per Game | Receptions Per Game | Receiving Yards Per Game | Total Touchdowns | Fantasy Points Per Game |
| --- | --- | --- | --- | --- | --- | --- | --- | --- | --- |
| Without Hunt | 8 | 19.3 | 100.4 | 3 | 4.0 | 3.1 | 20.1 | 6 | 17.4 |
| With Hunt | 8 | 18.0 | 86.4 | 4 | 2.1 | 1.4 | 14.6 | 2 | 12.3 |

Chubb is primed for yet another big year, especially if the Browns can live up to last offseason's hype. We'll be following closely where Hunt lands in free agency, but Chubb remains a high-end RB1 regardless.
| Running Back | Team | Games Played | Average Snap % | Rush Attempts Per Game | Targets Per Game | Total Opportunities Per Game | Utilization % | Fantasy Points Per Game (Half PPR) | Fantasy Points Per 100 Snaps |
| --- | --- | --- | --- | --- | --- | --- | --- | --- | --- |
| Nick Chubb | CLE | 16 | 68% | 18.6 | 3.1 | 21.7 | 48% | 14.8 | 32.6 |
| Kareem Hunt | CLE | 9 | 60% | 4.8 | 4.9 | 9.7 | 28% | 9.2 | 26.5 |
Cincinnati Bengals
Speaking of teams that didn't have many bright spots, the Cincinnati Bengals have this year's number one overall draft pick for a reason. For the third straight season, Joe Mixon and Giovani Bernard led the charge for the Cincinnati backfield, showing signs of life at times throughout the season.
Fortunately, Mixon was able to succeed despite playing behind a less-than-average offensive line. Per Rotounderworld, Mixon's 1.84 yards created per carry ranked third in the NFL, which can be attributed to the league-leading 103 evaded tackles that Mixon had last year.
While Mixon's season-long stats look decent -- just missing the cut of a being an RB1 -- the difference between Mixon's first half and second half of the season were night and day. Mixon went from averaging 40 rushing yards per game on 12.1 carries per game to averaging 102.1 rushing yards per game on 22.1 carries per game -- a staggering improvement that could swing Mixon into the first round of 2020 fantasy football drafts.

Bernard continues to be a nuisance for Mixon fantasy owners, taking away opportunities from a more talented running back. Though Bernard's 43 targets last year were a career-low for him, it didn't help that he was stealing opportunities on a team that already had limited possessions.
2020 will be the fourth year running of this duo leading Cincinnati's backfield. Bernard's average snap share has gone down in each of the last three seasons, sitting at around 40 percent this past year. If Mixon can command more of the work in the passing game and keep Bernard on the sidelines, he'll be in line for a huge 2020 season.
| Running Back | Team | Games Played | Average Snap % | Rush Attempts Per Game | Targets Per Game | Total Opportunities Per Game | Utilization % | Fantasy Points Per Game (Half PPR) | Fantasy Points Per 100 Snaps |
| --- | --- | --- | --- | --- | --- | --- | --- | --- | --- |
| Joe Mixon | CIN | 16 | 59% | 17.4 | 2.8 | 20.2 | 49% | 13 | 31.5 |
| Giovani Bernard | CIN | 16 | 41% | 3.3 | 2.7 | 6.0 | 21% | 3.3 | 11.7 |
Baltimore Ravens
The Baltimore Ravens had not only the best rushing attack this season, but also set the single-season record for rushing yards by a team. While a large part of this was due to Lamar Jackson's second-year MVP breakout season, Mark Ingram also played a large role in carrying this offense.
Statistically, Ingram had one of the best seasons of his career -- his 1,265 scrimmage yards were the third-most of his career, and his 15 total touchdowns were the most he's scored in a season. He also finished with 3.06 yards after contact per rush, which was tied for his career-high.
Furthermore, on a per touch basis, Ingram posted the seventh-best mark in 2019 at 5.6 yards per touch. However, as many expected, Ingram's role as a pass-catching back diminished quite a bit. He only saw 1.9 targets per game, which was his lowest rate since 2013. In fact, the Ravens only targeted running backs 12.2 percent of the time, the second-lowest rate in the league last year.
Though Ingram dominated this backfield, I'd be remiss if I didn't mention Gus Edwards. Last year's breakout star played a reduced role with Ingram leading the backfield, but Edwards was still as efficient as ever. Of the 48 running backs that had at least 85 carries last year, Edwards was the only one to finish without a run that lost more than one yard.
Additionally, Edwards averaged over five yards per carry for the second straight year. Edwards really only got work when the Ravens were in an extremely favorable game script, but that shouldn't make his efficiency any less impressive.

Ravens' rushing shares when the game was within 10 points, Weeks 1 to 16:

Mark Ingram: 40.8%
Lamar Jackson: 36.9%
Gus Edwards: 16.7%
Justice Hill: 5.0%

When Ravens were up 11+:
Gus Edwards: 28.8%
Mark Ingram: 23.5%
Lamar Jackson: 20.9%
Justice Hill: 17.6%
— Jim Sannes (@JimSannes) January 10, 2020
Currently, Ingram and Justice Hill are the only two running backs under contract for the Ravens, as Edwards will be an exclusive rights free agent this spring. Ingram will be entering his 10th NFL season after turning 30 just a couple of months ago.
| Running Back | Team | Games Played | Average Snap % | Rush Attempts Per Game | Targets Per Game | Total Opportunities Per Game | Utilization % | Fantasy Points Per Game (Half PPR) | Fantasy Points Per 100 Snaps |
| --- | --- | --- | --- | --- | --- | --- | --- | --- | --- |
| Mark Ingram | BAL | 15 | 48% | 13.5 | 1.9 | 15.4 | 45% | 15.3 | 44.9 |
| Gus Edwards | BAL | 16 | 36% | 8.3 | 0.4 | 8.8 | 35% | 5.6 | 22.2 |
| Justice Hill | BAL | 16 | 17% | 3.6 | 0.9 | 4.6 | 38% | 2.8 | 23.6 |
Pittsburgh Steelers
The Pittsburgh Steelers had a bit of an odd and underwhelming season in 2019 in large part due to losing Ben Roethlisberger just two weeks into the season. Because of this, they had to rely on Mason Rudolph and Devlin Hodges to lead the team, which didn't go well. Though there were some bright spots in this offense at times, they plummetted to the fourth-worst rushing team in the NFL in 2019.
Incumbent starter James Conner had yet another injury-riddled year, playing in only ten games due to a combination of thigh, shoulder, and ankle injuries. But before suffering all of those ailments, Conner was having a rather successful year from a fantasy perspective.
Through the first eight games of the season, Conner was tied for tenth at running back in half PPR leagues with a 15.7 point per game average. A good portion of this can be attributed to the six touchdowns he had scored in those games. Similarly, he was displaying his receiving abilities yet again, averaging just over four receptions per game in that span.
While Conner was out, Pittsburgh used a combination of Benny Snell Jr. and Jaylen Samuels. Snell did most of his damage as a rusher, while Samuels maintained his role as a pass-catching threat. In the four games that Snell had at least 15 carries, he averaged just 74 yards rushing. Snell also averaged 2.8 yards after contact per carry, the eighth-highest mark in the league, and was one of only two players to have over 70 percent of his rushing yards come after contact.
Meanwhile, in the five games that Samuels played between weeks 4 and 11 (two of which were games that Conner missed), he averaged nearly 6.4 receptions per game. This put him on track to be second on the team in receptions last year, with 47, which was also top 20 in the league among running backs.
Barring a surprise trade or cut, all three of these players will be back with the Steelers in 2020. It will be hard to trust Conner, as he has yet to play more than 14 games in a season, so Snell and Samuels could provide some value come draft day.
| Running Back | Team | Games Played | Average Snap % | Rush Attempts Per Game | Targets Per Game | Total Opportunities Per Game | Utilization % | Fantasy Points Per Game (Half PPR) | Fantasy Points Per 100 Snaps |
| --- | --- | --- | --- | --- | --- | --- | --- | --- | --- |
| James Conner | PIT | 10 | 53% | 11.6 | 3.8 | 15.4 | 46% | 12.9 | 38.5 |
| Jaylen Samuels | PIT | 14 | 42% | 4.7 | 4.1 | 8.8 | 35% | 5.9 | 22.2 |
| Benny Snell Jr. | PIT | 13 | 25% | 8.3 | 0.3 | 8.6 | 65% | 4.3 | 33.0 |