Don't Sleep on Geronimo Allison in Fantasy Football in 2019
Marquez Valdes-Scantling is attracting a whole lot of attention this offseason, and Davante Adams is a contender to be the first wide receiver off the board in drafts.
But it might be a good idea to keep the name of Geronimo Allison, another Green Bay Packers wideout, in mind when you're on the clock in the middle rounds.

Let's break it down.
The Offseason of MVS
There's been a lot of buzz this summer about how good Valdes-Scantling looked. People inside and outside of the Green Bay Packers are almost falling over themselves to talk up MVS.
Quarterback Aaron Rodgers thinks MVS "has really stepped up as a guy who can be an every-down player." This seems to be a vastly different attitude than the one Rodgers was reported as having last season, when the quarterback was quoted as having zero interest in developing his young playmakers, according to a scathing Bleacher Report article published back in April.
Adams believes that the new offense being installed by head coach Matt LaFleur "is really catered for a guy like (MVS)." In two wide receiver sets this spring, Valdes-Scantling has been the one across from Adams.
The offseason hype is catching the attention of drafters, as you'd expect. According to PPR average draft position (ADP) data at Fantasy Football Calculator, Valdes-Scantling's ADP has risen by more than two full rounds since June 1st.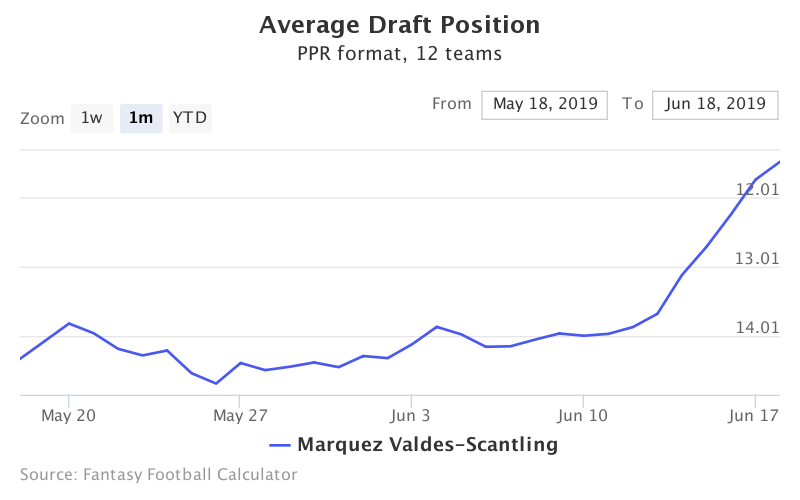 That's a pretty incredible jump in a short amount of time.

It all makes sense.
The Packers should have one of the best passing attacks in the NFL, and other than Adams, there's no one locked into a key role. Whoever looks like the frontrunner for the number-two receiver gig is a player worth targeting in fantasy. Right now, MVS is that dude, and his draft stock has risen accordingly.
But that doesn't mean Allison should become an afterthought.
Why Allison Should Interest You
We have Allison as WR46 in our early projections, with Valdes-Scantling further down at WR79, so as of now, we have Allison as the team's second-best fantasy option at receiver by a pretty good margin.
Allison endured an injury-interrupted 2018 campaign, missing time with a concussion, a hamstring strain and finally a groin injury that required core muscle surgery. He still managed to snare 20 of his 33 targets for 303 yards and 2 touchdowns. This form along with his return to health contributed to Allison signing a one-year, $2.8 million contract. Despite the "low" number, this makes him the second-most expensive wide receiver on the Packers' roster this season, per OverTheCap.com.
Allison's injuries resulted in him being outperformed -- in terms of counting stats -- by Valdes-Scantling in 2018. Valdes-Scantling finished his first year in the NFL with 581 yards and 2 scores on 38 receptions. But it took MVS 74 targets to amass his 38 catches. On a per-target basis, Allison was by far the more efficient option last year, though we're dealing with small sample sizes for both guys.
By our numbers -- specifically our in-house Net Expected Points (NEP) metric, which you can read more about in our glossary -- Allison was the much better wideout last year. Allison averaged 0.61 Target NEP per target last season, compared to 0.18 for Valdes-Scantling.
Both players have enjoyed a comparatively short run in terms of working with Rodgers. While a new offense may change things, not least the possible limitation on Rodgers ability to make plays on the fly, it is important to note how efficient the Rodgers-Allison partnership has been. Rodgers averages 12.63 adjusted yards per attempt when targeting Allison. His return when targeting Valdes-Scantling? 9.03.
It is possible, especially if beat reporters are accurate, that Valdes-Scantling will start the season as the number-two option on the Packers' wide receiver depth chart. But that's doesn't mean Allison should be forgotten about. In the first four weeks of the 2018 season, the one extended period last season when Allison was healthy, both Adams and Randall Cobb commanded a larger share of the targets in the Packers' offense than Allison did. But that didn't stop Allison from performing.
| Player | Targets | Target Share | Receptions | Yards | TDs | PPR Points |
| --- | --- | --- | --- | --- | --- | --- |
| Davante Adams | 29 | 24% | 20 | 204 | 3 | 58.4 |
| Randall Cobb | 27 | 22% | 17 | 195 | 1 | 42.5 |
| Geronimo Allison | 18 | 15% | 13 | 209 | 2 | 45.9 |

During this span, Cobb played an average of 96.1% of the Packers' offensive snaps. Allison saw the field on 79% of the snaps.
There is speculation that when the Packers go to three-wide sets, Allison will be tasked with manning the slot. He played inside on only 12.6% of his snaps last season, according to PlayerProfiler, whereas Valdes-Scantling saw action inside on 41% of his snaps. The Packers seem to be keen on utilising Valdes-Scantling's speed (he clocked a 4.37 40-yard dash at the Combine, after all) on the outside. This could mean more high-percentage targets for Allison closer to the line of scrimmage, increasing his appeal in PPR formats.
In Conclusion
While Valdes-Scantling's ADP continues to rise, Allison's price has remained the same. He was going at the 8.08 spot in the middle of May, and he is at the same 8.08 position as of June 18th -- checking in as WR36. This puts him in WR3 territory, a tier in which he showed (albeit in a small sample size) that he belonged in last season.
Rodgers has been able to support multiple fantasy-relevant wide receivers in the past. If the Packers' signal caller is able to master the new offense he finds himself in, he could support Adams, Allison and MVS.
While Valdes-Scantling appears to offer the big-play upside and is the sexy choice right now, the safer option might be Allison. This situation needs to be monitored closely throughout the summer, and the draft market could change significantly by the time late August rolls around, with MVS likely rising even more if he continues to generate positive offseason reviews.
But as things stand, Allison makes a lot of sense in the middle-to-late rounds, and he could be even cheaper as we get closer to peak draft season if the masses keep getting on the MVS bandwagon.