Monday Night Preview: Can the Texans Tighten Their Grip on the AFC South?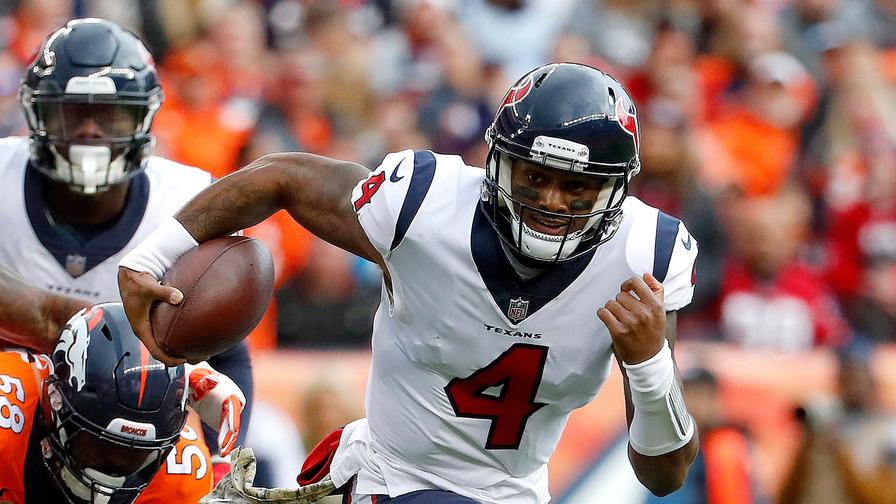 This week's edition of Monday Night Football features a divisional showdown between the 5-5 Tennessee Titans traveling to take on the 7-3 Houston Texans. The Titans come into this match fresh off a 38-10 loss at the hands of the Indianapolis Colts. On the other side, the Texans improved their win streak to seven with a narrow 23-21 victory over the Washington Redskins.
With playoff hopes very much alive for each of these squads, both teams should bring their best efforts to this primetime contest. Here are the main matchups likely to influence the outcome of this game.
Quarterback Breakdown
On the Titans' side, Tennessee removed Marcus Mariota from their injury report after he suffered a stinger last week. However, Mariota has struggled for most of the year after dealing with an elbow injury that affected his ability to grip the ball. To date, the fourth-year signal caller has 1,583 passing yards, 7 touchdown, and 6 interceptions. Mariota has also struggled according to our Net Expected Points (NEP) metric. Among 29 quarterbacks with at least 245 drop backs, Mariota's 0.06 Passing NEP per drop back ranks 22nd in the NFL. With his health in question again this week, Mariota's effectiveness could decide the outcome of the game.
On the other side, Deshaun Watson appears healthier after dealing with a rib/lung injury sustained early in the year. On the year, Watson has 2,597 passing yards, 18 touchdowns, and 9 interceptions. He has been held below 250 passing yards in each of the last five games after eclipsing 300 in four of his first five starts. Watson has performed average according to our stats as well, with his 0.14 Passing NEP per drop back ranking 14th in the aforementioned group.
Running Back Breakdown
For the Titans, Dion Lewis has acted as the primary weapon out of the backfield, with Derrick Henry mixing in as a change of pace back. Entering this week, Lewis has 420 rushing yards on 122 carries, while Henry has 404 yards on 110 carries. Both have largely struggled according to our metrics as well. Among 28 running backs with at least 100 carries, Lewis' -0.17 Rushing NEP per carry ranks dead last and Henry's -0.05 ranks 19th. Despite his struggles, Lewis remains the superior pass catching back with 36 catches to Henry's 8. The Titans will likely continue with a committee approach going forward.
For the Texans, Lamar Miller will act as the 1A to Alfred Blue's 1B. Miller and Blue enter this contest with a mediocre 611 and 343 rushing yards respectively. Miller has slightly outperformed Blue according to our NEP metric as well. Among the group mentioned above, Miller's -0.03 Rushing NEP per rush ranks 18th, while Blue's -0.14 ranks 26th. Leaning on Miller with Blue mixing in occasionally looks to be a recipe for success in the Houston offense.
Defensive Matchup
According to our power rankings, the Titans enter this contest with the 21st-ranked defense, while the Texans rank 11th.
To this point, the Titans rank 16th in rush defense and 27th in pass defense. On the other hand, the Texans come in with the 3rd-ranked run defense and the 16th-ranked pass defense. Worse across the board, the Titans will have to step up their defensive play in order to stop the Watson-led Texans.
To read all premium content, upgrade to a Premium account with numberFire
If you're not a Premium subscriber, it takes just a few seconds to sign up. You'll get access to all of our insider information, game projections, handicapping advice, DFS tools, advanced statistics, and more.