Courtland Sutton Can Be the Broncos' Top Receiver for Years to Come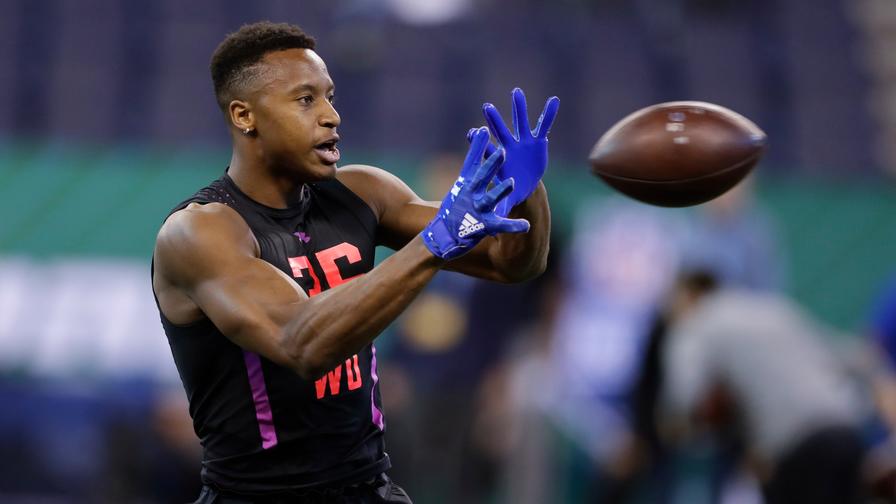 In what is considered a weak wide receiver class, analysts are indecisive about which wideout really is the cream of the crop.
Many consider Calvin Ridley to be the guy, but others consider it to be D.J. Moore and his dominant production in a horrible situation in Maryland the overall top wideout.
However, Courtland Sutton has the upside to be better than all of them in this class, and the Denver Broncos certainly hope that will be the case. Denver selected him early in the second round of the 2018 NFL Draft.
How will Sutton fit into this Broncos passing offense?
Sutton the Prospect
With Moore (6'0") and Ridley (189 pounds) checking in undersized in some way, Sutton's prototypical size (6'3" and 218 pounds) makes him the best fit to play an outside wide receiver role in this draft class.
Pro Football Focus described Sutton as a guy who can be productive in the the red zone and win on 50/50 jump balls. He also displays the physicality needed to win against press coverage. Sutton, additionally, demonstrated his prowess as a deep threat in his 2016 season, catching the second most deep passes (16) among draft-eligible receivers.
Not only that, but Sutton is a dynamic player after the catch, which is surprising for a player of his size. He broke multiple tackles at the highest rate among wide receiver prospects in this year's draft class.
Look at how fluid SMU WR Courtland Sutton is at 6'3/218 lbs.

The move he puts on 14... pic.twitter.com/n0DrHJmVXo
— Josh Norris (@JoshNorris) November 7, 2017

From an athleticism standpoint, Sutton turned heads at the NFL scouting combine, posting a 84th-percentile SPARQ-x score. That combined with his impressive production, including a 16.2 yards per reception rate, is the reason he was such a highly-thought-of draft prospect.
Sutton is by no means a perfect draft prospect, however. Very few analysts even have him as the best wide receiver prospect in this class or even a first-round talent. Still, his athleticism, size, and tackle-breaking ability means he has possibly the highest upside of any receiver in this class.
What Sutton Can Bring to the Broncos
Player Profiler has Sutton's best comparable as Alshon Jeffery, and honestly, that's a perfect comp as their athleticism and college production are near mirror images of each other. Jeffery also provides a tangible example of Sutton's upside in the league, as a prototypical number-one wide receiver who can win in the red zone and on 50/50 balls.
It should be noted that it is tough for rookie wide receivers to produce immediately. Jeffery, Dez Bryant, and Calvin Johnson all failed to record 50 receptions in their rookie seasons, but that did not stop any of them from having productive careers. Most notably, Matt Harmon of Reception Perception has described Sutton as still an unpolished product who still needs some work in his route-running.
That is not to say that Sutton can't showcase himself as a game-breaking talent immediately (after all, Mike Evans did just that as a rookie), but it is still asking a lot of him.
More likely, Sutton will be used as a complementary weapon in Year 1, especially with Demaryius Thomas and Emmanuel Sanders expected to soak up the vast majority of wide receiver targets in Denver. The Broncos do have a need for a slot receiver, but based on Sutton's build and athleticism, he is more suited for a role on the outside. With Thomas and Sanders getting up there in age, this was likely a pick made with the future in mind, with anything they get from Sutton as a rookie as he develops his skills mere gravy.
Make no doubt about it: Sutton has the ability to make strides and emerge as the Broncos' number-one wide receiver in the years to come.