How Big of a Difference Can Saquon Barkley Make for the Giants?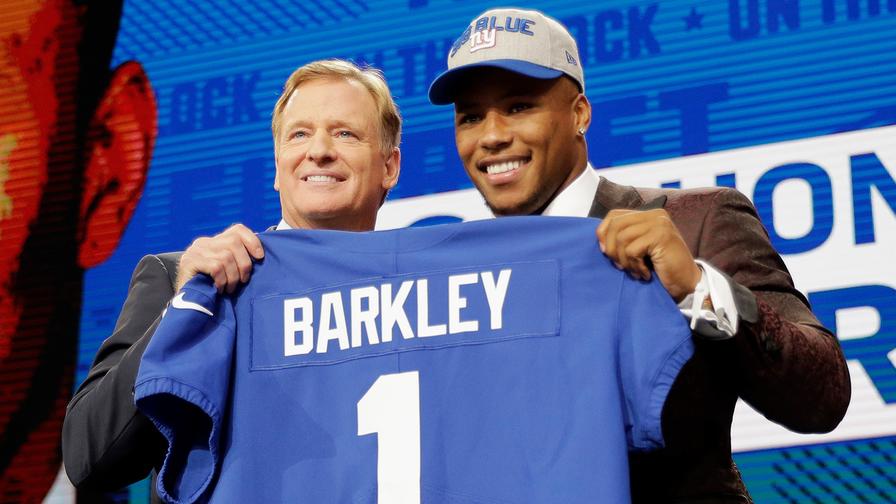 Saquon Barkley was one of the most talked about players this draft season. The reports on him have been absolutely gushing.
NFL.com's Daniel Jeremiah graded Barkley as the best running prospect of the past three draft classes (including Leonard Fournette and Ezekiel Elliott), and one team even had a perfect grade on him. Barkley has even been compared to David Johnson, one of the NFL's best dual-threat running backs.
But is the hype on Barkley for real? And how will he fit in with the New York Giants?
Barkley the Prospect
The first thing to understand about Barkley is that -- despite weighing 233 pounds and recording 29 reps at the bench press at the Combine -- he is not a typical power back in the mold of a Fournette or a Marshawn Lynch.
In that respect, the aforementioned David Johnson comparison is very apt, as where Barkley excels the most is actually in space and as a receiver. Take it from the man himself: Barkley has said he patterns his running style after Barry Sanders.
That is what has made Barkley such a tantalizing prospect and a perfect fit for today's NFL. He has the size and athleticism to be a workhorse in the ground game, but his ability to contribute as a pass-catcher is where he can truly make his mark.
Per PlayerProfiler, he has a 93rd-percentile college target share and a 99th-percentile SPARQ-x score. He even recorded the most yards after catch among running backs in this draft class and was tied for second best among running backs in terms of missed tackles forced after the catch.
Are you serious, Saquon Barkley? pic.twitter.com/uN7Zgt95Vj
— Josh Norris (@JoshNorris) September 2, 2017

As an athlete and as a receiver, he truly is phenomenal, and he has the college production and usage to back it up.
However, the one concern that people do have with Barkley is his relatively unimpressive -- at least by college football standards -- yards per carry average at Penn State: 5.7 yards per tote.
However, this relatively unimpressive yards per carry number is likely due to his offensive line. Graham Barfield of Fantasy Guru has Barkley as the second-best in his Yards Created metric over the past three draft classes but indicates that Penn State's offensive line was the third-worst he has charted. Pro Football Focus also noted that Barkley was hit at or behind the line of scrimmage on 44.5% of his carries, the fourth-highest mark in this draft class.
Moreover, while some analysts have indicated that he does have a tendency to look for the home run a bit too often, his success in converting those breakaway runs means NFL teams will take the occasional one-yard loss that could have been a two-yard gain in return for the game-breaking ability Barkley can provide.
And the New York Giants did just that.
Barkley With the Giants

Barkley's skill set is such that he can fit in to nearly any NFL team and thrive. What he brings to the table can be replicated by only a handful of backs, and he should make a big impact starting Week 1 with the Giants.
How he fits in with the Giants' offensive line will be interesting, however. They added Nate Solder in free agency but lost key names such as Justin Pugh and Weston Richburg. The Giants obviously think Barkley has the talent to overcome the offensive line deficiencies, however, and take some pressure off of Eli Manning.
The presence of Jonathan Stewart should also be factored in. He has experience with offensive coordinator Mike Shula, and he will likely vulture a handful of touchdowns. However, it does lock Barkley into the passing down role (Stewart is a non-factor in the passing game at this point in his career).
For fantasy purposes, his high draft equity will lock him into a workhorse role, and his receiving ability makes him especially valuable, especially in PPR formats. After the Big 4 of Todd Gurley, Le'Veon Bell, David Johnson, and Ezekiel Elliott, Barkley deserves to be in the conversation as the next running back selected in fantasy drafts.
Make no doubt about it. Barkley will thrive in Big Blue.