Fantasy Football: What Can We Expect From Eddie Lacy in 2017?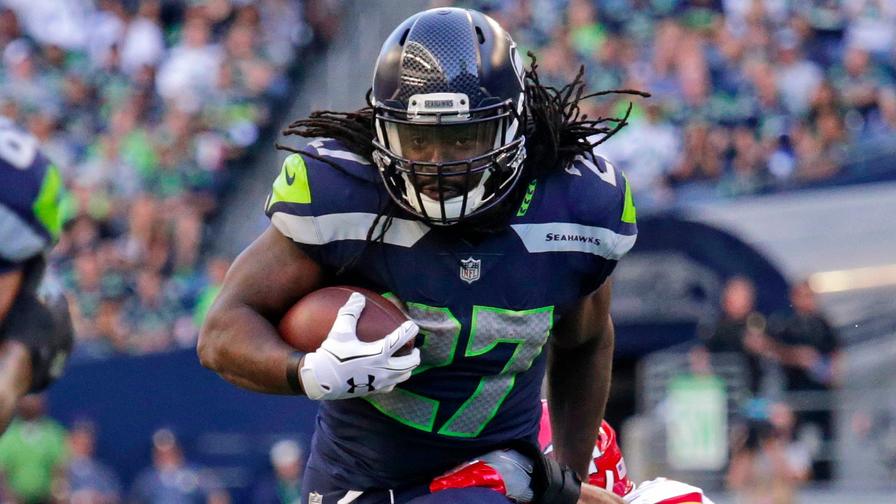 Eddie Lacy's gotten to play with some pretty good teams in his career.
Even going back to his college days, he was a part of two championship teams with the Alabama Crimson Tide. In the NFL, he's spent his entire career playing with one of the best quarterbacks to play the game in Aaron Rodgers.
After signing on as a free agent with the Seattle Seahawks, Lacy now gets to play with Russell Wilson.
Despite his size and the narrative surrounding it, Lacy was pretty good before he got hurt last year as the Green Bay Packers primary running back. Now with his new team, his average draft position (ADP) is currently settled in the seventh round for standard 12-team leagues. How should we value him in 2017?
A Surprisingly Efficient Season
Lacy was better than you may think in 2016. His 5.1 yards per carry was the highest mark of his career, and while that statistic doesn't correlate well on a yearly basis, our advanced metrics, like Net Expected Points (NEP) back up his performance.
If you're unfamiliar with NEP, it shows how many expected points are lost or gained on a play. A nine-yard completion on 3rd-and-10 is different from a nine-yard pickup on 3rd-and-8 -- NEP accounts for that by tracking the expected points a player adds to their team's total over the course of a season. You can read more about it in our glossary.

Among running backs with 70-plus carries last season, Lacy's Rushing NEP per attempt of 0.08 ranked among the top 10, and was the exact same as Jay Ajayi (although he did it in 260 attempts). Either way, when we consider that the league-average mark for this metric in 2016 was -0.02 for running backs, this is an impressive number.
Those 5.1 yards per carry came despite working with one of the league's worst run-blocking offensive lines, but Lacy appeared to make up for it by ranking at the top of PlayerProfiler's Juke Rate metric. So, believe it or not, he was actually rather effective for the Packers when healthy last year.
Lackluster Preseason Performance
After taking snaps with the second-team offense in his first preseason game because Thomas Rawls took first-team snaps, Lacy has played with the starters in each of his last two games. However, he hasn't showed much with regard to results. He's only gained 51 total yards off 14 carries, while Chris Carson has impressed by gaining 92 yards on 21 carries, finding the end zone twice.
He had been working behind Rawls for most of training camp before he had to deal with a mild ankle sprain, but that injury also gave Lacy an opportunity to show what he could do with the first-team offense. But with a seventh-round rookie outplaying him during that same window of opportunity, that's not exactly encouraging moving forward.
The Situation in the Backfield
Based on the $5.5 million contract he received in the offseason, it would've been easy for one to assume that he'd have a significant role in the offense. But even though Rawls was incredibly bad last year, he looked good at OTAs and has practiced as the clear-cut starter when fully healthy.
There's also C.J. Prosise, whose main role in this offense will come on passing downs. When we look at running backs with at least 15 receptions last year, his Reception NEP per target of 0.91 was the best in football. We can't forget about the aforementioned Carson, either, who has taken full advantage of the first-team reps he's seen in his last two games. If the Seahawks choose to carry four running backs and give Carson a role, that could only complicate things further.
So, it appears that Lacy is going to have a fight on his hands to get playing time because of the hole he's put himself in, and it's not like he'll be running behind a great offensive line. Football Outsiders' adjusted line yards metric ranked them as a bottom-10 unit last year, and after an offseason in which they didn't make any major moves to help that part of the roster, Seattle just lost starting left tackle George Fant to a torn ACL.
Conclusion
After a sneaky-good season in a small sample size last season, Lacy hasn't looked like the same rusher this preseason. It's obviously still early, but he looks destined to be part of a committee in the Seahawks backfield.
That doesn't mean you should ignore Lacy in your fantasy drafts, though. He was efficient in 2016 and is a member of a Seahawks rushing attack that ranked top five in team rushing yards each year from 2012-15. If Lacy can break free of the committee down the stretch, he could provide great return.
On the other hand, he is borderline unusable as an every-week starter until he becomes the lead dog in that backfield. Consider Lacy as a flier with potential upside, but only if he falls to the late rounds of fantasy drafts.