Fantasy Football: Who's the Second Wide Receiver to Own on the Arizona Cardinals?
Things aren't looking great for the Arizona Cardinals' wide receivers.
Head coach Bruce Arians tore into his receiving corps last week, grumbling that the team "might have two" who could play in the NFL. (Ouch.) Arians also voiced his frustrations with John Brown's health, bumming out those who had Brown pegged as a potential sleeper and breakout candidate.
This news changes how we should approach the Cardinals going into our 2017 fantasy drafts. We had previously assumed Brown was going to be the team's number-two wide receiver behind Larry Fitzgerald, but now, there is ambiguity. And ambiguity means opportunity.
But first, let's talk quarterback.
Hey, That Carson Palmer Guy Is Pretty Good
Many teams and quarterbacks are capable of supporting only one wide receiver for fantasy purposes.
The Cardinals are not one of those teams.
When Carson Palmer is behind center, the second and even third receivers on the Cardinals have value. Those pass catchers certainly have plenty of opportunity -- Palmer has thrown for over 4,000 yards in three of his four seasons with the team. Check out his per-game stats for passing yards and touchdowns since coming to the desert.
| Stat | 2013 | 2014 | 2015 | 2016 |
| --- | --- | --- | --- | --- |
| Passing Yards Per Game | 267.1 | 271.0 | 291.9 | 282.2 |
| Passing TDs/Game | 1.5 | 1.8 | 2.2 | 1.7 |

In each season since 2014, Palmer's third-highest targeted passing option has averaged 6.13 targets per game. But that doesn't take into account target distribution following injuries and mid-season cuts, both of which impacted the Cards' receivers in 2016.
Prior to Week 8 of 2016, Palmer targeted J.J. Nelson an average of 6.8 times per game, but in the six weeks after the Cardinals dumped Michael Floyd, that number went up to a whopping 9.66. Similarly, after Jaron Brown went down in late October, David Johnson averaged almost three additional targets per game.
Per FantasyData.com, Palmer has sustained at least two top-50 options at the wide receiver position in each of his three healthy seasons with the Cardinals, one of the reasons he's such an appealing late-round target this year.
Do you need another excuse to pay attention to the low end of Arizona's depth chart? Well, according to our numbers, the Cards have a pretty favorable schedule this season, which could lead to some positive regression for the team's passing offense.
But which Cardinals wideout will benefit the most?
The Big Guys
Larry Fitzgerald (150 targets) and David Johnson (120 targets) were Arizona's leading receivers last year, combining for 41.8 percent of the team's target share. Assuming that those two are target hogs again in 2017, almost 60 percent of the team's total targets will be available to split among their other pass catchers. Factoring in the Cardinals' four-year average pass attempts per season of 587.5, that leaves approximately 340 Carson Palmer bullets up for grabs.
Palmer doesn't look to his tight ends too often -- we're talking only 82 average targets over last four seasons -- so, again assuming that remains the case, that means we can expect approximately 250 targets to be spread among any wide receivers not named Larry, or any running backs not named David, a more than sufficient number to support another fantasy-viable receiving option. Or two.
Considering his illness, that option might not be John Brown. Last season, when his sickle-cell trait began causing him issues, Brown averaged a meager 3.62 targets per game, so until he's in game shape, we won't know what he can do in this offense.
That said, Brown has averaged over seven targets per game in his three seasons, so the Cards' number-two receiver does have fantasy value. All of which is why we need to peep Jaron Brown.
What Can (Jaron) Brown Do For You?
In that aforementioned blistering interview, Arians' cited Jaron Brown as one of his two NFL-caliber receivers on the team, which is certainly noteworthy and could possibly make him the player most likely to benefit from John Brown's potentially diminished role.
Jaron Brown is now entering his fifth season in the league, and the Cardinals valued him enough to sign him to a one-year extension this offseason, despite suffering an ACL tear in 2016. Why?
Well, his athletic profile is awe inspiring.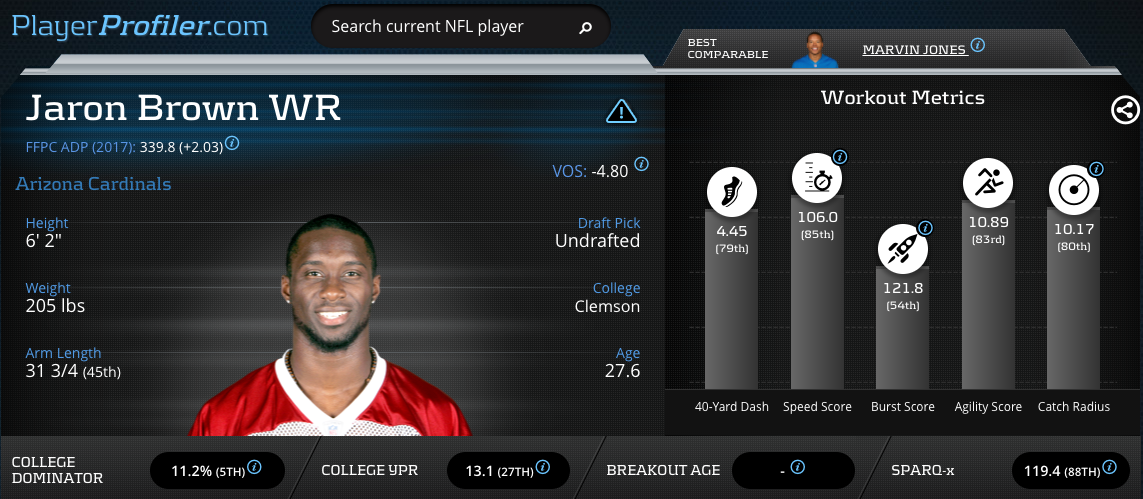 Per PlayerProfiler.com, Brown ranks as an 88th percentile SPARQ-x athlete, and he has above average to excellent scores in each of his other measurables. However, dating back to the college level, he has underperformed his stellar athleticism -- possibly because he hasn't been given the opportunity.

Jaron hasn't garnered enough target volume over his four years in the NFL for us to have a significant sample size on him, but the metrics we do have are intriguing. Let's take a look at him using our Net Expected Points (NEP) metric, which you can read more about in our glossary.
Below, we'll look at Brown's Reception NEP, Reception NEP per target and Reception Success Rate, the latter of which is the percentage of his catches which positively impacted NEP. For reference, the league averages for Reception NEP per target and Reception Success Rate were 0.66 and 83.91 percent, respectively, last year for wideouts.
| Year | Targets | Catches | Reception NEP | Reception NEP per Target | Reception Success Rate |
| --- | --- | --- | --- | --- | --- |
| 2016 | 23 | 11 | 16.83 | 0.73 | 100.00% |
| 2015 | 22 | 11 | 10.40 | 0.47 | 81.82% |
| 2014 | 60 | 33 | 35.45 | 0.59 | 75.76% |
| 2013 | 17 | 10 | 13.21 | 0.78 | 80.00% |

The most surprising statistic here is his elevated Reception Success Rate, highlighted by his 100 percent success rate in 2016. Even in his least productive, least efficient seasons, his Reception Success Rate never dipped below 75.76 percent. Again, the sample size is small, but Brown has flashed some ability.
Before his ACL tear -- and with John Brown and Floyd still in the mix -- Jaron was averaging 3.5 targets per game. Floyd's departure freed up 70 targets from last season (5.83 per game), and Jaron's size and athletic profile are the closest match to Floyd's on the current roster, making him the natural replacement for Floyd.
Arians stated that "he's our number-two right now", so there are reasons to be excited about Jaron Brown. He's currently going undrafted, per FantasyFootballCalculator.com, and he's an intriguing sleeper candidate in deeper leagues.
Is J.J. Nelson Dy-No-Mite?
After Arians named Fitzgerald and Jaron Brown as the only two NFL-level receivers on the team, J.J. Nelson probably cleared his throat and said, "Um, hello, I'm over here, and I can play some."
He'd have a point.
As 2016 progressed, Nelson and Palmer developed a bit of chemistry. Nelson's snap shares went from below 5.0 percent in the first five weeks, up to an average of 45.7 percent over the remaining 11 games, including 4 games with snap percentages of over 70 percent. Little wonder that he averaged 15.87 PPR points per game over the last five contests of the year.
If John Brown misses time or is physically hampered by injury, then Nelson -- what with his 4.28 40-yard dash speed -- could get extra looks on deep routes.
Now entering his third season, Nelson could see the typical third-year wide receiver breakout, so at his current ADP of 14.07, he might be a monster steal if he ends up with the number-two gig.
Conclusion
Carson Palmer has shown over the last four seasons that he is capable of sustaining multiple fantasy relevant assets, making Jaron Brown and J.J. Nelson interesting late-round dart throws.
And the dividends could be immediate: If John Brown is hampered or on the bench for the Arizona's' Week 1 matchup against the Detroit Lions (the 31st-ranked defense, per our models), Larry Fitzgerald and David Johnson might not be the only Cardinals pass catchers lighting up the fantasy scoreboard.