Fantasy Football: Jordan Howard Is Primed for Another Big Year in 2017
Jordan Howard wants to lead the NFL in rushing yards. That sounds like a good goal for any running back heading into a given season, but for Howard, it's something that could conceivably be accomplished.
If you weren't paying close attention to the Chicago Bears last season -- and no one would fault you if that were the case -- you might not know Howard was second among running backs in rushing yards last season. He was still more than 300 yards behind fellow rookie Ezekiel Elliott, but 1,313 yards isn't bad for a player who wasn't his team's starter to begin the season and had 12 total carries through the first two weeks.
Whether Howard actually will lead the league in rushing is not the important part of his fantasy football outlook this season. What is important, though, is his ability to match the production he has as a rookie.
A Rookie Success
Last year, Howard's raw numbers matched pretty well with his advanced metrics. Among 19 running backs with at least 200 carries last season, he ranked seventh in Rushing Net Expected Points (NEP) per attempt. He was also seventh in Success Rate, which is the percentage of runs that positively impact NEP. His play holds up against backs who had 100 or more carries, as well -- he ranked 9th in Rushing NEP per attempt and 12th in Success Rate among that group, which consisted of 42 rushers.
He accomplished all of this on an offense that was pretty bad in 2016, too. The Bears ranked 23rd in Adjusted NEP per play and 24th in Adjusted Rushing NEP per play despite the efforts of Howard. On a combined 94 carries, Jeremy Langford and Ka'Deem Carey were worth -0.13 Rushing NEP per play.
It's highly possible -- if not probable -- that the Chicago offense will be bad again in 2017. However, there is some proof that Howard's production won't slow down as a result.
Follow the Lead
Howard did benefit from one of the NFL's best run-blocking offensive lines last year, as Chicago had the eighth-best line with regard to Adjusted Line Yards, per Football Outsiders. They were also the best in Power situations, which are explained as runs on third or fourth down with two or less yards to go that resulted in either a first down or touchdown.
The Bears also ranked 10th in second-level yards and 5th in open field yards, which give credit to the running back getting runs five-plus yards away from the line of scrimmage. Along with the Dallas Cowboys and Atlanta Falcons, Chicago was one of just three teams to rank in the top 10 in all three categories.
This mix of blocking and Howard's ability allowed the run game to succeed, and they'll also get Kyle Long back this season, who missed the second half last year with an ankle injury.
Take a quick look at the formation below from a Week 8 game against the Minnesota Vikings before we get into the run itself. Also, don't forget that Minnesota had the fifth-best run defense in the league last season by Adjusted Defensive Rushing NEP per play. (Image courtesy: NFL Game Pass)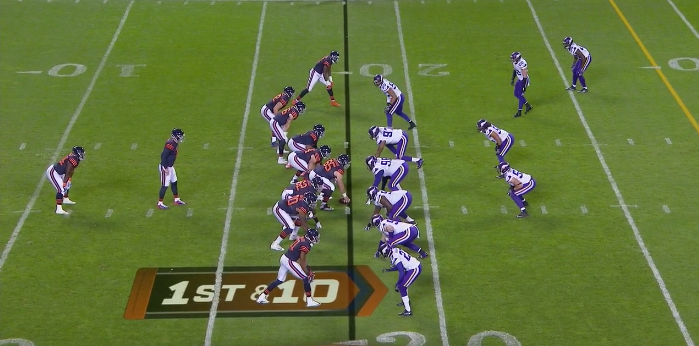 Jay Cutler lined up in pistol, but the Bears are in a very tight formation with 11 offensive players are inside the numbers. This brings a lot of defenders close to the line of scrimmage. We won't consider all of these defenders "in the box," but there are 10 defensive players within seven yards of the line.
That's not an easy defense to run against, though if things break just right, there is a chance at a big gain. That's exactly what happened as Howard ripped off a nice 69-yard run on the play.

The line did an excellent job of sealing off the defenders. When Howard just about got to the line of scrimmage, he cut back inside and forced a missed tackle from safety Harrison Smith before hitting the next hole just quick enough to get past the reach of the lunging Shamar Stephen.
Once he got past an out of position Jayron Kearse, Howard was off to the races. The play was never guaranteed, though -- he had to make the cut past Smith and get through a hole that doesn't look like it would be a catalyst for many 69-yard runs.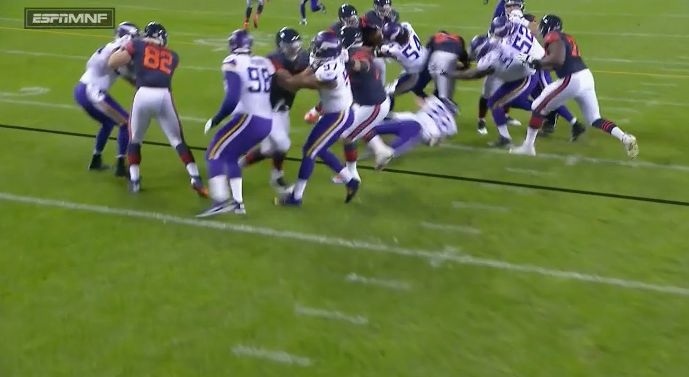 Howard struggled overall against the New York Giants, who were the third-best run defense by Adjusted Defensive Rushing NEP per play last season. He had just 77 yards on 17 carries for -0.01 Rushing NEP per play, but there was a play that showed how he can help create even during an off day.
On this play, Howard took a pitch to the outside left. He got to his outside hole, which required him to leap over teammate Paul Lasike before getting one-on-one with cornerback Janoris Jenkins. Howard cut inside as Jenkins was also taken out by guard Ted Larsen, who had blocked linebacker Jonathan Casillas all the way across the field.
Howard's quick cut on the play netted him about eight more yards on the run.

It's hard to know what exactly the Chicago offense is going to look like in 2017. It's also difficult to imagine it's going to be good in its sense of overall play.
However, one thing that should be a constant is Howard's role in the running game. He excelled with both efficiency and volume during his rookie year, and both of those should continue this year. While many focus on the future at quarterback for the Bears, they appear to already have their future at running back set.