Can Julio Jones Become A Bigger Red Zone Threat?
Julio Jones is undoubtedly one of the best wide receivers in the NFL. There's little he can't do.
Last season, on the best offense in the league, Jones led all receivers with at least 100 targets in Reception Net Expected Points per target. (You can read more about Net Expected Points, or NEP, in our glossary). He also led those 41 receivers in Success Rate, which measures the percentage of receptions that positively impact NEP. He was second in receiving yards while he was just 18th in targets.
Jones dominated all over the field, except for the 20-yard patch of grass closest to the opponent's end zone.
Jones' usage in the red zone has been a concern for fans and fantasy players alike. It's apparently also been a concern of new Atlanta Falcons offensive coordinator Steve Sarkisian. He recently told ESPN.com, "…when you have a player like Julio, it's making sure we maximize his opportunities because there is so much double-coverage, there are so many unique coverages that roll his way that when we don't get that, let's make sure he's one of the primary receivers on that play because it is such a tough matchup for anybody one on one."
Last year, Jones was targeted just 10 times in the red zone. That was tied with Justin Hardy, who played on just 28 percent of the team's offensive snaps, for the fifth-most targets inside the 20. As strange as it is to have a player that talented get so little action at such an important part of the field, what may be stranger is that Jones' production in that area warranted his place among those ranks, although we're working with small samples here.
Below is a table of Atlanta's six players who five or more targets in the red zone last season:
| Player | RZ Targets | RZ Catch Rate | TDs | RNEP/target |
| --- | --- | --- | --- | --- |
| Devonta Freeman | 17 | 70.6% | 2 | 0.53 |
| Mohamed Sanu | 13 | 69.2% | 4 | 0.81 |
| Tevin Coleman | 12 | 66.7% | 2 | 0.05 |
| Jacob Tamme | 11 | 63.6% | 3 | 0.97 |
| Justin Hardy | 10 | 50.0% | 4 | 0.88 |
| Julio Jones | 10 | 50.0% | 2 | 0.47 |
| Taylor Gabriel | 6 | 100.0% | 1 | 0.74 |
| Austin Hooper | 5 | 60.0% | 2 | 1.23 |

Among those eight players, Jones was tied for last in catch rate while coming in second-to-last in touchdowns and Reception NEP per target. For a star player, that's not great output.
Luckily, the overall production for the team was still there in that area as the Falcons still ranked sixth in points per red zone trip and ninth in touchdowns per red zone trip. But perhaps that just makes Jones's inability to cash in at that spot even more puzzling, and there's plenty of puzzle to spare.
Scattered Usage
Looking closer at when his 10 red zone targets came raises more questions.
Of those looks, nine of the targets came in just three games. Six of them came in two games against the New Orleans Saints in Week 3 and Week 17. Jones got three red zone targets in the Week 3 game then did not see another until he got three targets in Week 9 against the Tampa Bay Buccaneers. He got one target on 2nd-and-19 from the 20 in Week 13 against the Kansas City Chiefs before ending the season with three against New Orleans.
Jones, it appears, was either the plan in the red zone or not part of it at all.
Half of those 10 targets were fade routes. The Falcons would line Jones up well outside the rest of the formation, which forced the defense to send an isolated cornerback out in one-on-one coverage against the receiver. These five targets connected for just two touchdowns, though maybe someone would argue a 40 percent success rate on the fade is a fairly good outcome.
Those two catches, though, required Jones to do Julio Jones-like things in order to come down with the ball. In his Week 9 touchdown, Jones had to show off pristine body control in order to box out rookie cornerback Vernon Hargreaves III, adjust for the catch, and keep his feet inbounds. (Video courtesy: NFL Game Pass)

In Week 17 against the Saints, he easily beat overmatched corner B.W. Webb off the line, yet still had to fight to keep his feet inbounds in the corner for the touchdown.

Jones came close to another touchdown in Week 3, also against New Orleans, but he was not able to keep his feet inbounds after the catch. That is the difficulty of executing a fade -- everything about the play has the be perfect.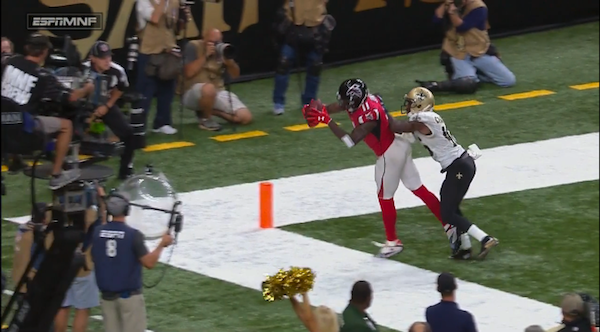 Getting More Involved
The good thing is if the Falcons really do want to make a change, it could be an easy one. There's the theory that when Jones is double teamed, it opens up plays for others. That's true, but Jones was also used as a decoy on plays in 2016 regardless of what the coverage was going to be. Jones is regularly a touchdown regression candidate because of his overall production, but his red zone usage stops the regression from happening. Even when he scored 5 red zone touchdowns on 22 targets in 2015, he was still expected to score more the following season.
Jones is clearly a physical freak. Just by looking at the two fade touchdowns, it's not difficult to see he should have the skills to excel near the end zone at a higher rate. Atlanta threw the seventh most passes (nine) from the 1- or 2-yard line last season. It seems silly Jones was the target on just two of them -- both fades. There's a myriad of ways for the Falcons to implement easier pitch and catch plays for Jones and Matt Ryan.
Atlanta would have no problem stealing a play like this from the Green Bay Packers at the 1-yard line. Green Bay used Randall Cobb in motion from the slot to between the left tackle and the tight end, lined up like a fullback -- a use of a secondary receiver as the decoy, instead of the No. 1. This pulled the defense closer to the middle of the field and allowed Jordy Nelson one-on-one coverage on the outside.
The Packers ran play action and after a fake block from Nelson, he ran back to the outside for an uncontested touchdown catch.

Last season the Falcons had the highest rate of play-action passes in the league -- 27 percent of pass plays -- per Sports Info Solutions charting from Football Outsiders. Using that more close to the goal line, where they ran the ninth most run plays, could open up opportunities for Jones and the rest of the receiving options.
Using Jones in the red zone was just about the only thing the Atlanta offense wasn't good at last season. With offseason talk so far, the Falcons look to be trying to fix that. Now this could be just coach-speak that won't amount to anything, or it could be a hint at legitimate change.
Julio Jones is going to make an impact on the field whether he gets thrown at near the end zone or not, but if the Falcons can unleash his full potential in the red zone, there might not be a scarier weapon in the league.